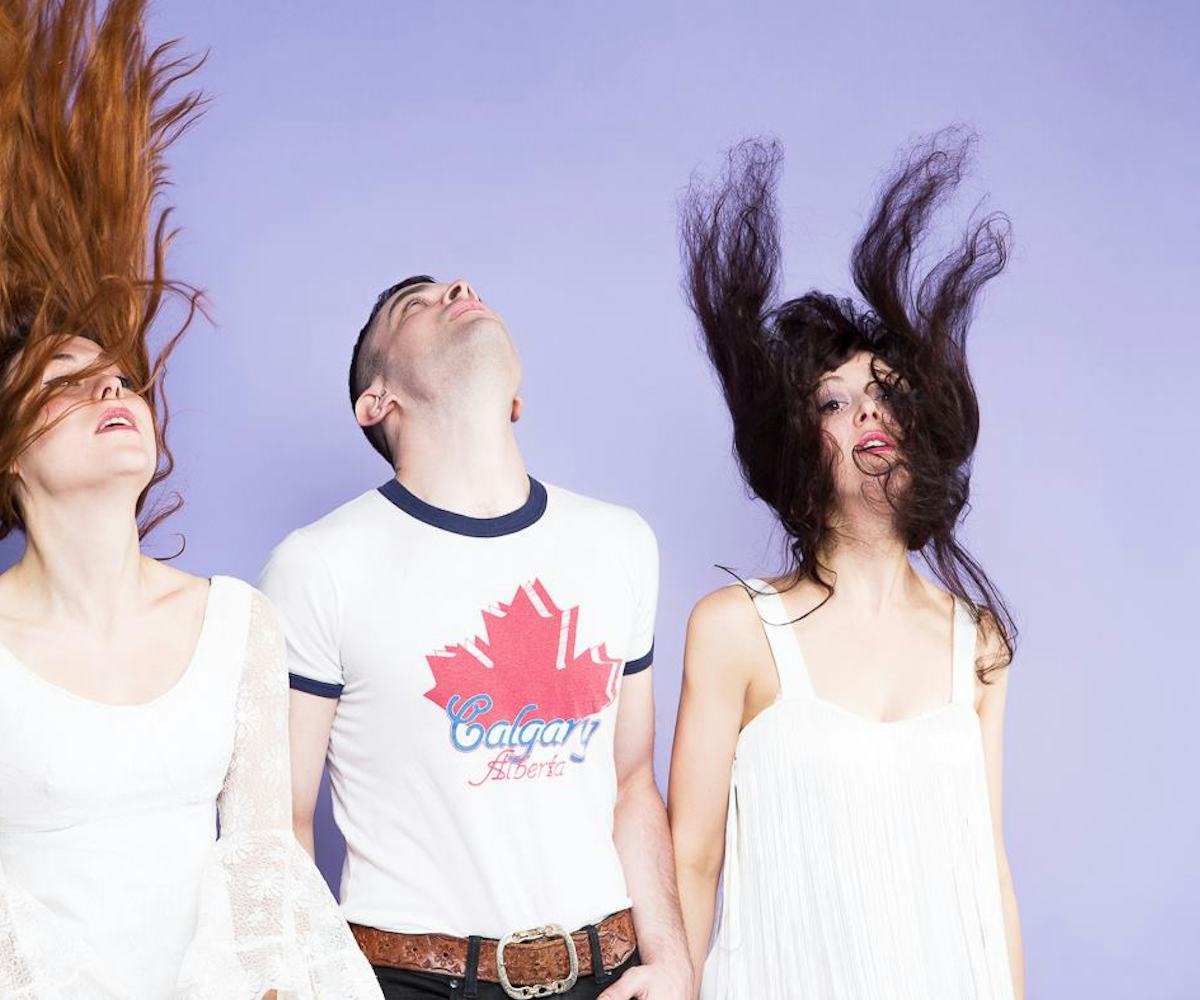 photo by michelle tran
band crush: pearls
hazy dream pop straight out of 'twin peaks.'
If Twin Peaks' Bobby Briggs and James Hurley put aside all of their differences and started a band (inspired by the love, loss, and life of Laura), they'd sound exactly like broody three-piece Pearls. Since getting together in 2011, the '70s-inspired Australian band—comprised of Cassandra Kiely, Ryan Caesar, and Ellice Blakeney—has quietly been reviving glam rock, infusing it with hazy synth pop elements and breathy bedroom vocals. Their upcoming LP (streaming below), Pretend You're Mine, is both completely fresh and familiar (it's ripe with allusions to Blondie, The Kinks, Ariel Pink, and, yes, the Twin Peaks score). Basically, it's the music that soundtracks your wildest nightmares and walking daydreams. 
How would you describe your aesthetic?
A lilac mess.
How did the band get started?
Ellice ran away to Melbourne for love, met Cass, became buddies, bonding instantly over music whilst working in a shop together. The two gals roped in "love" Ryan who could actually play and Pearls was born in a dank rehearsal space South of the city.
Who are some of your influences?
Ellice: '60s psych garage esp the British ones, Girls Groups, bands like The Kinks, Television, legends like Bowie, Bolan, Eno, Brian Ferry, Neil Young & Willie Nelson. Women like Karen Carpenter, Cher, Blondie, Marianne Faithful.
Cass: Bowie, Bolan, Roxy Music, Boot Power comps, Siousxie and the Banshees, Pop Group, Bush Tetras, Lizzie Mercier Descloux, Cristina, Judee Sill, Anita Lane, Bobbie Gentry, The Byrds, Chris & Cosey, S.P.K, Christian Death, These Immortal Souls, Dead Moon, Rowland, Einsturzende Neubauten, The Stooges, Rolling Stones, The Contortions, Johnny Thunders.
Ryan: Roxy Music, David Bowie, Rowland S. Howard, Daniel Ianois.
What are you most proud of so far in terms of your career?
Finally having a record out that we all are really proud of and knowing exactly how we want the next record to sound like.
What is your favorite driving music? 
Roxy Music (the early stuff), The Stones, Ariel Pink.
Whose career would you most like to emulate?
The Stones, still travelling the world, still mates, still alive!! Yo La Tengo, 30 years on and still making killer songs whilst all the oldies are still as relevant as anything else going around.
If you had to live in a past time, what do you think would be the most fun era and why?
New York in the early '70s: Patti Smith, New York Dolls, Television, Talking Heads etc. 
What kind of person were you guys in high school?
Ellice: Quiet and under the radar. 
Ryan: Jazz band geek.
Cass: Troublemaker.
What's a serious side of you that people are unlikely to know about?
Serious coffee drinkers—black with no sugar. Deep interest in service station refreshments. Public toilet-phobic.
If there was a phrase that you think best sums up your approach to life what might it be?
"Hair is the first thing. And teeth the second. Hair & teeth. A man's got those two things he's got it all" - James Brown