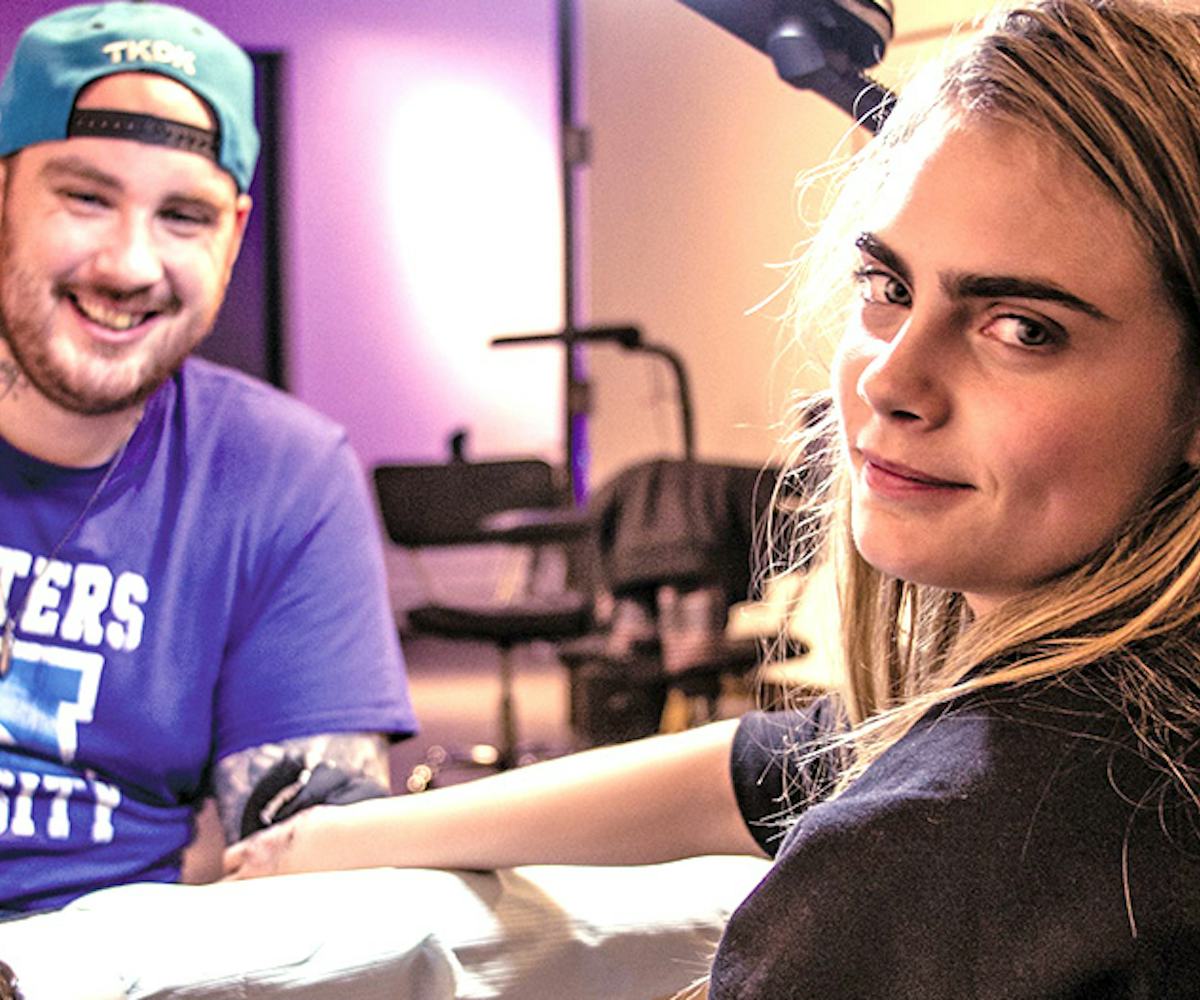 Photo: Courtesy of Entertainment Fusion Group.
This Is What It's Like To Tattoo Cara Delevingne
and have your life change forever
You can't talk about the rise of tattoo culture without mentioning Bang Bang. The tattoo artist to the celebrities has inked everyone from Katy Perry, Justin Bieber, La La, Rita Ora, and Miley Cyrus. It's Rihanna and Cara Delevingne who made Bang Bang the household name he and his shop has become. The self-taught artist is releasing a book documenting his ascent up the fame ladder. It's overflowing with stunning photos and musings on his clientele and the culture of tattoos, itself. But before Bang Bang: My Life in Ink hits shelves November 17, read an exclusive excerpt below about the fateful night Rihanna called him to her hotel room to tattoo her "supermodel friend Cara Delevingne." Little did he know, the lion tattoo was going to change his life forever.
I was a little late to the game, but once I started, I quickly got a few thousand followers. I post all our artists' work on the @BangBangNYC account, so we began to gain followers steadily. Slowly, at first. But then someone like La La Anthony posts a photo of the two of you hang-ing out and suddenly you have thousands more followers and the front desk at the studio can't keep up with the requests rolling in.
Because believe me, someone like La La or Rihanna or Justin Bieber is showing your work to a lot more people than my cousins ever managed to. Hundreds of millions more. And these fans are so devoted, they'll not only buy tickets to their shows and download their music, they'll also buy the same clothes and get tattooed in the same shop.
Our most incredible growth spurt happened the night Rihanna and her supermodel friend Cara Delevingne Instagrammed the infamous lion I did on Cara.
My phone rang one night…
Rihanna asked if I'd come to her room at the Gansevoort Hotel to tattoo.
I said yes immediately, assuming I'd be tattooing her.
Over the years I've tattooed Ri in the Dominican Republic, Los Angeles, assorted hotel rooms—anywhere, anytime she asks. So cabbing over to my old neighborhood was nothing.
When I got to her room (Room 420!) she was with a blond girl I didn't recognize. All I knew was that she was a friend of Ri's, and really, that's all I needed to know. Her name was Cara, and she told me she wanted the word "Lion" spelled out down her index finger. I looked at her, and at her finger, and asked her why.
When a client tells me what they want and that image doesn't immediately pop into my head, I need to know why, so I can better understand their motivations and how it might work. Cara told me that she was a Leo, so she'd always wanted something related to a lion.
I showed her the hanya on my finger and told her we should do something more like that…something that would look like a beautiful piece of jewelry.
She looked at me and said, "I trust you."
I got to work. Tattooing a finger—especially a supermodel finger—isn't easy.
Your canvas is tiny and wrapped tightly around small bones. Yeah, it's that hard. No pressure. But we did it and she loved it.
I didn't overthink the lion any more or less than any other work I've done, but I don't think I'm exaggerating when I say that lion tattoo turned out to be the most iconic tattoo in the world. I've seen it in ads, on magazine covers…it's incredible how many people know this tattoo. This girl is everything.
But as I left their room that morning—the sun had long come up by the time we were done—I still had no idea how famous Cara was. It had come out during the night that she was a model, but in New York City, half the beautiful women you meet are models. Over the next few days her fame started to sink in. Early that same week I'd had about twelve thou- sand Instagram followers, but by the end of it, that lion had been "re-grammed" so many times, I had several hundred thousand. And, unlike the people who may have skimmed across my name in a magazine, Cara's and Ri's followers were fans. They wanted what their girls had, and our inquires shot into the stratosphere, where they thankfully remain.