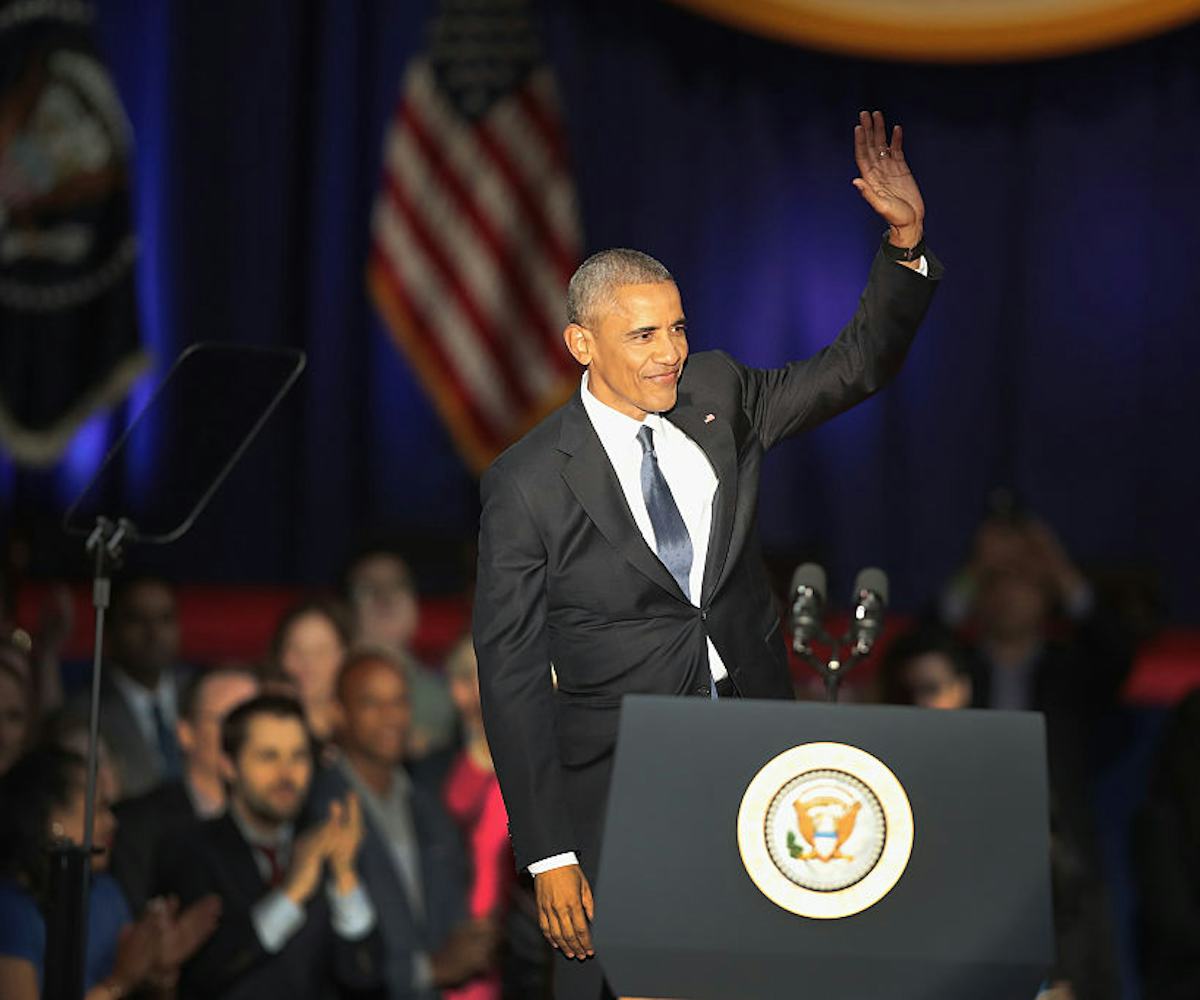 Photo by Scott Olson/Getty Images
Barack Obama's Farewell Speech Is A Call To Action For Young Americans
"Yes we can. Yes we did. Yes we can."
There might be no crying in baseball, but President Barack Obama's farewell speech proved there is definitely crying in politics. And it wasn't just millions of Americans shedding tears last night: Even the president himself had to dab at his eyes as he stood on stage, delivering an eloquent, moving speech that served as a beacon of hope for all Americans who are fearful of the dark days ahead. Obama's tears came when he praised his wife—"Michelle LaVaughn Robinson of the South Side"—for making "the White House a place that belongs to everybody" and for the fact that "a new generation sets its sights higher because it has [Michelle] as a role model," but for the rest of us, the tears flowed throughout this historic speech as we all bore witness to what an American president could and should be. There stood a man who, over the course of his presidency and, indeed, dating back to the earliest days of his campaigning, had faced unprecedented levels of vitriol and spurious undermining, yet who consistently refused to stoop to the dirt-low levels of his opponents. Even in his last speech, Obama preached a message of empathy (he even referenced that most famous of literary empaths, To Kill a Mockingbird's Atticus Finch), compassion, and, yes, hope.
It's hard to imagine what Obama's speech would have been like had Hillary Clinton won not only the popular vote but also the electoral college one. It's even hard to imagine what Obama's speech would have been like had Donald Trump not proven to be a Russian stooge with a possible predilection for water sports. But for the dystopic reality in which we currently find ourselves, one of uncertainty and fear, Obama's speech was an inspirational call to action, one aimed directly at young Americans, who have the power to change the terrifying course upon which this country now finds itself.
The speech started off with a recounting of the many things Obama had achieved in office, and what achievements they were: 
If I had told you eight years ago that America would reverse a great recession, reboot our auto industry, and unleash the longest stretch of job creation in our history—if I had told you that we would open up a new chapter with the Cuban people, shut down Iran's nuclear weapons program without firing a shot, take out the mastermind of 9-11—if I had told you that we would win marriage equality and secure the right to health insurance for another 20 million of our fellow citizens—if I had told you all that, you might have said our sights were set a little too high.
The president continued on to address the troubling state of American and global affairs, directly dealing with the rise of Trumpism, by asking that Americans "insist on the principles of transparency and ethics in public service," and that, rather than despair over things like governmental inadequacies, try and fix them themselves and create that more perfect union that has long been America's goal. Obama was forceful in his request that Americans not be apathetic, reminding us all that the future of this country rests on our shoulders:
Our Constitution is a remarkable, beautiful gift. But it's really just a piece of parchment. It has no power on its own. We, the people, give it power —with our participation, and the choices we make. Whether or not we stand up for our freedoms. Whether or not we respect and enforce the rule of law. America is no fragile thing. But the gains of our long journey to freedom are not assured.
But while Obama—more than any other president in history—spoke to all Americans with this speech, he made a point at the end to call out directly to the younger generation, reminding us that we are the true future of this country and we must wield that power with responsibility. Obama said:
Let me tell you, this generation coming up — unselfish, altruistic, creative, patriotic — I've seen you in every corner of the country. You believe in a fair, and just, and inclusive America; you know that constant change has been America's hallmark, that it's not something to fear but something to embrace, you are willing to carry this hard work of democracy forward. You'll soon outnumber any of us, and I believe as a result the future is in good hands.
This sentiment is one that should strike at the heart of every young American who is unsure of how to proceed in what feels like a very uncertain present, to say nothing of the future. It is essential that we remember that our cynicism and despair cannot mean that we allow ourselves to retreat in the face of the horrors of a Trump presidency. It is only by standing strong and working toward a better future for every American, not just those who are part of our own demographic, that America, on the whole, will benefit. Now is not the time to be self-interested. Taking care of ourselves is important, but it cannot take precedence over taking care of everyone, in particular, the most vulnerable members of our society. Obama believes that it is the younger generations of Americans who are most able to move this country in the right direction, toward a place of acceptance, understanding, hope, and positive change. And if Obama believes it, then we have to believe it can be true too. Right before Obama left the stage, with his family at his side, he left us with the following words, which we will work hard to remember and to live by as we enter this new era.
I am asking you to believe. Not in my ability to bring about change—but in yours.
I am asking you to hold fast to that faith written into our founding documents; that idea whispered by slaves and abolitionists; that spirit sung by immigrants and homesteaders and those who marched for justice; that creed reaffirmed by those who planted flags from foreign battlefields to the surface of the moon; a creed at the core of every American whose story is not yet written:
Yes, we can.
Yes, we can. We must. And, yes, we will.