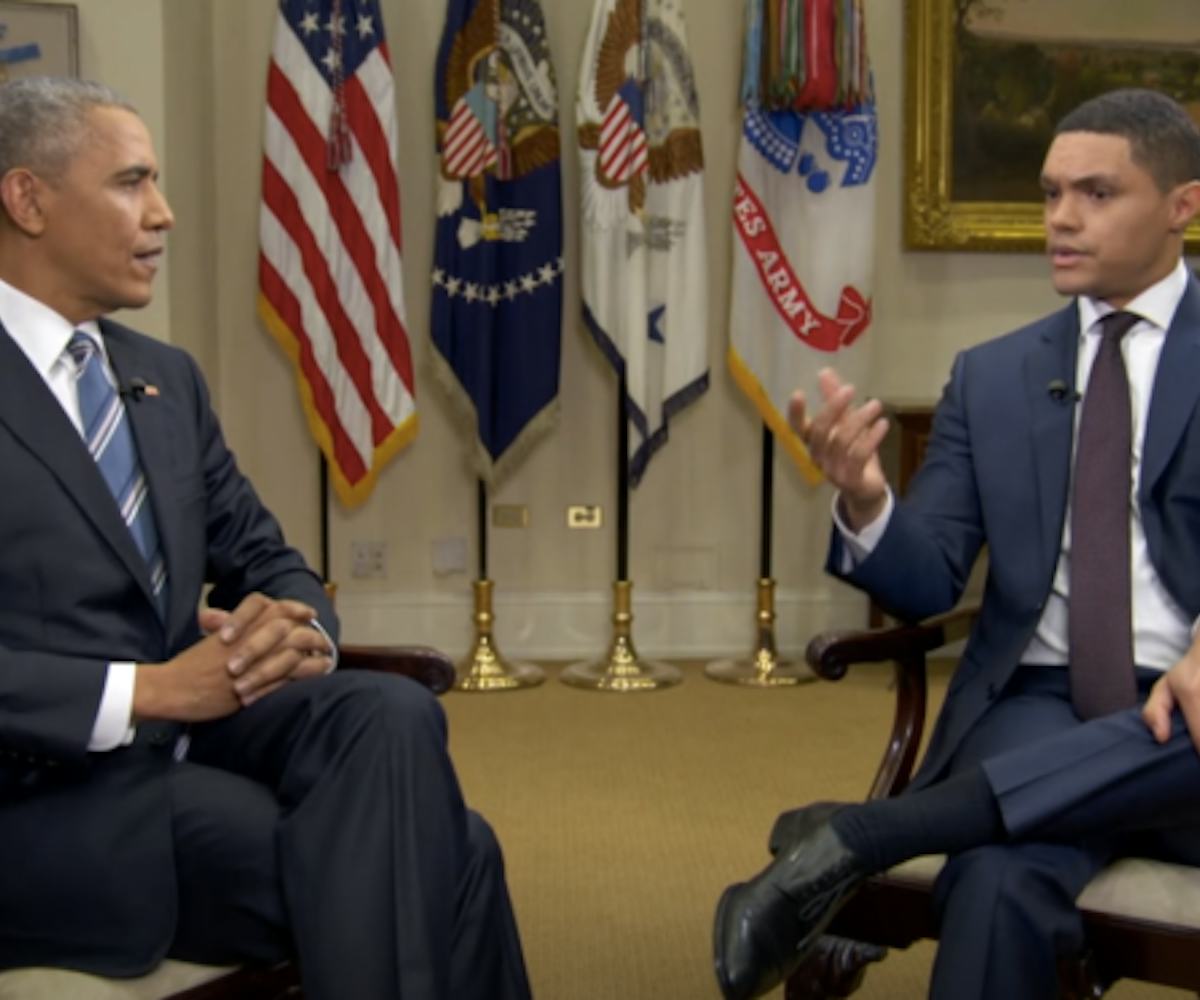 Photo courtesy of Comedy Central
President Obama Talked Russian Hacking, Obamacare, And More On Extensive 'Daily Show' Interview
Barack Obama appeared on The Daily Show Monday for, what will go down as, one of his final televised interviews as sitting President. He used the hour-long chat with host, Trevor Noah, to address the CIA's claim that Russia intervened in the U.S. presidential election with the intent of helping Donald Trump get elected, an assertion that the President-elect has deemed "ridiculous." Obama, for one, doesn't see it that way. 
He called the news of Russian hacking no "big surprise," and argued that the "fairly routine" DNC emails became a bigger story than the fact that a foreign government helped leak them. "What is it about our political ecosystem, what is it about the state of our democracy where the leaks of what were frankly not very interesting emails that didn't have any explosive information ended up being an obsession, and the fact that the Russians were doing this was not an obsession?" Obama asked.
Obama also addressed Trump's recent claims that he will forgo daily intelligence briefings because he's a "smart person." "The President-elect may say one thing and do another once he is here because the truth of the thing is, it's a big complicated world, it doesn't matter how smart you are, you have to have the best possible information to make the best decision possible," Obama said.
When the discussion turned to Obamacare, the President sounded skeptical about the Trump administration's plans to repeal it, something he called a "Holy Grail for Republicans, based on ideology and not facts." He added that he felt confident that the incoming administration's attempts to find a successful alternative to Obamacare would ultimately prove futile. "I don't think they will," he said. 
Finally, as if to quell our collective fear that after Inauguration Day the President will just ride off into the sunset never to be heard from again, Obama did his best to assure us that that won't be the case. "I don't anticipate that I suddenly just vanish," he said. "But I think it is important to give the incoming administration their space, but there may be occasions where I might have to say something." We sure hope so.
Watch the full interview below.