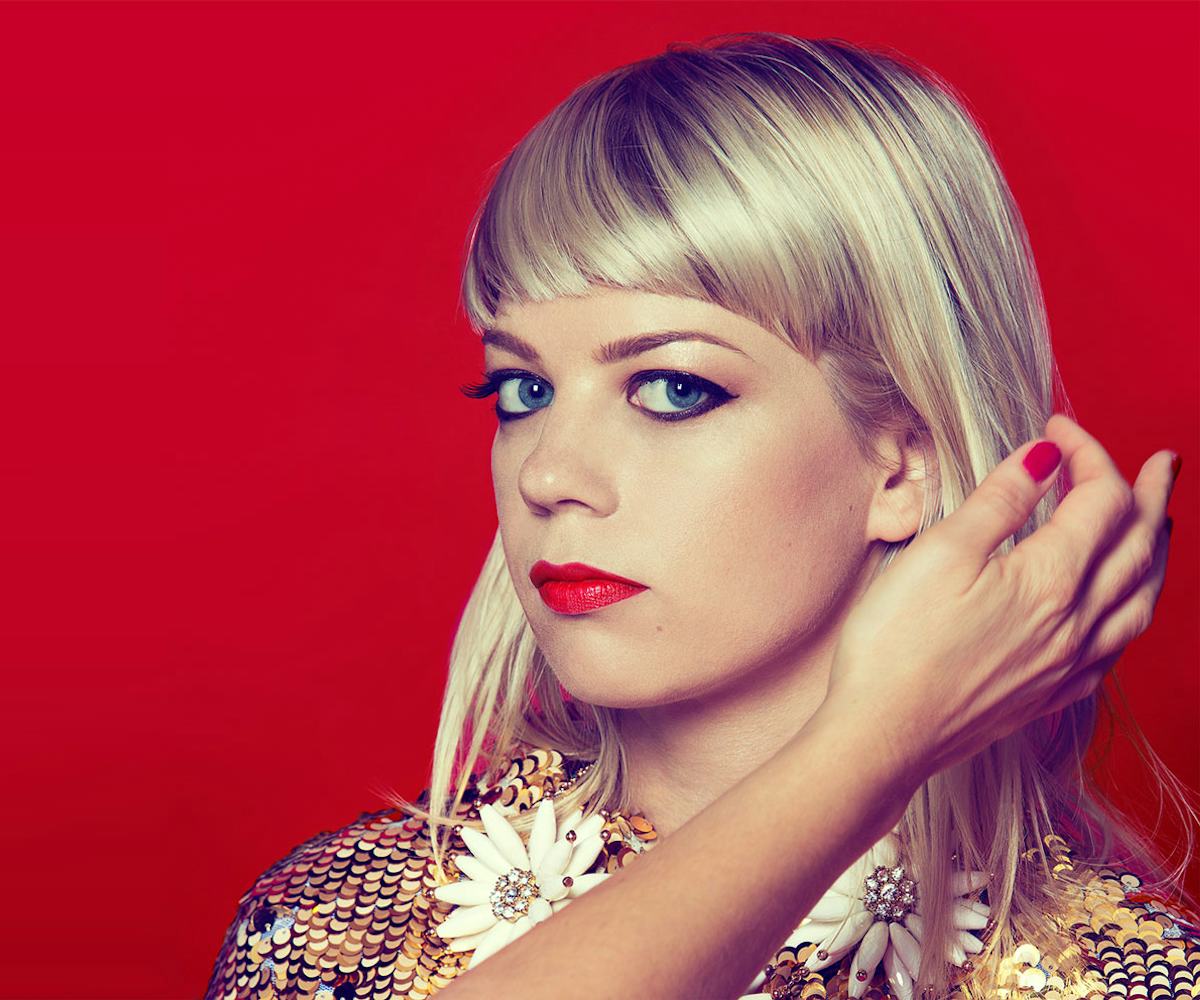 Photo courtesy of Basia Bulat
How Basia Bulat Mined Heartbreak To Create Her Poppiest Record Yet
The Canadian singer's latest album, 'Good Advice,' takes on a new, revealing life on tour
Some people are presented with a cake on their birthday—and then some people are stopped in the middle of their rock show and surprised with a rocket ship piñata instead.
This is how things went down for singer-songwriter Basia Bulat at her most recent gig in New York City. Bulat, who's currently touring in support of Good Advice, her latest album out now via Secret City, went from shocked to downright giddy when her bandmates rolled out the unwieldy, streamer-strewn, papier-mâché creation onstage at the Bowery Ballroom last week. The rocket was promptly tied to the neck of her bandmate's bass, and within seconds, Bulat—fittingly clad in a gold sequin capelet—booked it from the stage to the floor so that she could get in position to whack the hell out of the thing. She went to town on the piñata in a sparkle-flecked flurry, her bandmates and crowd cheering and clapping, before making it completely fall apart. By the time Bulat made it back to her place center stage, she was blushing, sweating, and beaming; she thanked her bandmates and the crowd, and she got back to business.
If you were to see the wrecking of the piñata as a metaphor for Bulat's life, you would be right—she rockets through life and smashes any challenges that stand in her way, with a determination unlike any other. The folky singer works just as hard as she plays, and Good Advice was a hard-won effort that came from experiencing heartache and huge transitions—something that can be heard in her vulnerable lyrics and intricate instrumental breakdowns.
Bulat, who currently resides in Montreal, was living in Toronto at the time when she wrote the follow-up to her third full-length album, 2013's Tall Tall Shadow. "There was a lot of upheavals, a lot of change, a lot of loss, so yeah, it wouldn't be a lie to say that the record is a heartbreak record," she says of Good Advice. The move from Toronto to Montreal was one thing, but relationships were lost in the transition, too. "I realized it was a lot about loss and a lot about change, fear, and fear of the unknown. As much fear, pain, or grief as there is in that, there's this realization that it comes from something really beautiful. I'm finding a way to kind of transcend that," Bulat adds. "There's something in fighting to transcend that sadness and celebrate what was there that I was looking to express in the record."
To do that, Bulat kept moving: She grabbed her passport, hopped in the car, and drove south, crossing the border and setting her course for Louisville, Kentucky. The plan was to take her time getting to the studio of Jim James, known for his psychedelic solo work and the deafening rock output of My Morning Jacket, who would produce what would become Good Advice. For those unaware, there are faster ways of getting from the Canada to Kentucky—that flight is only a couple hours—but Bulat wanted to feel the trip, to let the minutes turn into miles, to process the hurt and life changes she'd written about before she set about recording them. "I'm the odd exception: I never complain about touring. I actually enjoy traveling, seeing the world, talking to people," she says.
It's a couple of hours before her performance at the Bowery Ballroom and her piñata triumph. She's sitting upstairs getting her hair and makeup done shortly after soundcheck. "That was part of the fun. That way, I got a chance to listen to whatever I wanted to listen to. I had time to think. It was the summertime, so it was a really beautiful drive. I just got there and walked into the studio."
There, she and James struck a perfect, collaborative chord. Bulat had opened for James when he was touring for his 2013 solo effort, Regions of Light and Sound of God, back when her style was of a folkier, acoustic ilk. Now, with seismic shifts rearranging various aspects of her life, she found comfort in the grand sprawl of Good Advice, fleshing out empowering, inventive pop songs set to a building din of guitars, driving beats, accordions (provided by Louisville's own Twin Limb), the clarity of Bulat's vocals the eye of the storm. The record is a lesson in contrasts, as Bulat leaves her bleeding heart out in the open for the listener to examine it while making them dance in the process. "Infamous," the album's single, "Fool," "Let Me In," are all bright, bubbly pop songs that make the listener do a double take once they realize they're dancing along to Bulat's darkest, loneliest thoughts. Good Advice gives her just as much of a cathartic experience on tour as it did in the studio. 
"I've never found a way to explain what the songs are about because there's more in there than I've been able to talk about," she says. "When I sing or when I play, it feels more real and true to me than any time I've tried to talk about it, even with friends. It feels a lot more intuitive in that way. There's no right or wrong way to go through those losses or changes. In some ways, we didn't really plan [the recording] or think about it. We just started playing. My previous record came out of losing one of my oldest and dearest friends unexpectedly, so I wasn't sure, when I was touring that record, how it was going to play out, so to speak. I think it just kind of gave me the confidence, even putting it out, to realize that allowing myself to be vulnerable, not getting hard—that will be what keeps me alive, even if sometimes the songs are hard to sing."
And that's where the piñata and the euphoric vibe of the live show come in. Bulat's joy is palpable when she performs, and that enthusiasm catches like wildfire: She may be begging the person who broke her heart to take down their emotional barriers on "Let Me In," but she's grinning and bopping around the stage while doing so. Tall Tall Shadow didn't give her the opportunity to embrace this poppier side on tour, and she's relishing the chance to do so now with Good Advice. "I've never had a chance to really dance onstage before," she says. "Sometimes I get a little bit of a break and I can run around. It's still the most physical show I've done, the most challenging vocally. There's a lot going on, but at the same time, it becomes easier, because I allow the spirit of letting myself be fragile onstage to take over. People just lift you up. It's a really magical thing."