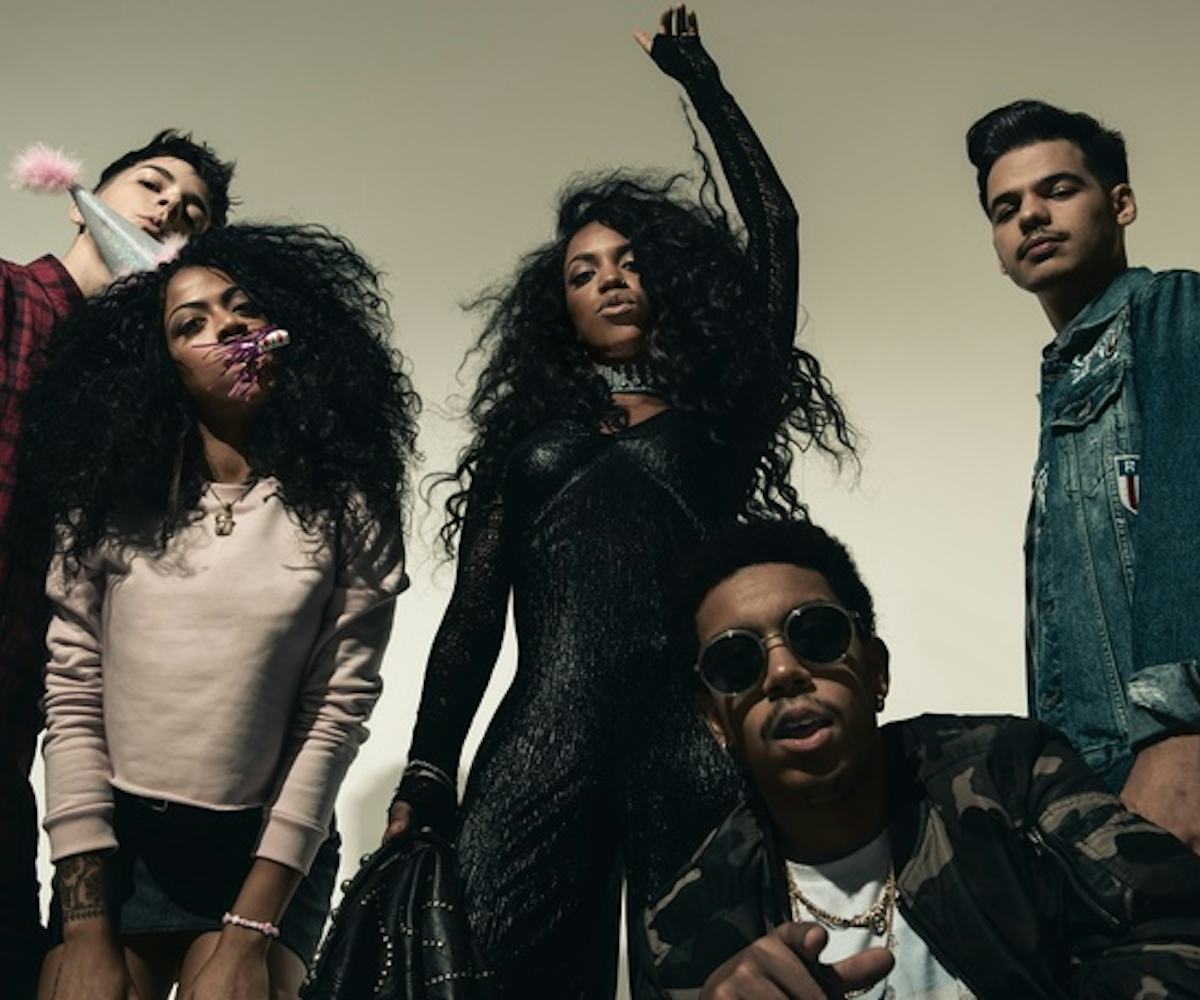 Bayli Of The Skins Talks About Being On Her "Millennial Shit"
We caught up with the singer this weekend at Afropunk
Playing Afropunk is like coming home for The Skins. Not just because it takes place in their home borough of Brooklyn, New York, but because the eclectic music scene there is very much in line with the band's jumble of genres. As lead vocalist Bayli Mckeithan tells me on Saturday after their performance, while their sound will always be rock at heart, the group (made up, too, of her sisters, Reef and Kaya, and friends, Daisy Spencer and Russel Chell) is on its "millennial shit." This means "no labels, no genre, we're not just this one thing, there are no limitations." She goes on to explain: "In our band, in a 30-minute set, we'll probably go through every style of music. We've written country songs, hip-hop, trap, rock, pop, everything."
They've also collaborated with D.R.A.M. in the past and just got off a tour with DNCE. The band jumps around, and that's its right. It's going places, whether you plan on coming along for the ride or not. Ahead, I get to know Mckeithan as we chat about what it's like performing at a festival like Afropunk versus a DNCE concert, not having a driver license, and what's next for The Skins.
You also played Afropunk back in 2012; do you feel like you've grown up with the festival? 
Definitely, this is like our day one; this was our first big festival. This is literally our neighborhood—we're from Bed Stuy. It's amazing because it's local as hell. We love coming back and supporting them.
You just got off tour with DNCE; that had to have been a totally different crowd.
On every level, because our music has evolved, and I think it's always going to be evolving just as artists and creative people. But that being said, our foundation is still hard-core rock and roll. We're rocking out. We have heavy guitars; we have head-banging. We're thrashing, and it's crazy. So that was our first pop tour, and the demographic is very different. It's like little girls, and they're definitely not into seeing other women. I feel like the crowd was into boy bands. So seeing us, and we're like weird and crazy looking... we just knew we had to warm them up. Every show, the crowd was really responsive, but I think that was us putting in the energy and bouncing energy off the crowd. That's one of the most exciting things about performing is winning an audience over and getting them to fuck with you.
Do you have any pre-show rituals?
My band and I are such nerds. I do vocal warm-ups and we touch fingertips before hand. That's like our hug. We do calisthenics—we jump, we get pumped up—but it's pretty basic, it's pretty nerdy.
What's your favorite driving music? 
I don't drive, I'm usually being driven. On some Brooklyn shit, it's usually Hot 97, Power 105. Something that I can get lit to in a cab.
Do you have your license?
Hell no, and I don't plan on getting it anytime soon. I tried to drive once, and it was a shit show. It takes practice, but I'm just bad. I think it's a confidence thing and, with driving, it's just not there. I tunnel vision my confidence into every other aspect, not driving.
What activity do you most enjoy doing alone?
I really don't get that much alone time, but I really, really love songwriting. Not only for my band, but I work with other people, other writers, other artists. Depending on the music or the song or how I'm feeling, I have to isolate myself and really dig deep. I also do yoga and meditate.
Where's your favorite place to write music?
We have a studio that we work out of. I also have a bedroom studio at my house, and that's the most intimate it really gets for me. I can be cozy yet productive, so just at home keeping it really casual.
If you could write a song for a specific artist, who would be at the top of your list?
I would love to write with, not for, Rae Sremmurd. Swae Lee is so amazing to me. He's so versatile in his writing. They give you trap, but he writes for so many different people. He's very eclectic, and I like that. I like direct contrast, doing the unexpected.
Where do you hope to be professionally in five years?
I hope to be touring. Really on the road hard-core. Kind of what we're already doing, just on a bigger level. Putting out music more frequently. I feel like I'm really in my element when we're playing live because I'm connecting with people, and it's all about community and that energy. So bigger shows, bigger stages, bigger everything.
What's next for the band?
Today we played some new songs for the hood, and it was lit. I hope they were into it, it seemed like they were. We'll be putting out new music in the next couple of months. Really, really soon, maybe even at the top of September.