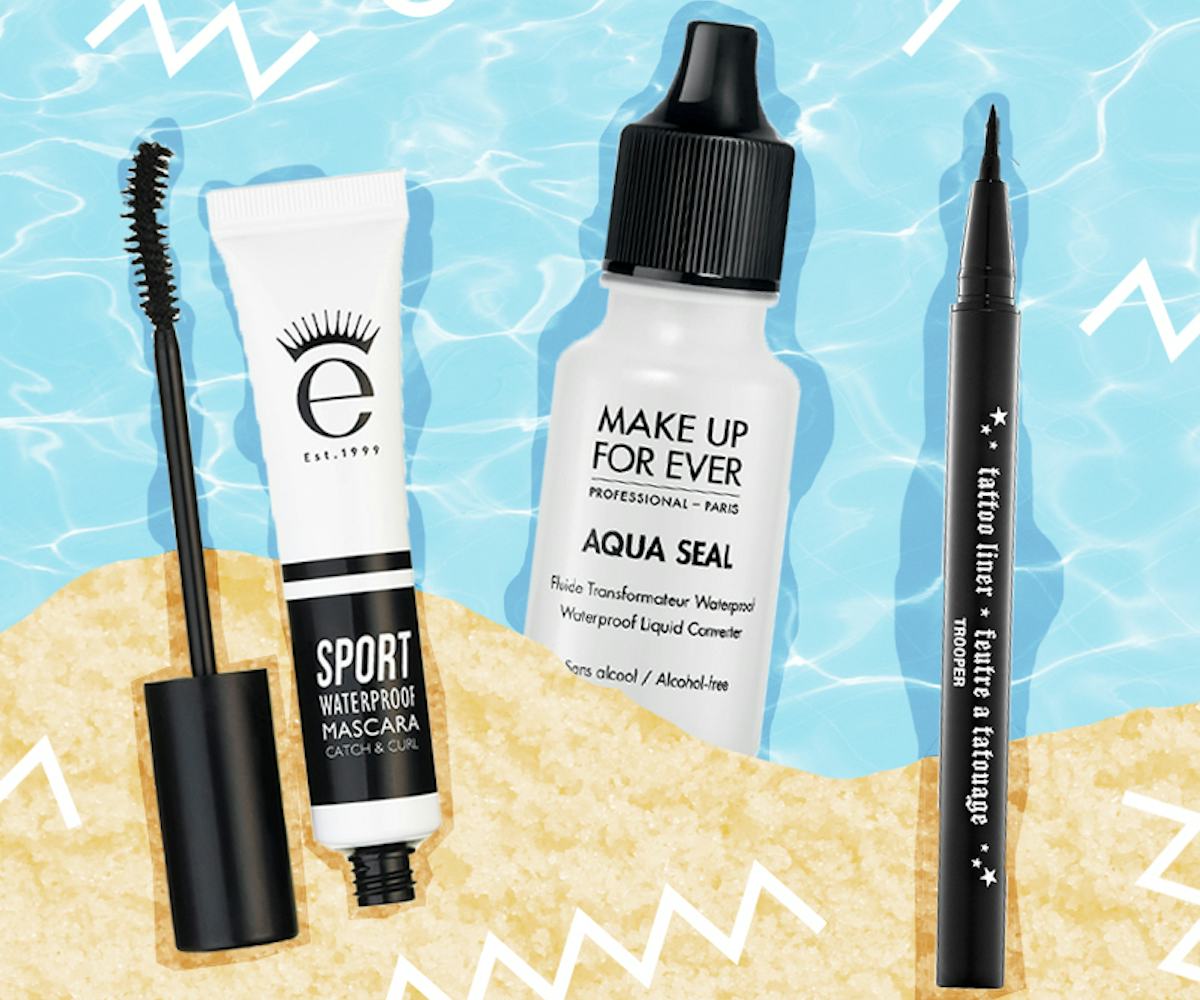 Beauty Products That Will Actually Last Through A Beach Day
Makeup, despite what the beauty industry would have you believe, isn't totally necessary. In fact, it can be liberating to go out with a naturally fresh, makeup-free face. That being said, it's equally empowering to assert your right to wear it wherever and whenever you so choose. And while the pool and the beach are two settings where you wouldn't normally think to wear it to, it can be done—without the risk of a water-induced beauty disaster.
Whether you're heading to a shoreside party, or just relaxing in the sand with a good read, you should feel comfortable enough to wear makeup if you want to. Check out the best tried and tested waterproof beauty products in the gallery below.
Mascara
Whether you're looking for a mascara that can outlast the beach, a chlorinated pool, or even just a viewing of Like Crazy, Eyeko has you covered. Not only is it a great mascara—it lifts, curls, lengthens, and adds volume—but it also stays put all day, no matter what environment you're in. 
Eyeko, Sport Waterproof Mascara, $25, available at Eyeko. 
Liquid Eyeliner
Kat Von D's Tattoo Eyeliner allows for super-easy, precise application, and it's also highly pigmented and totally waterproof. There's a reason why it's a cult favorite.
Kat Von D, Tattoo Eyeliner, $19, available at Kat Von D Beauty. 
Pencil Eyeliner
Whether you're looking for an everyday black pencil, or a tropical, mermaid-like hue to rock at the beach, this collection has it. Made with jojoba oil, Vitamin E, and cottonseed oil, the pencils glide on smoothly and after 30 seconds, they transform from a blendable formula to a waterproof, budge-proof one.
Urban Decay, 24/7 Glide-On Eye Pencil, $20, available at Urban Decay. 
Brows
Thanks to the Cara Delevingne-fueled brow revolution, your brows are probably the one part of your face that you definitely want to stay put 24/7 (there are few things more disconcerting than a drooping bold brow). Made with plant wax and infused with natural botanicals, aloe, and Vitamins A and E, the formula glides on easily, creates a natural look, and stays put until you run some makeup remover over it.
Tarte, Amazonian Clay Waterproof Brow Pencil, $21, available at Sephora. 
Skin Tint
The most important thing to remember when you're spending time out in the sunshine is the importance of SPF. Not only is Perricone MD's No Foundation Foundation Serum infused with SPF 30, but it also moisturizes and hydrates skin. While it's not quite waterproof, it's one of the most natural, breathable foundations that you can find to wear out in the sunshine. 
Perricone MD, No Foundation Foundation Serum SPF 30, $60, available at Perricone MD. 
Face + Body Sunscreen
While it's cringe-worthy to admit, most sunscreens irritate my sensitive skin to the point where I started ignoring them completely. After many trial-and-errors, I found that Neutrogena's formula is not only compatible with my skin (no redness, itching, or burning), but it also offers probably the lightest texture possible. While no sunscreen is truly waterproof or long lasting—you should reapply every hour or so, and make sure to first apply 30 minutes before sun exposure—this formula is water resistant for 80 minutes.
Neutrogena, Ultra Sheer Dry-Touch Sunscreen, SPF 70, $9.99, available at Drugstore.
Basically Anything
If you have a favorite beauty product—be it an eyeshadow, blush, or brow powder—that's not already waterproof, you can convert it into a long-lasting, beach-proof product by mixing it with Make Up For Ever's Aqua Seal Waterproof Liquid Converter. Just mix a few drops of the formula with whatever product you fancy, and apply like normal. The intensity of the pigment will increase. Also, the seal is quite tacky, so you'll want to make sure to wash your brushes well after using it. 
Make Up For Ever, Aqua Seal Waterproof Liquid Converter, $21, available at Make Up For Ever. 
Lips
We've waxed poetic about Beauty Bakerie's waterproof makeup before and, to be honest, we probably will again. Not only does the vegan and cruelty-free brand produce stellar products, but they also really stay put. Not even dish soap can make them budge, seriously.
Beauty Bakerie, Mon Chéri Lip Whip, $20, available at Beauty Bakerie.