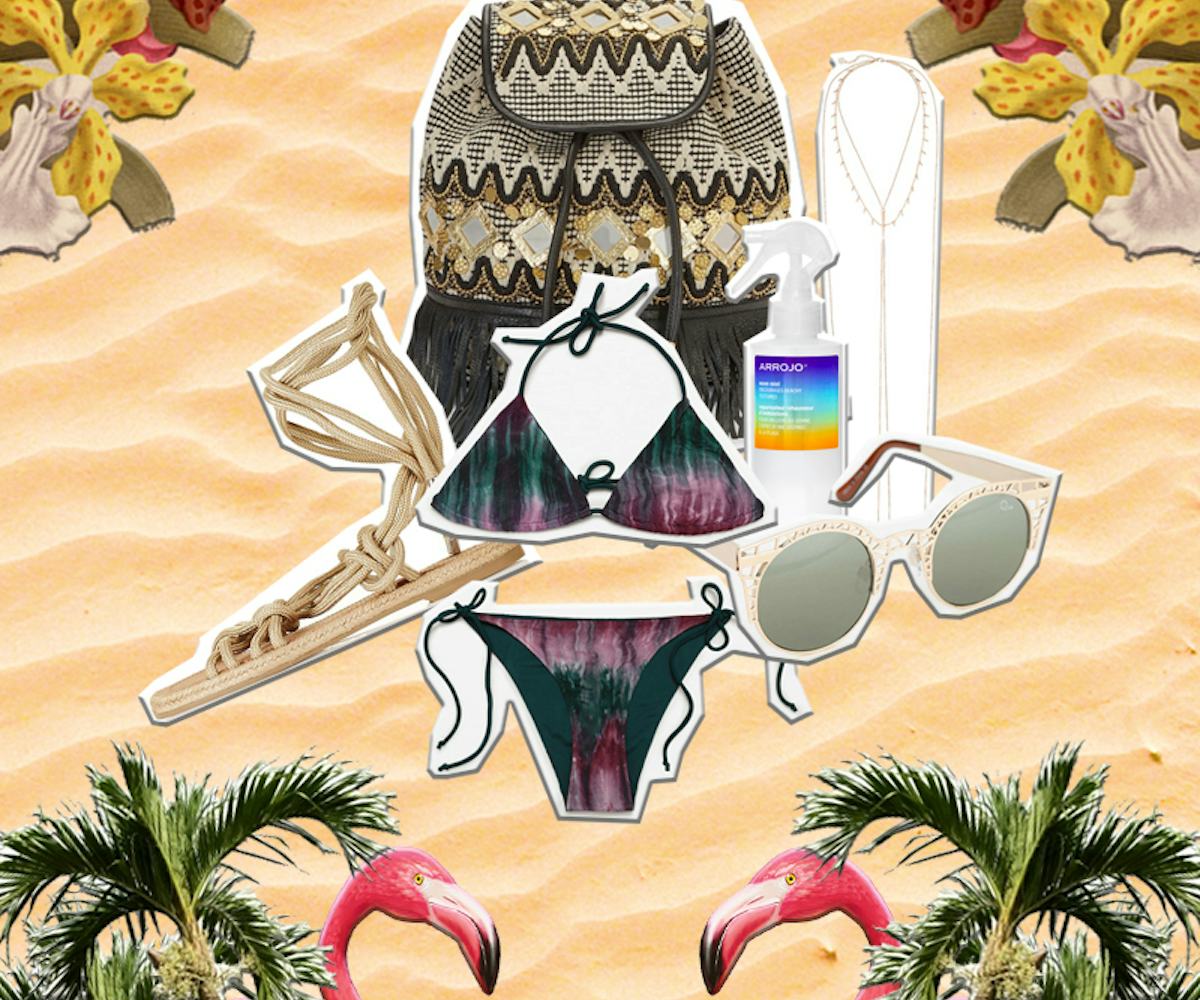 Your Ultimate Beach Look, Based On Your Style
From bikinis to sandals, we got you covered
It's finally summer—which means beach towels, whether they're tucked into the sand or hung over a pool lounge chair, will become regular hangout spots for many of us. While we tend to focus most on finding the perfect swimsuit every time the temperatures start to rise, we must remember that accessories are just as important when it comes to perfecting our beach looks, whatever the style vibe may be.
To make things easier for you, we put together an outfit guide so you can have your full look complete for a day at the beach or a poolside soiree. Whether you're dressing for a day of beach volleyball or going for a stylishly retro look for the sheer fun of it, we rounded up the best of swimwear, sandals, sunnies, and more. Click through the gallery below to see our picks.
Retro
For the girl who loves all things vintage: Pair retro-inspired silhouettes (like a high-waisted bikini) with a headscarf and some bold cat eye frames.
1. Cult Gaia, Golie Turband, $48, available at Cult Gaia; 2. Crap Eyewear, The Diamond Brunch Sunglasses in Caramel, $58, available at NYLONshop; 3. Henri Bendel, Wooden Handle Stripe Basket Tote $268.20, available at Henri Bendel; 4. Earth Tu Face, Botanical Perfume, $78, available at Kindred Black; 5. Dolce Vita,  Javier in Yellow Suede, $70, available at Need Supply Co.; 6. Esther Williams, Bathing Beauty Two-Piece Swimsuit in Red, $89.99, available at ModCloth.
Sand Witch
Who ever said witches don't like the beach? Accompany your all-black ensemble with astro-inspired accessories and gothy (not to mention waterproof) lips.
1. Loeffler Randall, Starla Ankle Wrap Sandal, $195, available at Loeffler Randall; 2. H&M, Floppy Straw Hat, $14.99, available at H&M; 3. Minor History, Night School in Phases, $165, available at Minor History; 4. Beauty Bakerie, Lip Whip in 'Truffles After Dark, $20, available at Beauty Bakerie; 5. Valley Eyewear, Wolves Sunglasses, $199.99, available at Valley Eyewear; 6. Samantha Pleet, Black Tabernacle Swimsuit, $149, available at Bona Drag.
Beach Boho
Bohemian style isn't just for music festivals. Complete your beach look with earthy tones, fringe, and some delicate body chains. And, of course, don't forget some carefree, beachy waves.
1. Rebecca Minkoff, Taj Backpack, $325, available at Rebecca Minkoff; 2. Arrojo, Wave Mist, $22, available at Arrojo; 3. Topshop, Fabric Tie Sandals, $75, available at Topshop; 4. Kendra Scott, Joslyn Body Chain in Rose Gold, $95, available at Kendra Scott; 5. Quay, Fleur Round Cat-Eye Sunglasses, $45, available at Urban Outfitters; 6. Zara, Tie-Dye Effect Bikini Top, $22.90, available at Zara; Zara, Tie-Dye Bikini Briefs, $19.90, available at Zara.
Sporty
For the girl that's into sports (or at least a fan of athleisure), style your look with clean lines and bold colors (and a baseball cap to protect your precious scalp from the sun's rays). Cool off in between beach volleyball games with a refreshing face mist.
1. Claetyn Wood, Grant in White, $198, available at Claetyn Wood; 2. Milk Makeup, Face Mist, $22, available at Birchbox; 3. Opening Ceremony, OC Logo Two Tone Weekend Bag, $80, available at Opening Ceremony; 4. UO, Washed Canvas Baseball Hat, $20, available at Urban Outfitters; 5. Spitfire, Trip Hop, $45, available at Spitfire; 6. Forever 21, Stripe-Trim Bikini Bra, $17.90, available at Forever 21; Forever 21, Stripe-Waist Bikini Bottom, $12.90, available at Forever 21.
Tropical
Even if your beach destination isn't an uncharted, tropical island, there's no reason you can't pretend. The more color and prints you wear, the better—and don't forget to protect your locks with a sun protective spray and a chic straw hat.
1. Clyde, Safari 2 Baseball Hat, $196, available at Clyde; 2. Echo, Paradise Weave Reversible Sack, $78, available at Echo; 3. Aveda, Sun Care Protective Hair Veil, $28, available at Aveda; 4. ASOS, Flashy Suede Tie Leg Fringe Sandals, $36, available at ASOS; 5. Thierry Lasry, Orgasmy, $385, availably at Thierry Lasry; 6. Guess, Tropical Crisscross One-Piece Bathing Suit, $98, available at Guess.