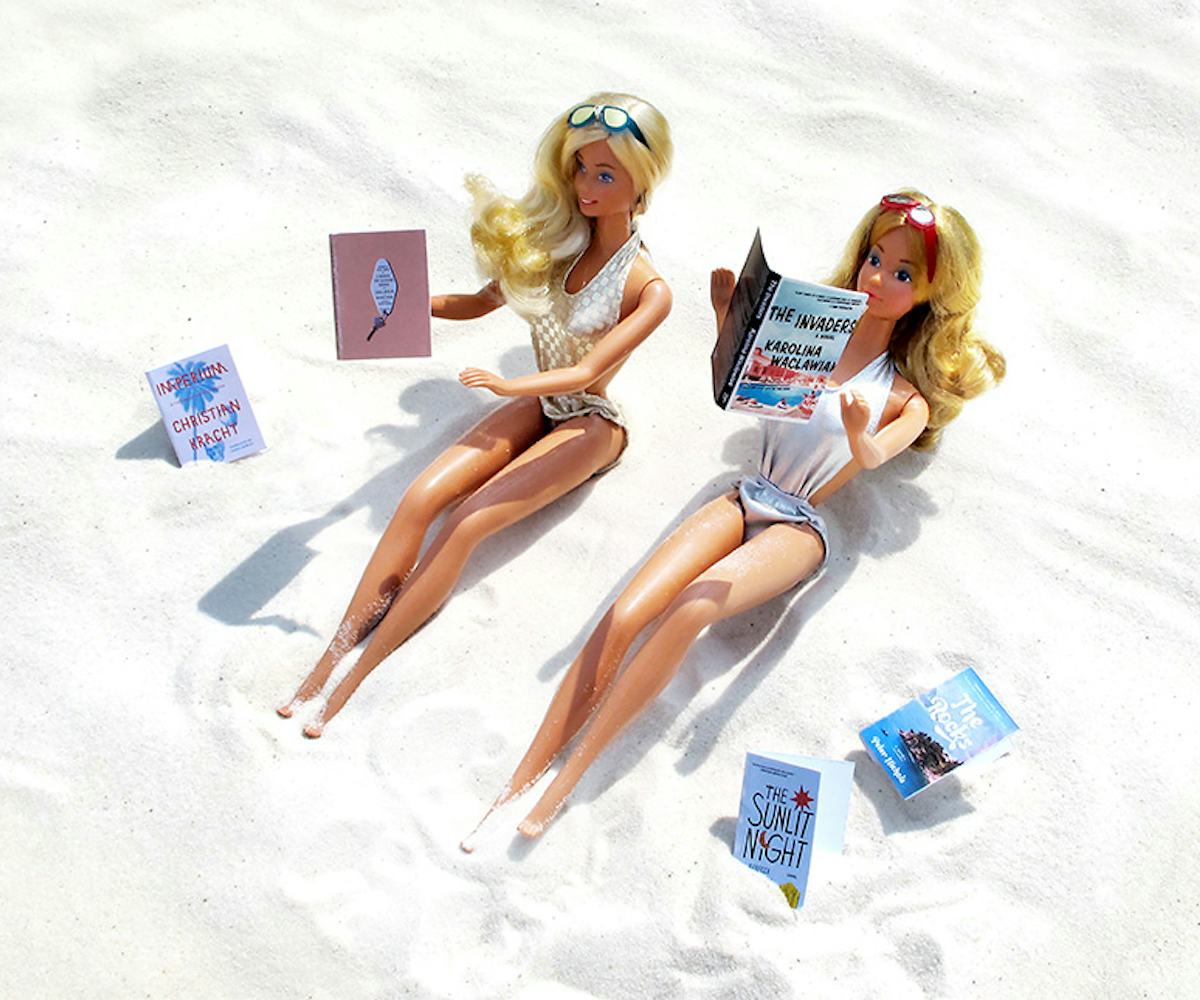 Photographed by Beth Garrabrant / Styled by Chris Lukas
your guide to the best summer beach reads
we've got your beach reads covered.
For a day out on the beach, a good book is a staple. But with all the endless selections out there, how can you know exactly which book to tote along to your next beach excursion? Not to worry. From the plight of a radical frugivore to a sexy saga on a spanish isle, we've got your beach reads covered.
Click through the gallery to see our top five picks.
Swiss author Christian Kracht's first translated novel, Imperium, focuses on a cluster of German colonies north of Australia in the early 20th century. On the remote isle of Kabakon presides the lone leader August Engelhardt, based on an actual German-born historical figure who founded an extreme sect with a peculiar interpretation of naturalism. In the novel, Engelhardt is an outsider and radical frugivore, who harvests—and near-exclusively subsists on—coconuts. An evangelical Robinson Crusoe with fervent idealism, he believes in the "sacred duty of paying homage to the sun" while naked (naturally). Increasingly removed from society, he becomes progressively unhinged and savage. A parade of ancillary characters come drifting in and out of the South Seas, their backstories recounted by an omniscient narrator, while the plantation slides into ruin and debt. Although originally published in 2012, there is a sprawling early-19th-century sensibility to Kracht's work as the adventure unfolds, all expressed in loquacious prose.
-Sarah Moroz
A Manual For Cleaning Women: Selected Stories by Lucia Berlin
Lucia Berlin has long been overlooked as one of America's best short story writers, and it only takes readers the first couple of pages to recognize that. Although this collection is a work of fiction, the stories draw heavily from Berlin's rich and fascinating life—from her childhood in mining towns of the Wild West to her jet-set years in Chile. Berlin spent time in and out of drunk tanks while working jobs as varied as cleaning woman, university professor, and emergency room technician in order to support her four boys, often as a single mother. Wondrously enough, she never stopped writing, and this selection represents some of her best work from the '60s through the '80s. The tone is reminiscent of Raymond Carver with a dash of survivor's humor, which makes even the bleakest tales thoroughly enjoyable.
-Joseph Errico
The Sunlit Night by Rebecca Dinerstein
The silver lining in a breakup is rediscovering who you really are—yet that process can feel perilously aimless at first. So it goes for Frances, 21, a college grad and newly single, who concentrates her anxieties into one intricate project—painting a barn entirely yellow—at an artist colony in Norway. Simultaneously, Yasha, a Russian-born, Brooklyn-raised 17-year-old, suddenly fatherless, makes his way to "the top of the world," the backdrop where his father wished to be buried. Through tragedy and awkwardness, Frances is conflicted by her intimacy with the younger man as their chaotic worlds collide. 
"I wanted to tell a story about attractions," says Dinerstein of her debut. "It's about parents and long-term choices as much as it is about young people and impulses." And it offers exactly what you'd ask of a summer read: sultriness, risk, and an ending that feels like the beginning of something solid.
-Jessica Calderon
The Invaders by Karolina Waclawiak
It's very easy to be an outsider, a theme that The Believer editor Karolina Waclawiak has well explored in her fiction. Her follow-up to last year's underrated How to Get Into the Twin Palms takes place in a wealthy Connecticut neighborhood, where everybody has their nose in everybody else's business and will judge each other for it. The story focuses on Cheryl, a forty-something who married into the community and never quite fit in, and Teddy, her troubled teenaged stepson who always finds new ways to disappoint his father. Though Cheryl and Teddy are foils to their caricature-like, awful neighbors, Waclawiak offers no real heroes for the reader, instead portraying a dark, complicated little world where even the most likable people are supremely warped in their own ways. And it is a world where issues of class, race, privilege, mental illness, and melon-colored skorts get explored, the Connecticut way.
-Anna Fitzpatrick
The Rocks by Peter Nichols
Within the first 50 pages of The Rocks, Peter Nichols's sophomore novel, a 70-year-old woman takes a 15-year-old boy's virginity and a middle-aged man deflowers a teen girl. But to liken the 432-page work to a steamy beach read would be grossly inaccurate. Sure, there's sex, as there seems to be in any modern-day novel, but it's just something that happens from time to time. Instead, The Rocks plays with nearly every aspect of humanity—from the concept of love at first sight to deception to death. Set on the hills of Mallorca, the novel opens in 2005 and trails back decade by decade to 1948. Seemingly seminal characters become obsolete, old grudges become nonexistent, and the reader is forced to let go of all major character developments. Much like any cult hit, it's a satisfying read for reading's sake—just don't expect to come out with a clear sense of what you just consumed.
-Yasmeen Gharnit