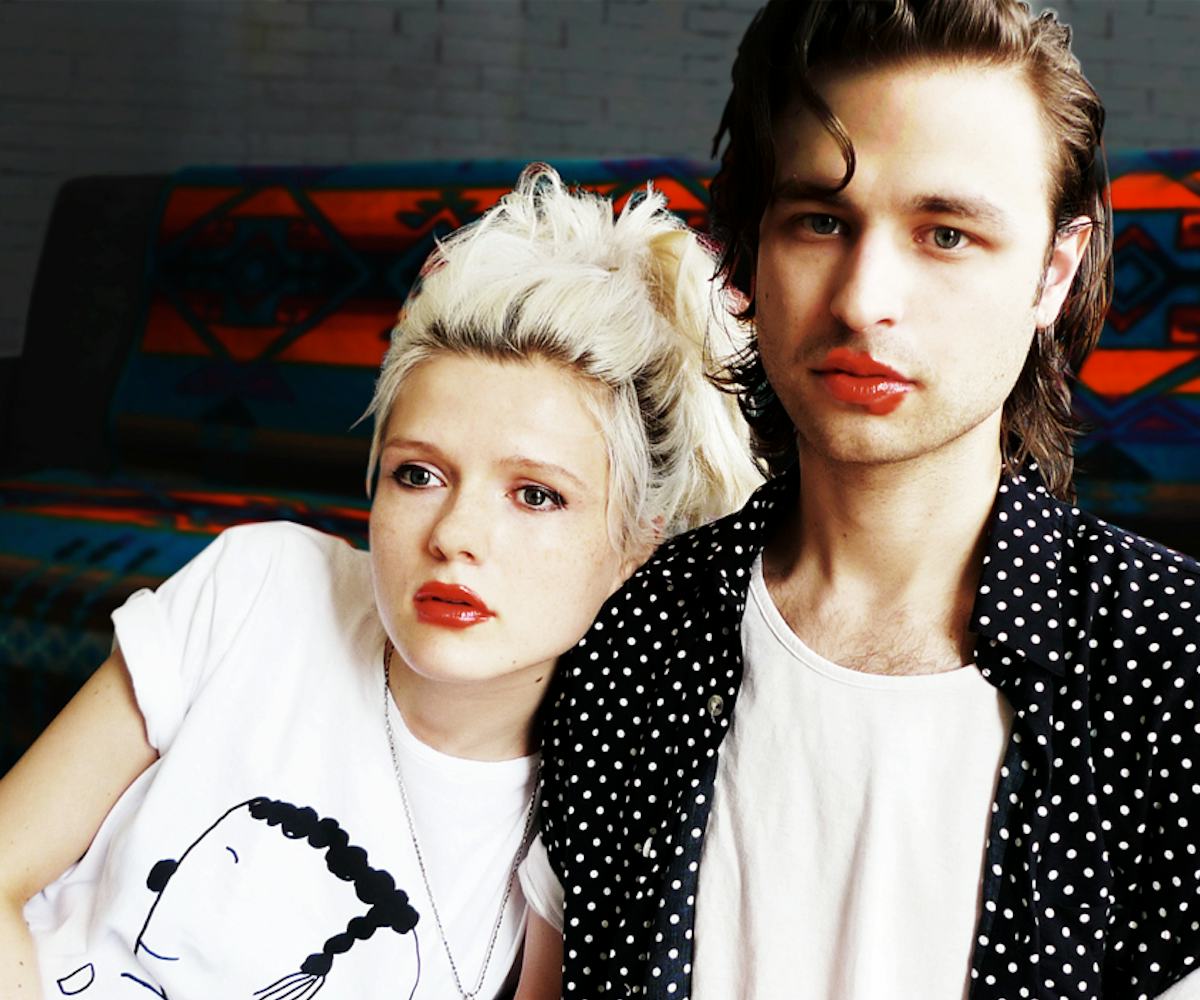 love me do
stream beatles reimagined for free right now!
What happens when you take the songs of arguably the most influential band in rock'n'roll history, and pass them along to the coolest musicians playing right now?
Welcome to Beatles Reimagined, a 10-song album of Beatles covers by everyone from Edward Sharpe and the Magnetic Zeros to Mobley. The collection, which was put out this week by Community Music's Community Project label, is as diverse as the music of the Fab Four; it ranges from an acoustic-folk version of "All My Loving" to an all-out dance party-fied "I Wanna Be Your Man."
The timing couldn't be better--besides the fact that it's been exactly 50 years since the start of Beatlemania, there's the little problem that more and more young people (read: us) don't actually know the British foursome's music. Which, if you've ever spent an afternoon playing the likes of Revolver or A Hard Day's Night on repeat, you know is a bit of a bummer.
Though you can pick up a copy of the album right now (with all of the label's net profits from the album donated to the Rock n' Roll Camp for Girls Los Angeles, which is a nice bonus), we've got the exclusive free stream of Beatles Reimagined right here. Scroll down to press play, and then read on to see what the 21st century featured bands have to say about their covers.
The Well Pennies - "All My Loving"
What made you interested in being a part of Beatles Reimagined? "We loved the concept of the album. The Beatles are such an important band that even today, decades later, they still inspire creativity through their music. We also love a challenge; The Beatles are so iconic and so loved by the world that it seemed like a risky move to re-imagine the well-known melodies and lyrics of their music. But even then we couldn't pass on this chance to honor their legacy and the influence they've had on us and so many other artists." --Bryan and Sarah Vanderpool
Mobley - "From Me To You"
How did you make the track your own? "I'm not Joe Cocker or Harry Nilsson, so I don't know how capable I am of truly making it my own, but I just tried to turn it on its ear a little, singing and playing it as an exasperated, henpecked lover rather than an earnest suitor. We enjoyed making it and hope that people enjoy listening to it!" --Anthony Watkins
Feverbody - "Misery"
Why did you choose this song to cover? "Lennon/McCartney wrote 'Misery' for a female singer who never recorded it and instead went on to become the first Beatles composition to be covered by another artist. Since it originally wasn't even supposed to be a Beatles song but a song for a female artist, I knew that there was room to take it to a different place but still remain true to the initial concept." --Kaz Gamble
Edward Sharpe and the Magnetic Zeros - "I Saw Her Standing There"
What made you interested in being a part of Beatles Reimagined? "I think every person has about five-percent of their brain subconsciously dedicated to cataloging and memorizing the music of The Beatles. We all know the songs, we all sing the songs, so to be a part of this album and perform a well-known song in a new way felt pretty good." --Nora Kirkpatrick
Night Panther - "I Wanna Be Your Man"
What was your goal with your cover? "With all due respect to The Beatles, our goal was to make it sound nothing like them. The last thing we wanted to do was sound like a Beatles cover band; that's not what this album is about." --Chris Radwanski
Jhameel - "I Feel Fine"
How did you make the track your own? "The original sounded very bright and positive, but I found the lyrics to be a bit dark and sarcastic, so I wanted to run with that emotion completely. I made it my own by making the song a dark, crunchy, and very sarcastic vibe." --Jhameel
Leftover Cuties - "There's a Place"
What made you interested in being a part of Beatles Reimagined? "I'm not alone in professing my love and admiration for The Beatles. My first vinyl album purchase at eight-years-old was a Beatles LP and I wore that thing out! Being invited to be involved in this project was intimidating at first, but it turned out to be so much fun. Beatles songs are so great to begin with, it's virtually impossible to mess them up [laughs]!" --Stuart Johnson
Badwolf - "She Loves You"
Why did you choose this song to cover? "There were a few to pick from and 'She Loves You' I felt had chord changes that could be translated into a completely different, darker vibe." --Adriel Garcia
Adventure Galley - "Please Please Me"
What was your goal with your cover? "Our goal for the cover was to create a totally original sounding piece of music that did justice to The Beatles' original song, resembled our own writing style, and yet is completely unique from both. We wanted to do something interesting and different with The Beatles song, but also get out of our own songwriting box and try new things." --Brock Grenfell
Doom & Gloom - "And I Love Her"
How did you make the track your own? "We had just bought this Wurlitzer organ at a thrift store and we were anxious to experiment with it. It added so much to the overall mood. Lisa used the piano and organ as the main instruments, instead of the guitar like on the original. I also tried not to sing it as a straight as Paul; I wanted it to sort of feel as if Otis Redding had covered it. It took a lot of different approaches before finding the right one that made it feel like me." --Nate Cole