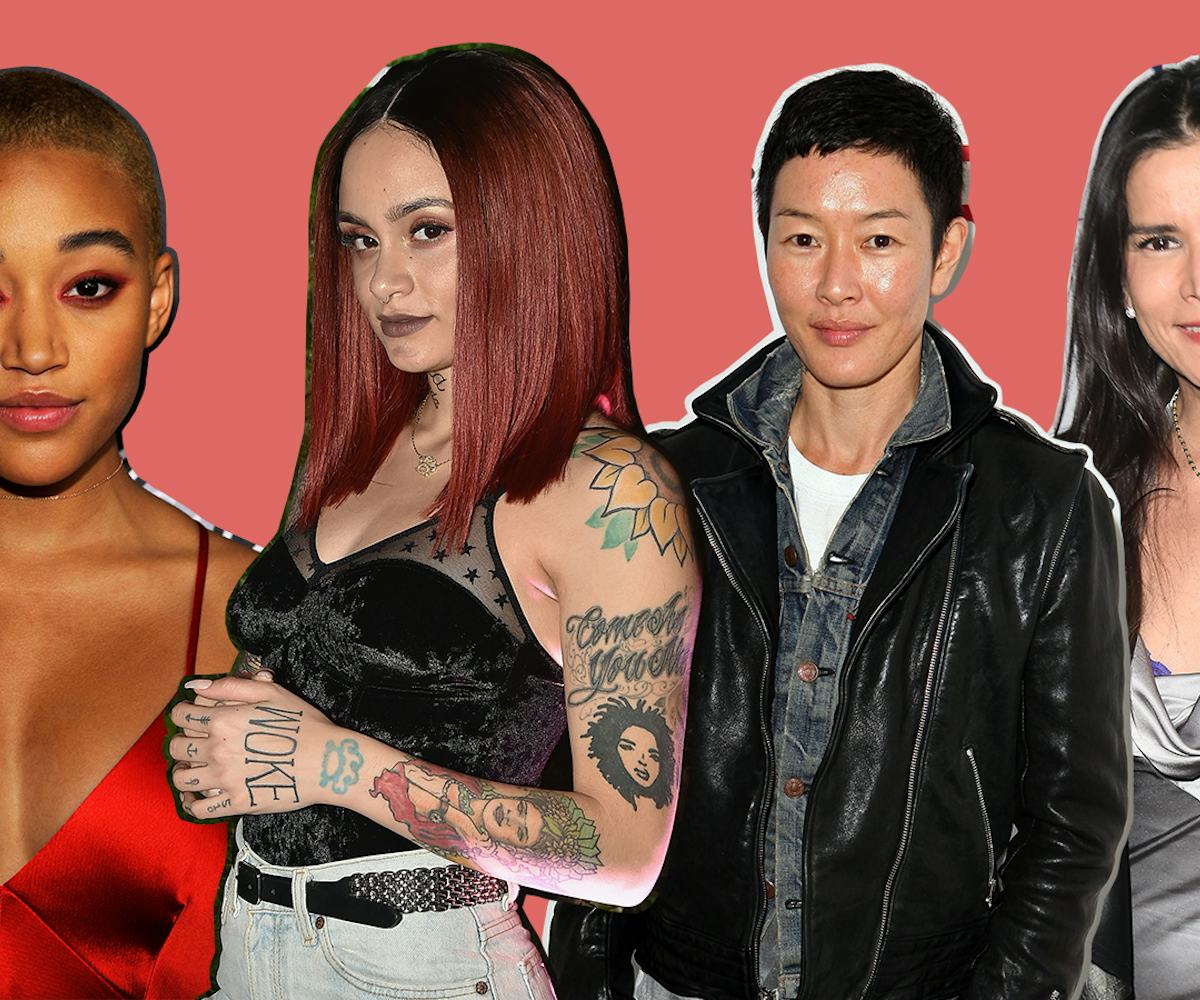 Photos via Getty Images
Are Beauty Brands Failing Queer Women Of Color?
While there's been an uptick in queer women being hired as brand ambassadors for beauty, fashion, and lifestyle companies as of late, it has mostly focused on white celebrities like Cara Delevingne, Kristen Stewart, and Ruby Rose. And although these same companies have attempted inclusion by bringing in more women of color, there seems to be very little crossover in terms of hiring queer women of color to be the faces of their own campaigns. Which is to say, intersectionality does not yet exist in this world.
There are, of course, a few exceptions. Bisexual, multiracial pop star Kehlani just secured a partnership with Make Up For Ever for its new Aqua XL collections. In the video, Kehlani bares her colorfully inked-up arms and torso in a sports bra while she dances around in the water to show just how waterproof the product is. "I never, ever expected to be looked at by a makeup brand, especially one like Make Up For Ever," she told Teen Vogue. "I kind of do the tomboy thing. I have tattoos!"
Venezuelan model-actress Patricia Velasquez rose to fame in the '90s as a supermodel who walked on the runways for Chanel, Gucci, Versace, Dolce & Gabbana, and Carolina Herrera and was even a CoverGirl. But this was all before she came out in 2015, and even though she found the fashion community to be queer-friendly, the more "general market" brands like "the CoverGirls and the L'Oréals and the Pantenes and the Allures" were less so.
"I always thought they might not give me the job because I'm gay," she said. "It did always cross my mind. And I do have to say that I was quiet around them. But also, it was the way it was set up. You go into shoot—it was a very corporate environment. You go into the shoot, you go work, and then you go home."
Velasquez was constantly concerned about being outed by tabloids (especially when she was dating Sandra Bernhard), but was able to come out officially on her own terms, and is now the face of Taya Beauty, a sustainable hair and makeup brand sold online and on the Home Shopping Network.
It was at the same time that Velazquez was nervous about being found out that Jenny Shimizu's career as a lesbian Asian model was soaring. Now famous for her iconic androgynous Calvin Klein CK One fragrance ads, Shimizu has remained a pivotal figure for queer women of color in fashion, and has since starred in campaigns for COS at Opening Ceremony and HELMUT RED/HOUSE OF EXPOSURE, in which she was photographed very buff in the buff, hoisting a heavy red lipstick over her shoulder. Most recently, she was hired to be the face of another lipstick line, Girl Lip Stylo from Hourglass Cosmetics, which has 20 shades with empowering names like "dreamer," "visionary," "inventor," and "icon." And although she still gets work for her recognizable female masculinity, Shimizu is largely seen as an anomaly—a relic of the lesbian chic era that has survived.
Kehlani, Shimizu, and Velazquez stand alone in their being seen as valuable faces, bodies, and names to sell other women on products. Even though you can purchase Frida Kahlo lipsticks, inspired by the legendary bisexual artist, at the local CVS, there aren't any bisexual Latina women being hired to represent brands. Perhaps, it begs the question if out LGBTQ WOC exist at all in the public eye, on the same level that, say, Stewart does. And it's true that this is a larger issue within the entertainment industry, but they do exist.
Amandla Stenberg has been one of the most visible QWOC in mainstream film and fashion, as of late, and has appeared in Stella McCartney fragrance spots as well as on the covers of several magazines including DAZED, where they interviewed a fellow young black star, Willow Smith. Although Smith isn't out as queer, Stenberg refers to her and brother, Jaden, as such in the piece, and Smith shares how being androgynous and black and female has given her power in her ambassadorship with Chanel.
"I just feel like I need to give love and confidence to black girls who don't feel like they're beautiful, and (to tell them) that it doesn't matter what society has pinned you as, because you are a being that can't be pinned. Who you are as an individual—that can never be categorized, it's always going to be infinitely beautiful and divine," Smith said. "I want to be able to spread unity, but it's so important to target black girls because, more and more, they're starting to feel like the only thing that they are is their bodies or their skin. I see it every day."
"I feel the same," Stenberg said. "If I can in any way impact our communities just by being myself and posting on social media, then why not?"
On social media is where most queer women of color are finding themselves, because even though they exist in Hollywood, they're still not as widely seen. Stars like Michelle Rodriguez, Emily Rios, Raven-Symone, Samira Wiley, Sara Ramirez, Stephanie Beatriz, Monica Raymond, and Laverne Cox (to name a few) have yet to be tapped by the kinds of companies who instead bring in white celebrities to sell their shampoos or mascaras (see: Katy Perry, Jennifer Aniston, Lily-Rose Depp). And while there has been more of an effort put forth to hire women of color in general, they are most often heterosexual (see: Liu Wen, Rihanna, Zuri Tibby, Nura Afia, Herieth Paul), which means that women who are both queer and non-white feel like part of their identity is often ignored or undesirable.
This lack of representation has real-life consequences. QWOC who don't see themselves in magazines, on television, or on runways will unfailingly feel less confident and secure in their own bodies and intersectional identities. (We're not even getting into size, age, and ability here!) To put it optimistically, perhaps the amount of progress being made in both the areas of queer visibility and women of color representation will take a turn toward the inclusive and begin to embrace the multiple in one. 
Another maddening but very real issue might be that some of these brands do not see queer women and/or women of color as their "ideal" customer, which is to say they don't find that they are creating products that members of both or either of those communities would be purchasing. And if that's the case, then perhaps their refusal to attach public figure representatives of these communities to their products should be the first sign that they do not deserve the business. 
In some cases, these multiple identities are actually utilized by brands as part of their messaging. South Korean chef Kristen Kish was part of Uniqlo's 2014 "Faces of the People" campaign, and that same year, the Top Chef winner was also part of Rembrandt's Whitening for the Colorful ads, where she professed, "I don't know how to be anything other than me." She appeared smiling next to the superlatives "Korean-American, Out-on-Instagram, Tattoo-Collecting, Top Chef." But, again, this is rare, and the Delevingnes of the world are getting endorsement deals and partnerships with multiple brands at a time (and, more often than not, higher-end).
But perhaps one of those brands—Chanel—is looking to become more inclusive with its hiring of Stewart, Delevingne, and Smith, who notes "I'm the youngest black female with dreads to ever be a Chanel ambassador—that's history."
Let's hope that kind of history should repeat itself again and again and again, because all too often, brands think that hiring one kind of "other" (queer, plus-size, black, Indian, Asian, Latina, etc.) is enough to prove they're for every woman, when it's not as simple as all that. Women are much more complex and deserve the opportunity to see themselves more wholly represented, especially by the companies they are investing in. Should companies not find this a smart business move, they might consider the payoff in brand loyalty will be worth it.