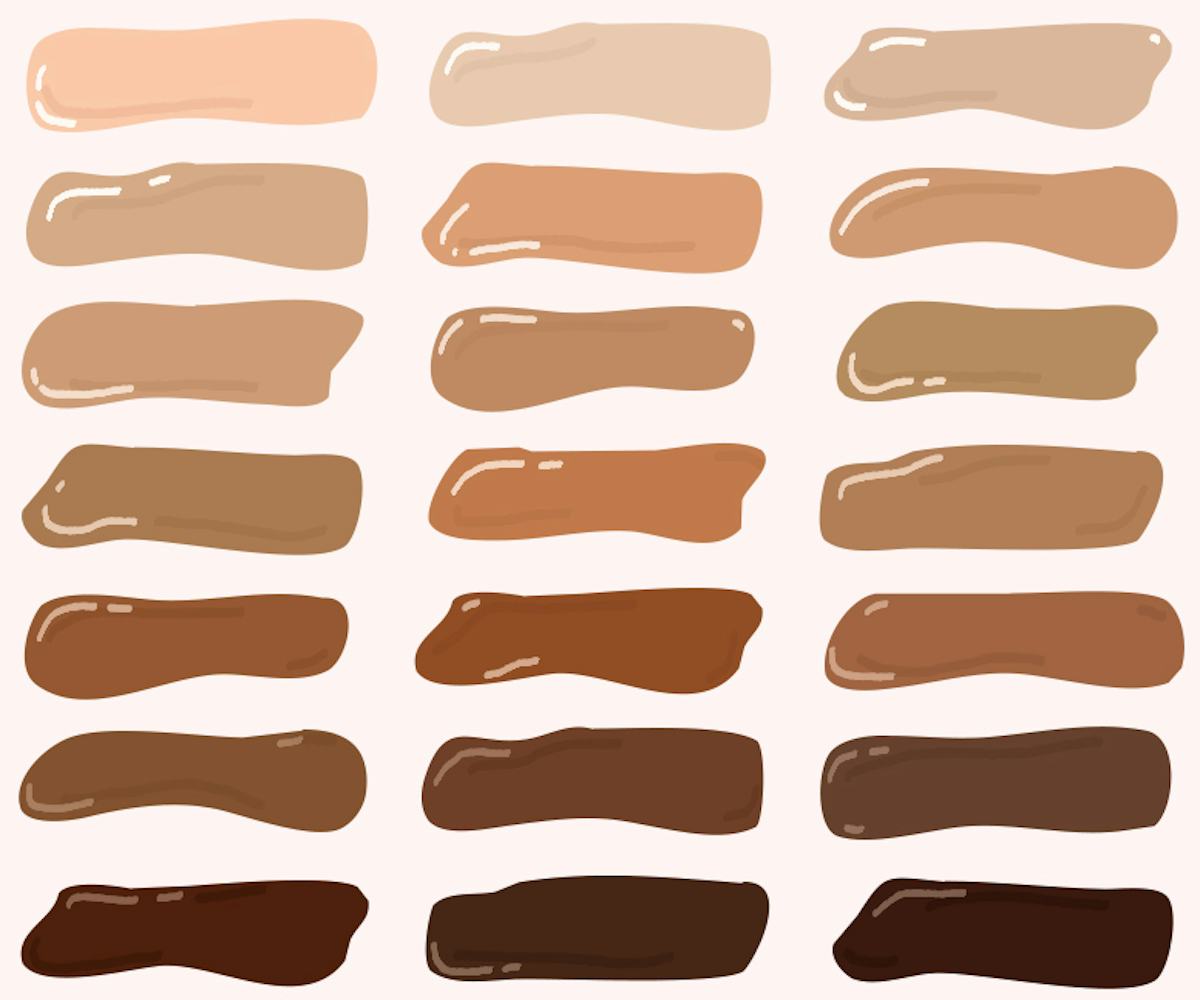 Illustrated by Lindsay Hattrick.
Why Beauty Brands Struggle To Get Foundation Right
We talk to cosmetic chemists and product developers
It's been nearly a year since Fenty Beauty sent shockwaves throughout the industry by launching a line of 40 different foundation shades. Suddenly—almost overnight—brands were forced to prioritize diversity and start paying attention to a large swath of women previously ignored. And yet! For every brand that walked in Fenty's footsteps and expanded its shade range, there seemed to be ones that still didn't… get it. Why is it so hard to get this one thing right? some people wondered. Perhaps surprisingly, part of the reason has to do with science.
Like a lot of little girls, Hue Noir founder, Paula Hayes, fell in love with makeup when she was young—she also fell in love with science and chemistry. She worked as a product developer in food, beverage, and cosmetics for a bit, all the while playing scientist with her own beauty products on the side. It wasn't until around college when the self-professed makeup junkie considered a career shift. 
She remembers it clearly, it was around the time when airbrush makeup was trending and companies were trying it out in spray cans. "I found myself rushing down to the Beverly Center [in L.A.] to get it, and I'll never forget the clerk looking at me and saying, 'Yeah, we have that new product, but not in your shade.'" It wasn't the first time Hayes had been dismissed in that manner, but with the place she was in her career—understanding more and more of what goes on behind the scenes of these brands—it pissed her off more than usual. So much so that she began battling the inner turmoil all soon-to-be-entrepreneurs are eventually faced with: She could either stay mad and keep complaining or do something about it. She decided on the latter. 
Hayes technically founded Hue Noir in 2009, but she spent the first five years doing research and development. Three of those years were spent taking color readings with a spectrophotometer (basically, a skin analysis software system) of anyone who would let her. What they would then get back in return is a custom shade which would eventually turn into the shades Hue Noir would offer. 
Hayes' priority was women of color, and her focus was foundation, but it wasn't easy. "The darker the shades go, the more complex it gets," she explains. Her chemistry background worked to her advantage, but she stresses "there is nothing straightforward about it." For one, with women of darker complexions, you have to consider the varying undertones; you have to eliminate certain ingredients that may read "ashy" on the skin; you have to invest time in getting it right. It's hard, yes—but it's not impossible. 
The chemists for beauty brand Black Opal knew the challenges that awaited them when it launched back in the '90s, but they were determined to meet the needs of its women of color clientele. "Foundation development is probably the most difficult category in cosmetics," Marion Bokata, the company's product development director, says. "Shade-matching is just one of many complexities." The chemists use the same technology and IRL testing as Hue Noir to ensure accuracy. They also do something a little different with their base formula, which is starting out with the darkest shade and going lighter. Usually, brands start with the expected top-selling shade as its starting point—aka a color on the fair end of the spectrum—because those have historically been the ones that sell the most, but also because it's easier to formulate that way. The problem with that, Bokata explains, is that the further away you get from that light shade, the less perfect the result. Doing it the Black Opal way is harder in the beginning, but presents fewer technical challenges in the long run, since it's easier to go light from dark than to go dark from light, Bokata says. "We always designate the shade that presents the greatest technical challenge to be our base formula, and usually that's the darkest shade," she tells us. "We won't even begin to think about other shades until that darkest shade base meets all of our usage, benefit, shade, and sensory requirements. Only then do we expand the shade range lighter."
Black Opal and Hue Noir have been perfecting its foundation methods for years (yes, even before Rihanna was deemed the inclusive matriarch), but that's because the brands are for black women made by black women, and so settling wasn't an option. With more and more brands attempting to enter the same space, reinforcements are needed, says Hayes: "I think that, unless you have the internal staff that's really familiar with this type of chemistry and the nuances in it, it's really hard to do without bringing outside specialists in."
That's basically what L'Oréal did in 2014 when it brought on chemist Balanda Atis to head its Multicultural Lab. Atis first started developing shades for the brand when she realized there wasn't one that she could wear herself. Today, she's behind the brand's impressive True Match line, which includes 45 shades. A large part of Atis' success is tied to a rarely used pigment, ultramarine blue, that she and her team discovered. It allows the company to create deep, pure colors without sacrificing texture and vibrancy. A big name brand like L'Oréal obviously has more resources than an indie one like Black Opal and Hue Noir, but the things that all three have in common are dedication and research.  
The work that Atis has been doing is the exception and not a rule just yet in the mainstream beauty space. Brands are beginning to wake up, and a big reason for that is social media. Now, more than ever, POC are calling the shots and, sometimes, literally calling brands out if they don't feel like their needs are being catered to. In some cases, even forcing its teams to go back and do some course-correcting. 
As much of a double-edged sword as the platform can be for brands, NYX Professional Makeup turned to Instagram when developing its new Can't Stop Won't Stop Full Coverage Foundation line. Angela Grigoryan, senior product development manager, says she and her team looked to followers—like, literally looked at their complexions—to see what shades or undertones might be missing, as well as YouTube Star Alissa Ashley, who was a collaborator for the collection. One thing Ashley mentioned that stood out to Grigoryan was that she almost always has to mix foundations to find her exact shade. The goal was to eliminate that need. So, the NYX team looked to its own already-existent library of foundations to see where the holes were and started filling in the gaps. "We took the feedback and kind of laid out all of the foundations, from lightest to deepest, and if there was something that was too much of a stretch between the next shade, then we realized that person in between isn't going to have their own shade," Grigoryan says. "So, we really wanted to formulate enough where it's this beautiful ombré gradation of color." By the end, the brand added 15 new color options.
But it took time and patience to get there, something not a lot of brands have (or, are willing to put in!), especially with the newfound pressure. So, sometimes companies will rush to put out collections that are less than exemplary—either lacking in shade options or lacking in nuance. And when that happens, the laziness shows. "You're kind of making due, rather than starting from a point of real understanding," Hayes says. The best thing to do in those instances is to wait. Wait until the product is fully formed, until an experienced team has been hired, the research has been done, and you've nailed the distinctions that go into creating shades darker than caramel. That's what NYX did. "This could've been done six months ago, it could've been done a year ago," Grigoryan says. "But we weren't confident with the shade range we had, and we didn't want it to be just another foundation… It took longer knowing that we were able to be inclusive and really keep everyone in mind."
And what encapsulates "everyone" will continue to grow over time. Forty-plus shades seems to be the sweet spot when it comes to foundation today, but that number can and should go up (M.A.C, in fact, now offers 60 shades of its Fluid SPF 15 Foundation). "I like to say a skin tone is born every day," Atis says. "As our population changes, as we continue to evolve, we can potentially have different skin tones and different skin color. So, our research is never done, it's continuous. As much as science has evolved in other areas, we have the same kind of opportunity to evolve when it comes to makeup." Hopefully, that evolution leads to more and more women being serviced. 
Hayes says that, since her foundations came on the market, she's had to sort of re-educate her clients. She explains that, sometimes, when a foundation is such a spot-on match, customers will often reach out and say that they can't actually see the product on their face. "We've become so conditioned to being able to see it on our skin, and see the differences from what our real skin color looks like and what the foundations look like," Hayes says. "And so I often say, 'Well, that's the whole point, right?'" 
Right.