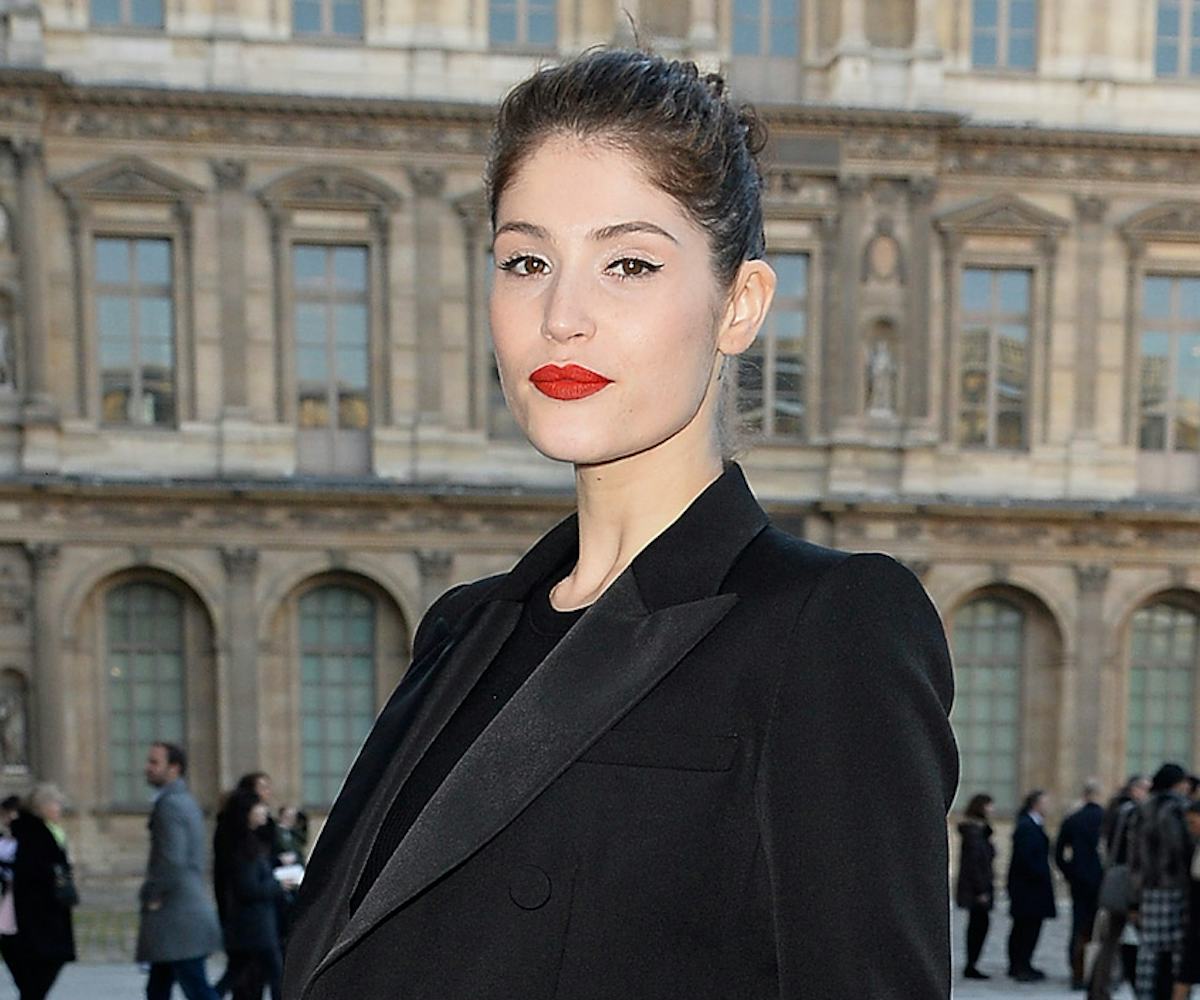 photo by getty images
beauty queen: gemma arterton
red lips, cat eyes, rosy cheeks… everything!
If I had to describe my beauty routine in one word it would be lazy. Because after spending an hour trying to pick out an outfit, I have no more time to carefully apply my makeup like a pro. But that shouldn't mean that I can't aspire to walk out the door every day with makeup comparable to Gemma Arterton's classy look outside the Louis Vuitton fall '14 fashion show in Paris. Or at least I won't let it. 
With practice I've achieved a method to my lazy girl beauty madness that results in super-cool makeup with super-minimal effort. I call this "bliss," and if you try it, I think you just might too. Check out my tips to get Arterton's look in under six minutes in the gallery, and tweet at NYLON to let me know your lazy beauty tricks. 
Step 1: Foundation
I've been swearing by Clinique's foundations for years because they're perfect for sensitive skin, and offer just the right amount of coverage. (You know, that sweet spot between feeling like pancake face and having no makeup on at all? That's how this will make you feel.) I apply a dab to my fingertips first, and then tap it on to my face and gently blend it in.
Time Required: 35 seconds
Step 2: Eyeliner
From the center of the eyelid draw a line straight out to the eye bone with Sephora's masterful waterproof liquid liner. (This is the jam, guys. I love it so much I have two extra bottles stashed up.) Then draw a line from the outer corner of your eye that connects to the first line. Trace along your lashline from the center point and then color in the winged part. Voila, you're Brigitte Bardot!
Time Required: One minnute (Focus is key during this step!)
Step 3: Mascara
Maybelline black mascara is a classic. On the outer lashed apply one coat from root to tip. Then apply a light coat to just the tips of all lashes.
Time required: 20 seconds
Step 4: Blush
Fact: The word blush scares me. It gives me flashbacks to my days in a dance company when Schiaparelli pink blush was applied to my cheekbones at the behest of a militant Midwestern women in such quantities that I looked like a younger, Dynasty-era Joan Collins. For years I avoided it like the plague. Slowly I'm realizing that a little cheek stain is not so bad, so I've been dabbing the slightest amount of Tarte's Cheek Stain in True Love below my cheek bones and massaging it in with my finger tips. 
Time Required: 15 seconds
Step 5: Lipstick
The positive takeaway from my Dance Mom upbringing was MAC's Dubonnet Lipstick. I know Ruby Woo is the runaway favorite, but trust me. Once you try Dubonnet you can't quit it. It's not a flashy, firetruck red--it has a dark, subtle color that stands out and blends in at once. I smear some on, wipe off excess with a Q-Tip, and voila! I'm channeling Gemma Arterton in under six minutes.
Time Required: One minute