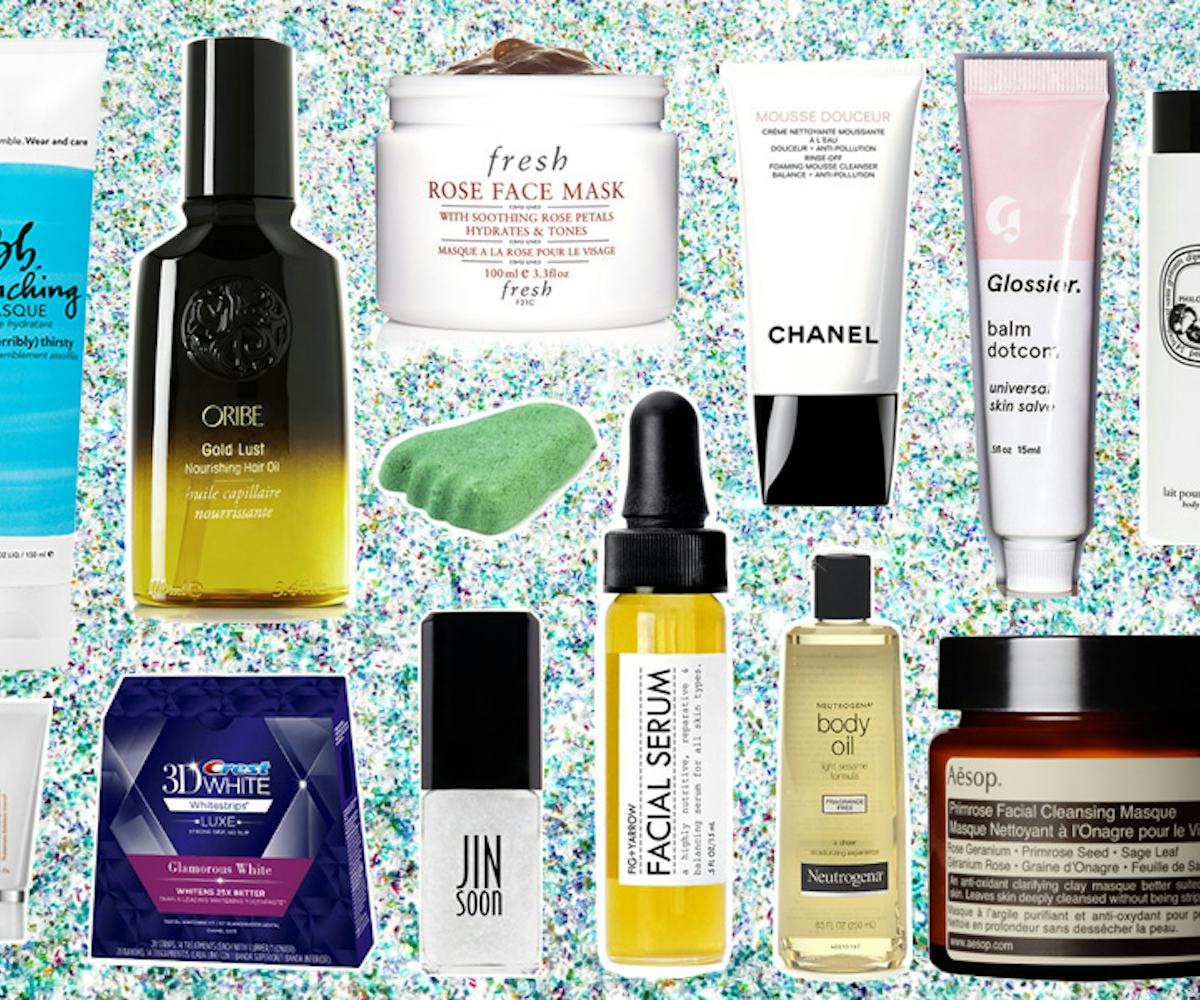 the best beauty products for everyone stuck inside right now
Baby, it's cold outside! No, like, really cold.
If you're a resident of the Tri-state area (or anyone with basic cable, really), you're well aware that a real life Day After Tomorrow esque storm is upon us. The blizzard was projected to make history as one of the worst winter disasters the Northeast has ever seen. And, while it might not exactly have lived up to that prediction, it's pretty terrible out, and the lucky ones among us on the couch, in our pajamas, are "working from home." Wink. 
So, if you're looking for something to do today while you're stuck inside your apartment, allow us to suggest some pampering. Make some hot chocolate, turn on Netflix, and call your friends—because what better time than now to #treatyoskin? And, even if you don't have any of these products laying around, let this serve as some online shopping inspiration. 
Click through the slideshow to see our picks for a Juno-themed beauty staycation.
Jin Soon's 'Polka White' nail lacquer, $18
Consider this one your pathway to winter white. Jin Soon's nail polish in Polka White gives snowflake-dipped fingertip vibes.
Primrose Cleansing Masque from Aēsop, $49
Primrose, a viable competitor in the battle of winter hydration, will ensure your skin is hydrated after a deep-cleaning with this masque from Aēsop.
ExfoliKate Intensive Exfoliating Treatment, $85
While this exfoliator might cost a pretty penny, a little really does go a long way when it comes to any product from Kate Somerville, so use this one sparingly and gloat in its instant delivery of sheen.
Foaming Mousse Cleanser from Chanel, $45
A favorite of French royalty, Caroline de Maigret, this cleanser from Chanel is the definition of luxe. Its knack for wiping an airbrushing effect across your pores makes the steep price tag worth it.
Rose face mask from Fresh, $62
Fresh's Rose Face Mask comes with rose petals that melt into your skin. Apply this one on top of your favorite clay mask to combat the unwanted dehydration that comes with imposing pore astringent ingredients.
Quenching hair mask from bumble and bumble., $38
This gem from Bumble and bumble does exactly what it sounds like: saves your hair from the thirsty consequences that come with living among your apartment's heater for too long.
Philosykos Body Lotion from Diptyque, $56
This body lotion from Diptyque is the fragrance to invest in when it comes to finding a scent to transition you in between seasons. Think magnolias meets fresh laundry, but très Parisienne.
Gold Lust Nourishing hair oil from Oribe, $45
Apply this hair oil post-shower to give your ends the moisture they need. (No conditioner necessary.)
Sea salt foot scrub from Lush, $4.50
The sea salt foot scrub from Lush is our favorite wallet friendly go-to. It's efficient, gloriously evergreen, and just fun to look at.
Slimy yet self-explanatory.
Neutrogena light fragrance-free body oil, $8
Use this one after your favorite body wash to seal in that sauna-effect you secretly indulge in post-shower. It's ultra thin, fragrance-free, and instantly gratifying.
Facial serum from FIG+YARROW, $38
In addition to its incredible overnight reparative properties, FIG+YARROW's facial serum fits snug in your carry-on.
Balm Dot Com lip moisturizer from Glossier, $12
This product from New York-based Glossier is a leader in lip love. Seriously. Put down your Aquaphor and succumb to the Glossier takeover. We like to dab this one on our cheekbones and the bridge of our nose right before a night out to arrive fresh-looking and impeccably dewy.