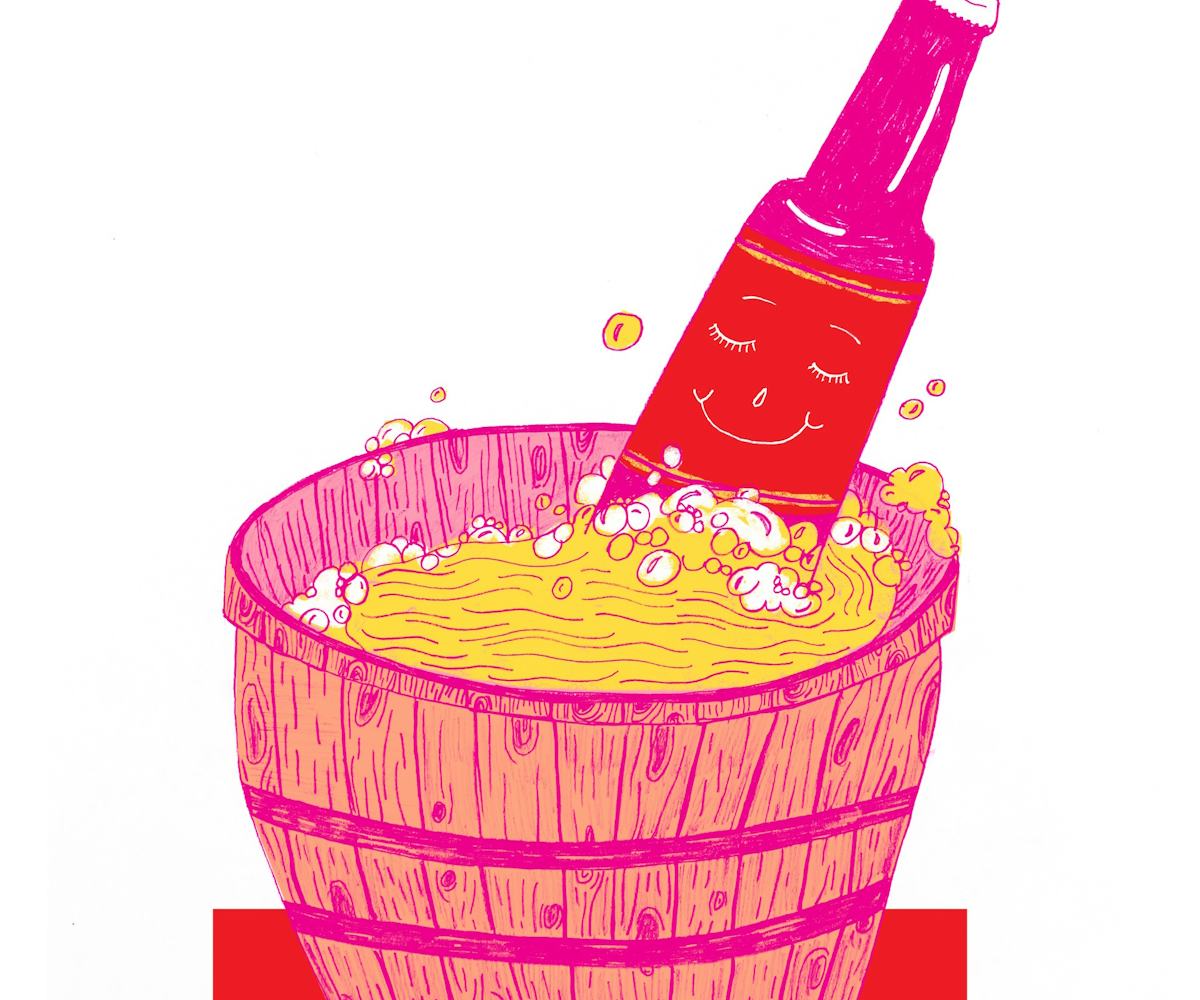 Illustrated by Liz Riccardi.
Getting Buzzed At America's First Beer Spa
If you've ever dreamed of bathing in beer, here's your chance
The following feature appears in the October 2016 issue of NYLON.
It's a sunny late-summer morning on Route 22 in Oregon, and as I drive past Detroit Lake, through the towering pines and firs, up to a quaint cottage in the sleepy town of Sisters, I'm struck by a sudden realization: Wait, I forgot my swimsuit. Am I going to get a yeast infection? I figure it's not an unreasonable concern, considering soon I'll be plunging my body into a hoppy concoction. Because here, just less than three hours outside of Portland (of course), is America's first beer spa.
Founded by Sally Champa and Mike Boyle, the aptly titled Hop in the Spa is inspired by the beer spas popular in Eastern Europe, which Boyle came to learn of in his travels. His own positive experience with massage as a healing method following a near-fatal car accident coupled with his newfound interest in brew-centric rejuvenation led him to set his sights on bringing a beer-focused spa to the States. Champa, an Ayurvedic massage therapist who is trained as an herbalist and naturopath, worked with Boyle post-crash and signed on as his partner in the endeavor. Together, they agreed that their spa would focus on hops. "They are powerful herbs that are great for the skin. They moisturize and are wonderful for [people with] eczema and psoriasis," explains Champa. "Hops [also] have lupulin in them, which is great for insomnia. It calms the nervous system."
Click through the gallery to read the rest of the feature.
Hop in the Spa's treatment options range from their signature microbrew soak and hop oil massages to a hop body masque therapy and hop sugar scrub for the hands and feet, all of which feature hops as a main ingredient. There will soon also be a corresponding beer garden (Hop in the Garden) and a tea and coffee spot (Hop in the Cup) in Sisters. Boyle and Champa have additional plans to debut a second spa location in Bend and to sell their therapeutic bath brews (Hop in the Bath) online.
I've brought along my most adventurous friend, Alex, to share in this experience, so we opt for the 25-minute couples microbrew soak. (We're relieved to hear no swimsuits are necessary—most guests choose to go in nude—and the 102-degree spring water, hops, malt, minerals, and lemon slices present no yeasty threat.)
The soak takes place in large cedar tubs and includes a complimentary pint of beer from neighboring Deschutes Brewery; I choose a pale ale while Alex goes with the porter. We're also presented with a huge soft pretzel and a side of mustard. The whole experience is sort of what I imagine it might be like to stew in a classy vat of beer-in-progress, the peaceful music and low lighting complementing the faint aroma of the hops. When it's time to get out, plush white robes and slippers await (as do some slightly off-putting pale green hops stuck to our butts).
I leave the spa feeling super relaxed and ever-so-slightly buzzed. My skin seems extra smooth, and I want another doughy pretzel. Eventually, when the time is right, we drive home slowly, appreciating the natural beauty of the Cascades and picking leftover hops out of our hair and underwear.