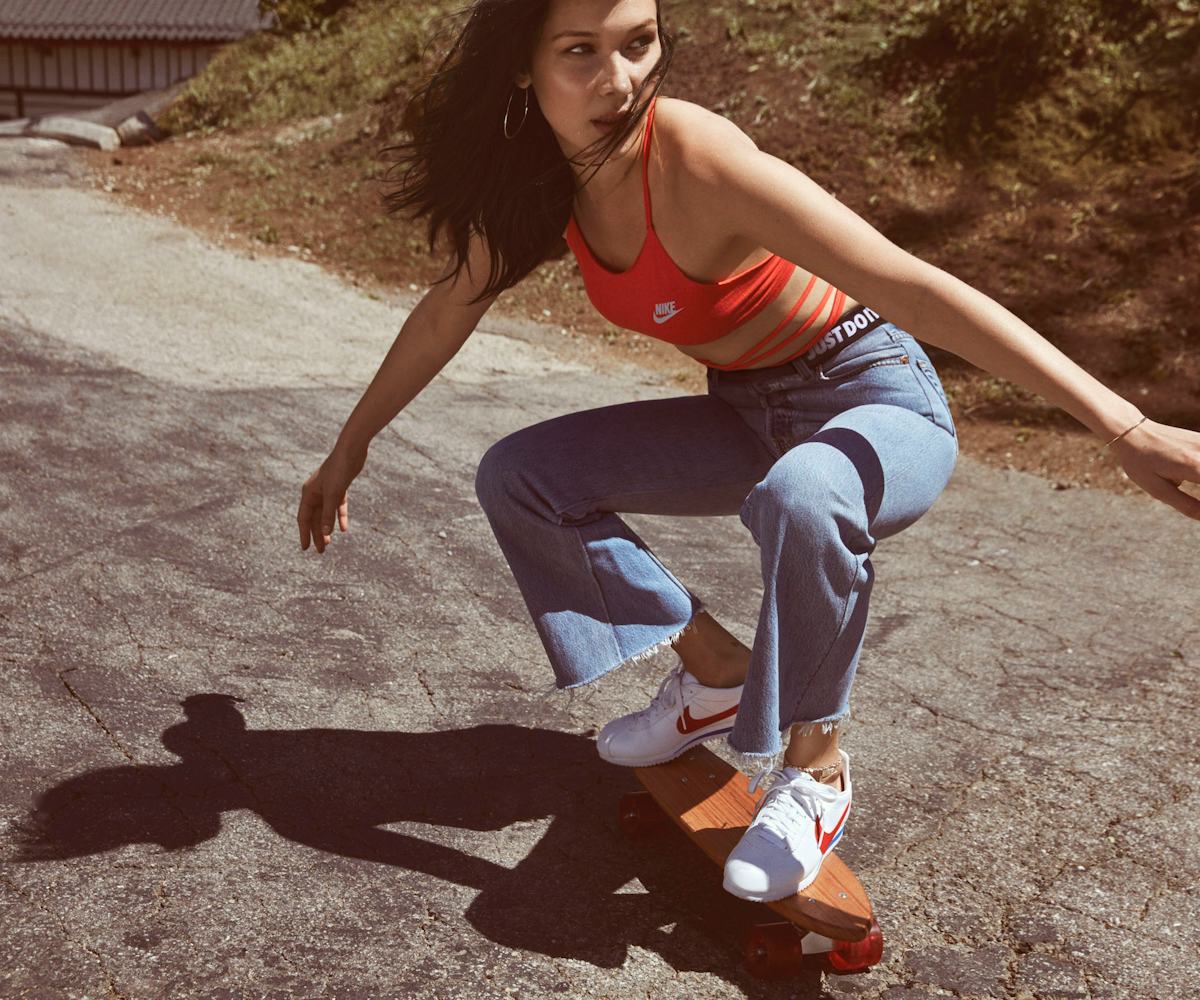 Photo courtesy of Nike
Bella Hadid Is Peak '70s In Her New Nike Ad
She channels a young Farrah Fawcett
When model powerhouse Bella Hadid isn't too busy being sewn into a formfitting Alexander Wang jumpsuit, she shreds on her skateboard in her spare time. At least that's what her latest campaign leads to believe.
In honor of the 45th anniversary of Nike's Cortez sneaker, the brand tapped Hadid to front the new reissue campaign. In one look, Hadid perfectly emulates that effortless '70s laid-back style, paying homage to 1972, the year the sneaker first launched. She poses—and rides—a skateboard while donning high-rise denim and a sporty crop top, a total play on Farrah Fawcett's iconic Charlie's Angel skateboarding scene, in which she also rocked a pair of Cortez's. You know, this one:
However, being that this is an anniversary celebration and all, Hadid was also on a mission to prove just how much of a timeless mainstay this shoe is 45 years later. Pairing her kicks with a silk slip dress, bomber jacket, and hoop earrings, she displays how the shoe can fit into a more modern-day scenario.
This isn't Hadid's first foray into the world of activewear with Nike. The model starred in last year's campaign for the brand's new SoHo store location.
Along with the campaign, Nike is reissuing the Cortez sneaker in new colorways and fabrications throughout the summer, starting with its original look: blue-and-red details against white leather. You can snag a pair for yourself starting June 1.
Check out the full campaign, below.