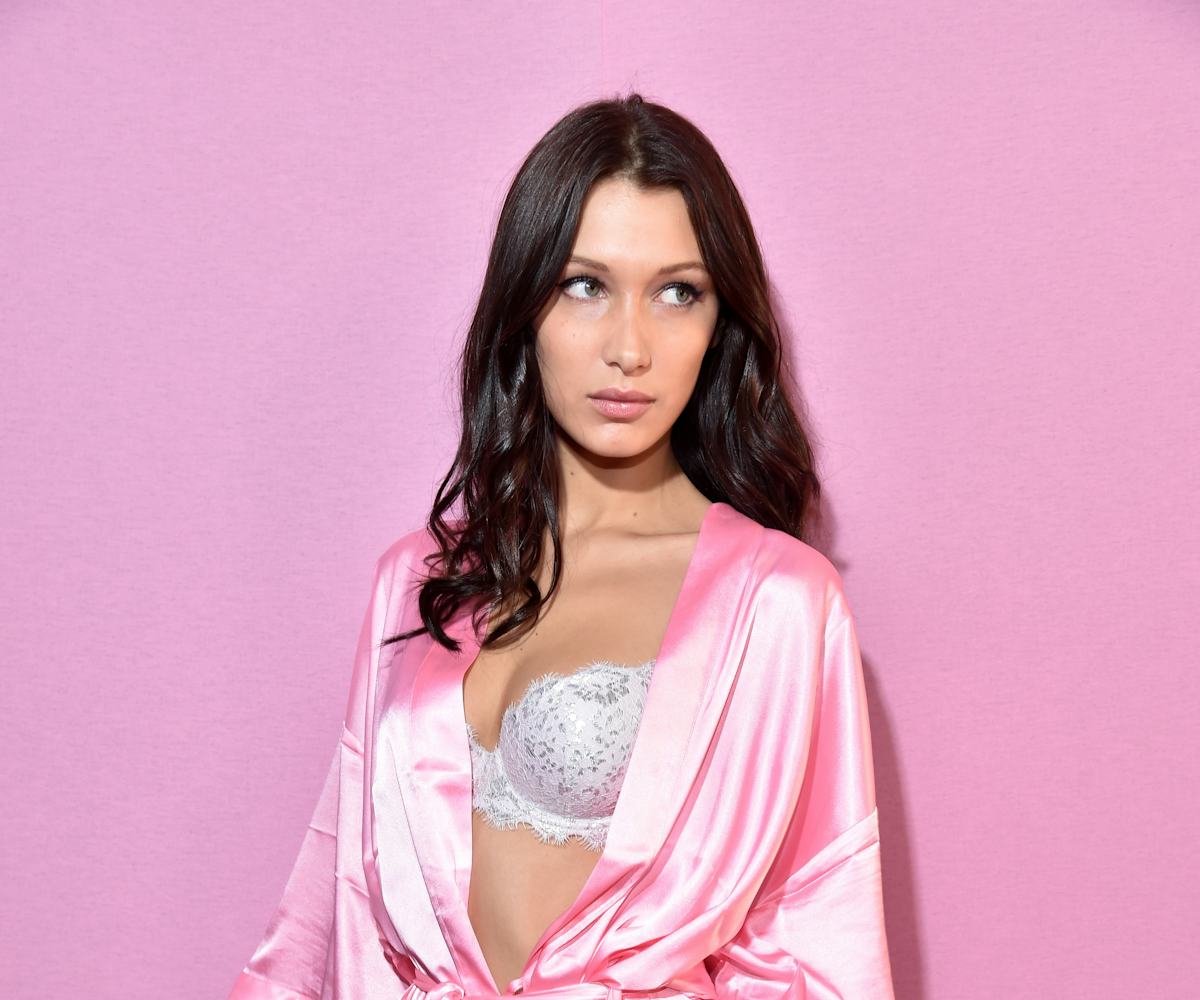 Photo by Pascal Le Segretain/Getty Images
Bella Hadid Running Into The Weeknd While Walking The VS Fashion Show Is Iconic
Literally the last place you want to see your ex at
Imagine the worst possible place that you could ever run into your recent ex. Now picture that same place, but with thousands of cameras closing in on you and capturing the moment to broadcast everywhere. If your name is Bella Hadid, this is not a nightmare—this is your real life.
Last night, the 20-year-old model came face to face with her ex-boyfriend Abel Tesfaye, aka The Weeknd, but it wasn't behind closed doors. Instead, their reunion went down when Hadid made her big debut at the Victoria's Secret Fashion Show in Paris for all the world to see. 
The whole interaction was practically one of those Hollywood fantasies: Hadid strutted down the stage in some fabulous lingerie while Tesfaye beckoned her with a smooth falsetto that makes the hairs on the back of your neck stick up as he performed his hit single "Starboy." It seemed too dramatic to be real, but something like this couldn't be staged in our dreams. (Well, sort of.)
BELLA HADID AND THE WEEKND CAN YOU HEAR ME SCREAMING #VSFS2016 pic.twitter.com/fIhGM477Pz — bels (@wajtforharry) November 30, 2016
Abel got eyes for Bella only @bellahadid @theweeknd #VSFS2016 pic.twitter.com/nsgxEHQtos — belgie (@queenshadid) November 30, 2016
Even though Hadid seemed unbothered by the whole thing, we'd guess that it must have felt somewhat awkward to have all eyes on them in this moment. Before the show, Hadid told E! News that there is nothing but love between her and Tesfaye. As for him, it was a visual representation of "the one that got away."
"This is his second year performing, and I think he's going to kill it," she said. "There is no awkwardness. He is my best friend, and I am excited because I am walking during his performance."
Rumor has it that their breakup is a publicity stunt. In any case, the split hasn't stopped the exes from partying together. Apparently, they're on good terms with each other, so we'll have to wait and see what happens next. (Fingers crossed!)
Watch their play-by-play runway reunion go down in the gallery, below.
This is totally fine and not awkward at all :)))
Wait, what did he just say to me?
* eye roll *
Please. Don't. Touch. Me. In. Front. Of. These. People.
Boy, bye.
Literally walking away.