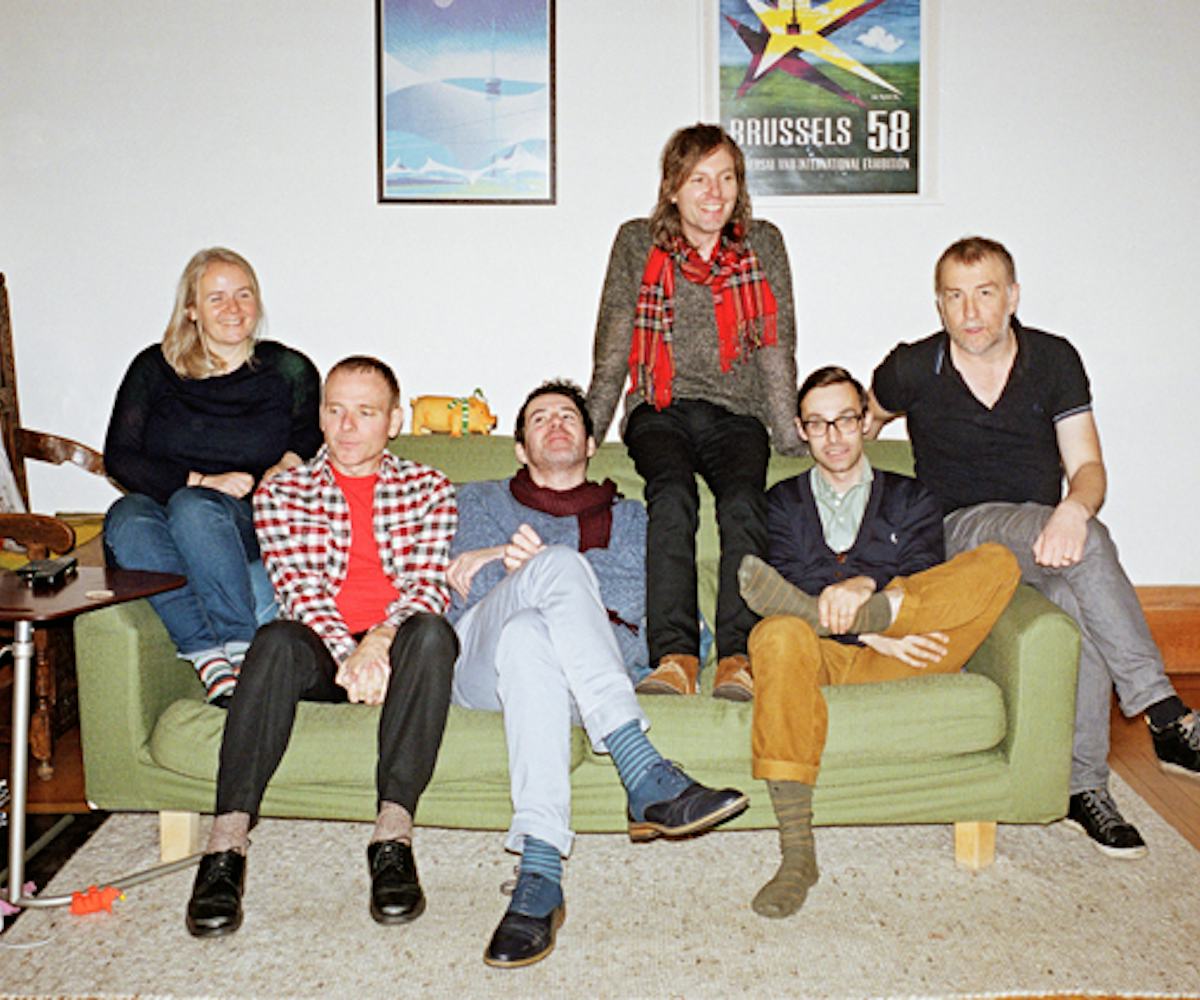 Belle and Sebastian Return to Form On Their Ninth Album
Belle and Sebastian have always seemed to exist in a state of suspended adolescence, moretheir songs a lushly realized soundtrack to that turbulent, over-amplified period in everyone's life when each small victory is a triumph and every minor defeat a catastrophe. Little wonder, then, that they've become one of the world's most beloved cult bands. Frontman Stuart Murdoch may not possess the same withering misanthropy as his idol Morrissey, but in terms of the feverish devotion his group inspires, he's one of very few songwriters worthy of the comparison.
"Musicians are like children—we're all Peter Pans!" he exclaims as he takes his seat at bandmate Sarah Martin's kitchen table for our interview. Yet few seem to age so imperceptibly. Now 46 and a father of one, he still speaks in the same lilting, West-of-Scotland cadence he sings in, and projects a boyish enthusiasm, which appears at odds with his 18 years in the music industry. Spry is a word that carries slightly ageist connotations, but for Murdoch, it feels entirely apt.
"I was having an argument with [Rough Trade's] Geoff Travis about this," he says. "I think he was expecting me to grow old gracefully, to write more mature songs. Perhaps on this new record we have, but it's not a conscious thing. When you go into the rehearsal room, it's still one big chuckle."
That might be overstating it just a little. Before starting work on Girls in Peacetime Want to Dance (out January 20 on Matador), the band's ninth LP and their first since 2010's Write About Love, Murdoch had to complete the mammoth task of directing his first feature film, God Help the Girl, during which time he'd shut himself off from songwriting. Anxious about where the songs were going to come from and worried that the muse had deserted him, he began working from a list of "little concepts" he'd compiled—creative exercises intended to get the melodic juices flowing again.
"We gave ourselves set ideas: Let's try to write a song about a certain topic, or certain people. I interviewed my friend Josie Long, the comedian, hoping that I could maybe write a song about her adventures when she was younger. I did the same with Hannah Murray, who was one of the stars of God Help the Girl. It didn't directly lead to any songs, but it was just one of the experiments that we tried out." Other prompts: "We tried to imagine what a failed Eurovision entry from Cyprus in 1974 would have sounded like," says Murdoch with a laugh. "'The Everlasting Muse' and 'Enter Sylvia Plath' both embraced that concept, albeit different countries in different eras: 'Sylvia Plath' was quite Belarus, 1990s, but 'The Everlasting Muse' was definitely Germany, 1966."
Arguably the biggest experiment of all was hiring Ben Allen, the Atlanta producer who made his name with Gnarls Barkley and Animal Collective, and who, on the face of it, seems an unlikely fit for B&S' unique brand of baroque pop. As it turns out, the band had approached a number of producers during a lengthy and frustrating recruitment process that drummer Richard Colburn describes as "an inexact science." Getting people at the right time for the right price was difficult. "A lot of modern producers don't do full records, and trying to pin somebody down isn't easy," adds Colburn. "We went through a process of people going, 'Nope, can't do it,' and eventually it was a bit like, 'Well, who are we gonna get?'"
Allen—who was their manager's suggestion—stepped in to save the day, and the band talks fondly of the six weeks spent recording with him in Atlanta, where the group visited a nearby megachurch ("It was more like a 7,000-capacity mother ship," says Martin) and stopped by a local sick children's ward for an impromptu performance of Journey's "Don't Stop Believin'." Shortly after Allen took the job, however, Murdoch caught a bug and couldn't shake it off for almost a year, throwing the entire project into disarray. "I felt rotten over that winter when we were writing the LP," he remembers. "I was really struggling and said to Stevie [Jackson, guitarist], 'I'm not going to Atlanta. This is madness.' But we talked about it, and we realized that in the past, the experience of making some of our other records had been quite cathartic. So I said, 'Well, this better be one long therapy session.' And it was—I actually got better during the recording."
It seems to have had a rejuvenating effect on the band, too. Girls in Peacetime finds Belle and Sebastian exploring new avenues, both lyrically and musically, taking aim at the British political establishment on the somber "The Cat With the Cream" and—rather more improbably—going full disco on the maddeningly catchy "Enter Sylvia Plath" and "The Party Line."
As for Murdoch himself, buoyed by the success of God Help the Girl, can we expect more feature films in his future? "A few years ago I wrote a treatment, which featured a woman who's agoraphobic and has a computer system run her whole house," he sighs. "The computer became a Jeeves character to her, and eventually becomes her lover. It was basically Her, and Spike Jonze said it better!" He may have a point there. But when it comes to the tumult and confusion of youth, no one will ever say it quite like Belle and Sebastian.
Text by Barry Nicolson. Photographed by Alex de Mora.