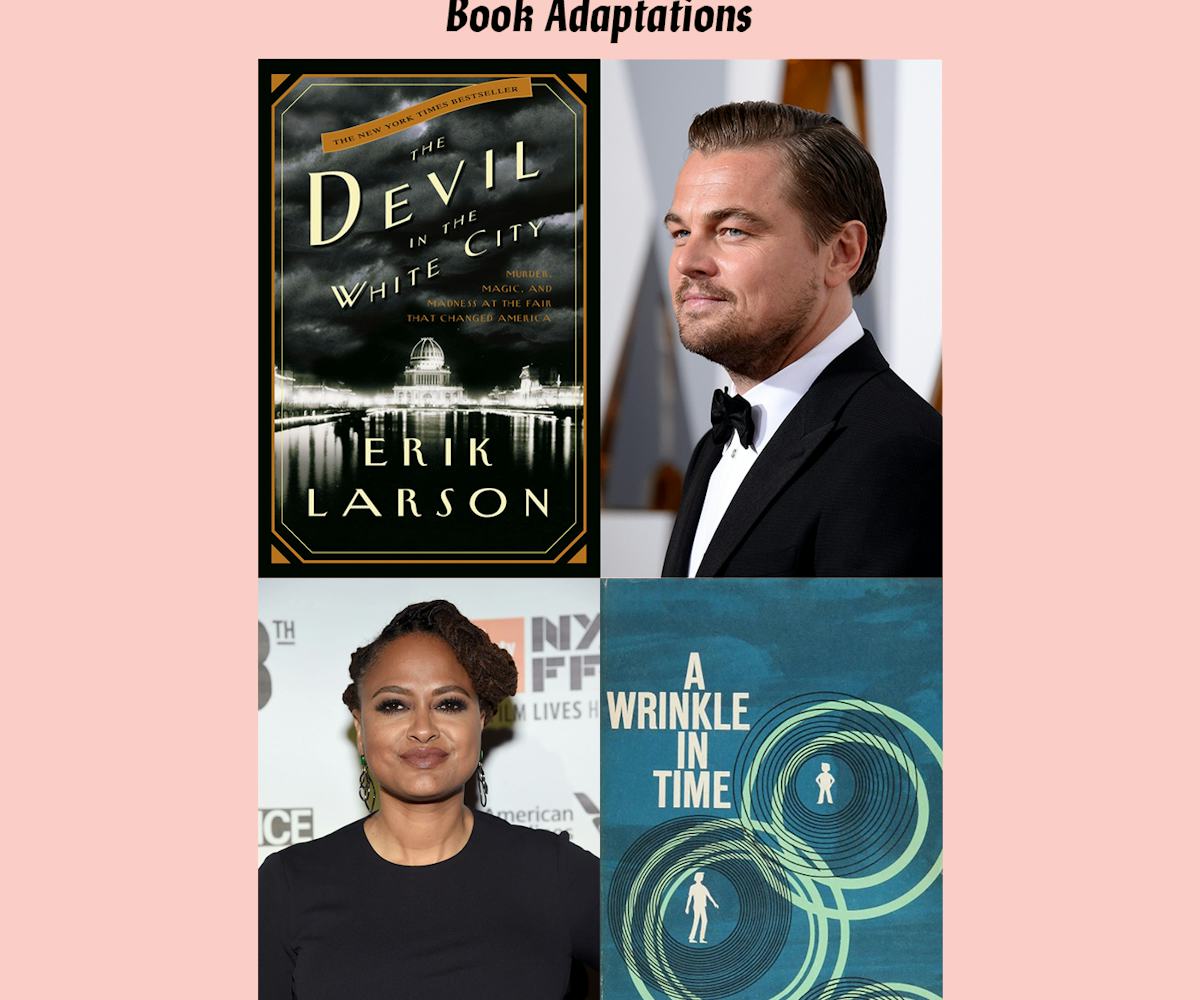 10 Movie Adaptations Of Best-Selling Novels To Look Forward To
'The Girl on the Train' is just the beginning
Because Hollywood loves nothing more than existing intellectual property with built-in audiences, studios have been adapting best-selling novels since almost as long as movies have existed. All Quiet on the Western Front, which won a Best Picture Oscar in 1930, and is considered one of the greatest movies ever made, was based on the Erich Maria Remarque novel of the same name. Before Gone with the Wind set box office records in 1939, it was an equally popular novel by Margaret Mitchell. And as studios rely more and more on existing titles to guarantee at least some profit, adapting best-selling books is more popular now than it has ever been.
Case in point is this Friday's release of The Girl on the Train, based on Paula Hawkins' psychological thriller of the same name. Despite a surprising amount of negative reviews, anticipation for the movie is still high, mostly because the millions of people who've read the book are curious to see how the filmed product matches their imagination. Before the year is up, you'll have the chance to see movie versions of Billy Lynn's Long Halftime Walk, Live By Night, A Monster Calls, and Inferno. But what about next year and beyond? Here are 10 of the most exciting book adaptations currently in the works.
Ready Player One by Ernest Cline
After his last two movies—The BFG and Bridge of Spies—failed to ignite the box office, Steven Spielberg's next film feels like a sure thing. Ready Player One is an adaptation of the 2011 science fiction novel about a dystopian future where humans use the virtual world OASIS to escape from their IRL malaise. When the creator of the program dies, he challenges users to find an "easter egg" that will award the victor his fortune. The movie should make stars of its two up-and-coming leads, Tye Sheridan and Olivia Cooke, and if all goes well, will remind audiences why Spielberg is the godfather of big-idea, big-budget moviemaking.
The Royal We by Jessica Morgan and Heather Cocks
Heather Cocks and Jessica Morgan made their names as the Fug Girls, brutally and hilariously honest critics of the way celebrities expressed themselves through fashion. But they're also co-authors, and their debut book, The Royal We, is a national bestseller telling the story of an American girl who heads to Oxford and falls for a boy who just happens to be the prince. Not-so-loosely based on the story of Kate Middleton and Prince William, Gilmore Girls star Lauren Graham is writing the script, with the criminally underused Mae Whitman slated to star (both will serve as producers).
The Luckiest Girl Alive by Jessica Knoll
If the title itself wasn't a giveaway, Jessica Knoll's debut novel is written in the mold of both Gone Girl and The Girl on the Train. Ani Fanelli is a successful 28-year-old New Yorker with a dark secret from her past that rears its ugly head, threatening her picture-perfect present. Reese Witherspoon's company Pacific Standard Films, which also produced Gone Girl, has the rights to the book. May we suggest Rosamund Pike for the lead?
The Circle by Dave Eggers
Celebrated author Dave Eggers has published seven novels, but only last year's A Hologram for the King has gotten the big-screen treatment. It came and went. The Circle, however, is poised to make an impact. Directed by the versatile James Ponsoldt (The Spectacular Now, The End of the Tour), it stars Emma Watson as a young woman who gets a job at the powerful, ominous tech company that shares a name with the book's title. She soon becomes engulfed in the company's mysterious culture. Tom Hanks stars alongside John Boyega, who will be seen here in his first major non-Star Wars role.
Grasshopper Jungle by Andrew Smith
We'll be the first to admit that YA adaptations are growing a little tired, and the evaporating audiences of both the Hunger Games and Divergent franchises signal that audiences feel the same way. Thankfully, Grasshopper Jungle is not your typical YA novel. Yes, it's an apocalyptic epic about a fight for survival at the end of the world, but there's something a little extra. Two high school kids must fight off giant praying mantises, while also dealing with the raging hormones that come with being a teenager. Austin has a girlfriend, but also fantasizes about his gay best friend, Robbie. It's that subversive quality that likely attracted Edgar Wright, the wildly original director of Shaun of the Dead and Scott Pilgrim vs. the World to the story.
Devil in the White City by Erik Larson
Leonardo DiCaprio and Martin Scorsese just can't quit each other. The cinematic BFFs are slated to join forces once again to adapt this 2003 non-fiction bestseller that is written in novelistic form. In 2010, DiCaprio purchased the rights for Larson's book, which tells the story of Dr. H.H. Holmes and is set against the backdrop of the 1893 World's Fair in Chicago. To celebrate the fair, Holmes was tasked with building the World's Fair Hotel. Not necessarily movie material, right? Well, did we mention that Holmes was also a notorious serial killer who turned the hotel into his own personal "murder castle?" So there's that.
A Wrinkle in Time by Madeleine L'Engle
After the success of Selma, Ava DuVernay basically had her pick of material in Hollywood. That she turned down Marvel's offer to direct Black Panther and instead chose to adapt L'Engle's children's fantasy classic bodes well for the movie's prospects. Also boding well is the cast DuVernay has been assembling, which as of this writing includes Oprah Winfrey, Mindy Kaling, and Reese Witherspoon. For the role of Meg Murry, who travels into space to find her missing father, DuVernay cast newcomer Storm Reid, who we'll all be obsessing over when the movie is released late next year.  
The Goldfinch by Donna Tartt
If you're a human living on this planet, then chances are you've either read and loved this book, or at least know someone who has. Tartt's epic, Pulitzer Prize-winning novel about the odyssey of Theo Decker, after he steals the world famous painting from which the novel takes its title. The task of bringing this extremely prestige project to life will fall on director John Crowley, who proved he knows his way around large-scale coming-of-age stories with last year's excellent Brooklyn. But unlike The Goldfinch, that film was not based on one of the most popular novels of the decade (although the novel it is based on is very good indeed), so Crowley has his work cut out for him.  
The Silent Wife by A. S. A. Harrison
If you're going to make a movie about a woman who seeks revenge on her husband after he leaves her for a younger woman, you can do worse than hire Adrian Lyne. The director of lustful thrillers like Unfaithful and Fatal Attraction, Lyne has proved himself a master of depicting the dangerous—and often deadly—undercurrents of romantic love. Nicole Kidman is on board to play the woman, which in the movie business is known as perfect casting.
Americanah by Chimamanda Ngozi Adichie
David Oyelowo and Lupita Nyong'o can be seen in theaters starring in the perfectly fine Queen of Katwe, but what we're dying to see is them appear together in this adaptation of Chimamanda Ngozi Adichie's powerful story between Ifemelu and Obinze, students who meet and fall in love in their native Nigeria, but whose relationship is tested once she emigrates to America to study at university. Adichie's novel won the National Book Critics Circle award after it was released in 2013, and is considered an essential rendering of the black experience, in any country.