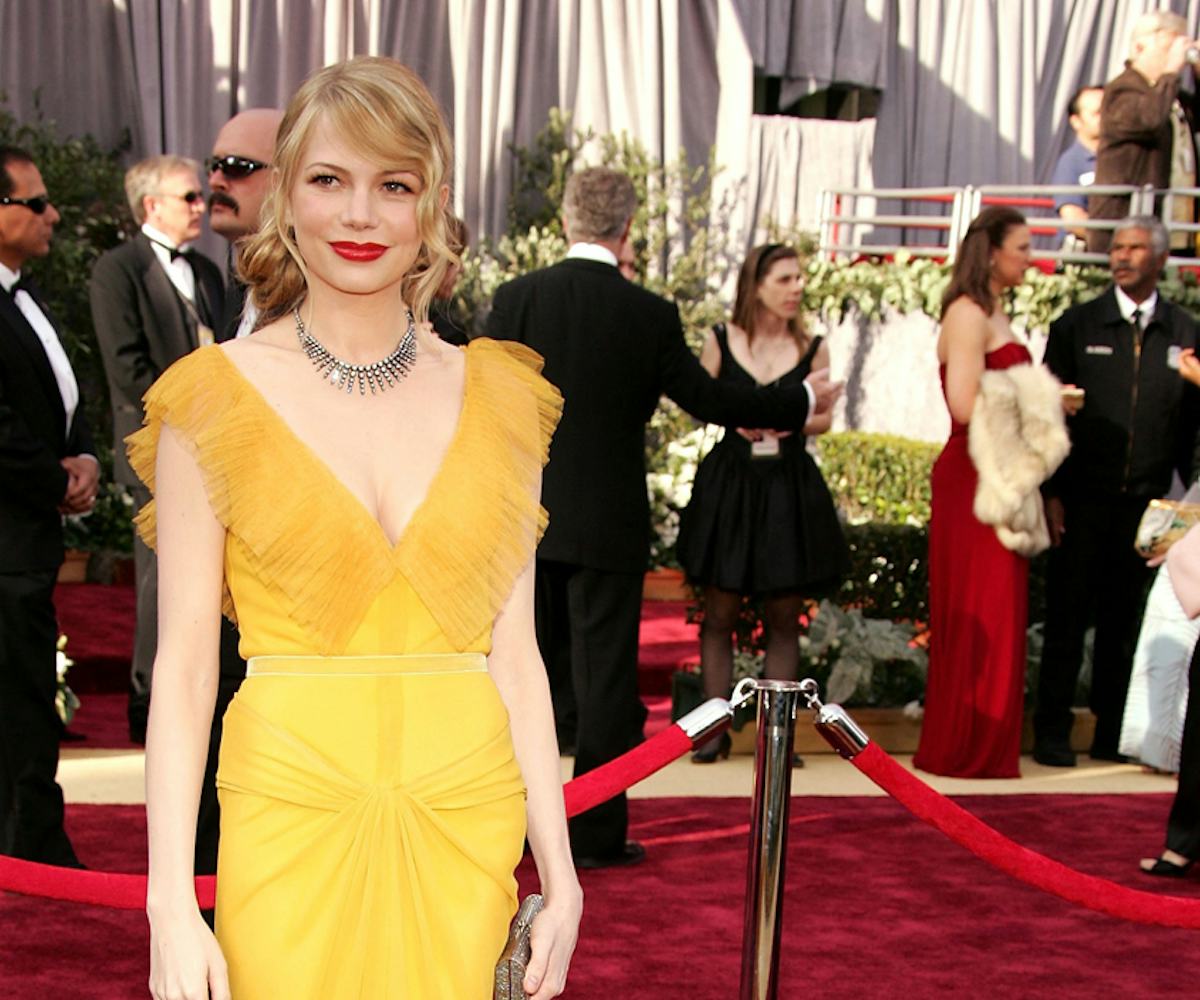 all photos by getty images
the oscar glow
how to recreate our favorite beauty looks from the academy awards.
The Academy Awards are on Sunday, and if you haven'y figured out which movie to root for, don't panic. We all know the real competition is on the red carpet--at least the competition for best beauty look is.
Over the years the Oscars red carpet has acted as a place for celebs to put their best face forward and make a lasting impression. Rooney Mara's 2012 goth-pretty makeup and Michelle Williams 2006 berry lip are just two of the looks that cemented them as style stars--and the looks that lots of people (us included) reference on a daily basis when looking in their makeup mirrors. (Though we'd say our day-to-day makeup is a little more like Kristen Stewart's 2013 Oscars look.)
Click through the slideshow to see all the Academy Award beauty look worthy of recreating, with our tips for how to get the look. 
Jennifer Lawrence in 2013
GET THE LOOK: Sweep Urban Decay's Eyeshadow in Gunmetal over the eyelid.
Jessica Chastain in 2013
GET THE LOOK: A coat of Smashbox's Be Legendary Lipstick in Legendary is essential in recreating Chastain's perfect red lips.
Adele in 2013
GET THE LOOK: Urban Decay's false lashes are step one in recreating Adele's eye makeup.
Kristen Stewart in 2013
GET THE LOOK: Hello beach hair! Liberal spraying of Bumble and Bumble's Dryspun Finish will create that tousled look Stewarts does so well.
Rooney Mara in 2012
GET THE LOOK: Every part of Mara's makeup is basically flawless, but the one we're really obsessed with is her brows. Try out the full look with Anastasia of Beverly HIlls Go Brow kit.
Emma Stone in 2012
GET THE LOOK: Sephora Color Proof Liquid Eyeliner is the one you want to be using to create a winged line like Stone's.
Rose Byrne in 2012
GET THE LOOK: Get hair as shiny as Rose Byrnes' with Kerastase's Touche Finale Serum.
Scarlett Johansson in 2011
GET THE LOOK: Dolce & Gabbana Eyeshadow Duo in Evocative is the secret to getting subtle reddish lids just like Scar Jo's.
Mandy Moore in 2011
GET THE LOOK: Go coral with Nars Lipstick in Niagra.
Mila Kunis in 2011
GET THE LOOK: Nobody does eyeliner like Mila Kunis. Get her look with a thin line of MAC's Penultimate Eyeliner around the entire eye.
Michelle Williams in 2011
GET THE LOOK: Pretty much everything about Michelle Williams makeup is perfect, but we're trying out a sweep of Chanel Ombre Essentielle Eyeshadow in Infini under the eye. 
Zoe Saldana in 2010
GET THE LOOK: To get lashes for days like Saldana's try Dior Show Mascara applied to from root-to-tip with a second coat just on the outer tips of lashes.
Carey Mulligan in 2010
GET THE LOOK: Flawless skin needs a good base, like CoverGirl & Olay's Tone Rehab 2-in-1 Foundation.
Marion Cotillard in 2009
GET THE LOOK: For a berry-meets-brown shade like Marion Cotillard's you have to try MAC's Carnal Instinct Lipstick.
Beyonce in 2009
GET THE LOOK: She woke up like this. And then she probably applied some Lancome Long Wear Calligraphy Eyeliner in a winged cat-eye shape and blended it in after.
Evan Rachel Wood in 2009
GET THE LOOK: Get glowy with some of Benefit's High Beam Luminizer applied to cheekbones, upper eyes, and collarbones if you dare.
Reese Witherspoon in 2007
GET THE LOOK: Time to pick up the hair straightener (a T3 SinglePass Professional Straightener) and channel your inner Elle Woods.
Keira Knightley in 2006
GET THE LOOK: Illamasqua Powder Eyeshadow in Incubus is the trick to achieving the perfect smoky eye like Keira Knightley's.
Scarlett Johansson in 2005
GET THE LOOK: Obviously Dolce & Gabbana's Lipstick in Scarlett is the color you're going to need to get a deep red pout just like Johansson's!
Sofia Coppola in 2004
GET THE LOOK: We think the secret to Coppola's always rosy glow is some of Marc Jacobs Beauty's Shameless Bold Blush in Reckless applied on the apples of the cheeks.
Gwyneth Paltrow in 1999
GET THE LOOK: This has to be the embodiment of what Ralph Lauren Romance smells like. 
Michelle Williams in 2006
GET THE LOOK: Try Givenchy Rouge Interdit Satin Lipstick in Elegant Rouge for a wine-stained lip.