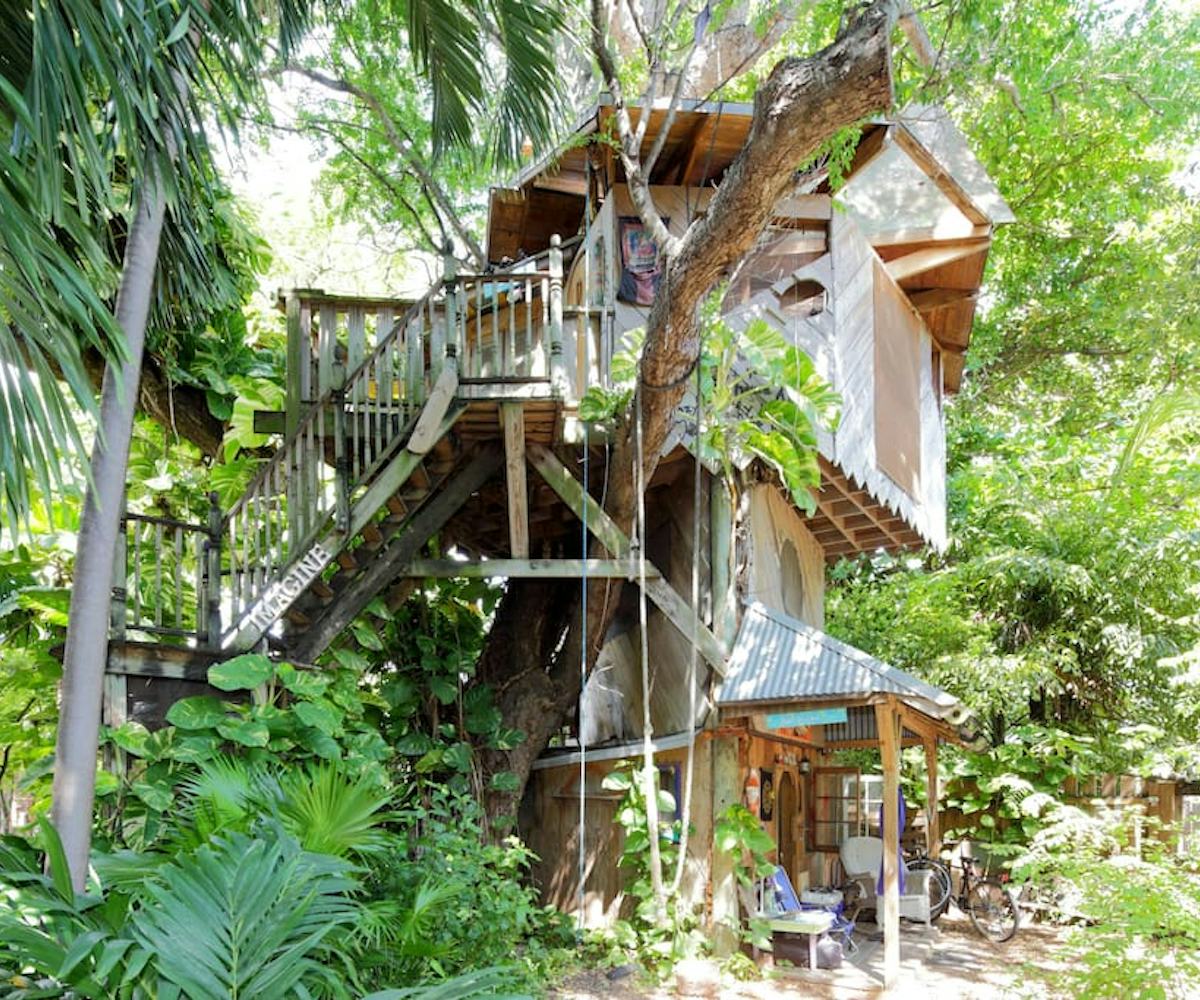 All photographs courtesy of Airbnb.
The 15 Coolest Airbnbs—All Under $100
Stay all around the world for cheap
There's nothing we dislike more about traveling than paying for an expensive hotel that we won't even spend any time in. Sure, certain vacations—particularly ones following grueling weeks of work or an especially intensive project—call for a lot of r&r with many room service calls and long baths accompanied by a bottle of wine and the Big Little Lies soundtrack, but, for the most part, we prefer to explore the grounds surrounding the property rather than the ones inside it.
Plus, there's a certain thrill in getting to experience a city through the eyes—and home—of a local. All to say, we love a good, Instagrammable Airbnb—as long as it doesn't break our budget. With that in mind, we rounded up 15 of the coolest and most unique Airbnbs around the country and world that cost less than $100 a night. Start planning your next trip now.
Zen Private Studio in Austin, Texas ($99)
In addition to being photo shoot-worthy, this bright studio boasts stylish furnishings and an expansive backyard.
Lush Garden Apartment in Barcelona, Spain ($75)
Forget Tuscany, this conveniently located one-bedroom apartment, just blocks away from the famed Sagrada Familia, houses the most aesthetically pleasing terrace we've ever seen. It's actually possible to totally forget you're in a bustling city like Barcelona and just relax.
Treehouse in Miami, Florida ($65)
Get to know a different side of Miami while staying at this quirky treehouse. In addition to enjoying the idyllic setting, you can partake in farm events like feeding the animals and in sourcing fresh eggs and honey for breakfast.
Artist's Escape in Santa Catarina, Brazil ($76)
Escape the fast-paced rhythm of Sao Paulo by staying at this colorful hideaway in Brazil's Santa Catarina that boasts colorful glass walls and windows, eclectic bottle decor, and perfectly mismatched furniture.
Terrace Overlooking Lake Como in Lake Como, Italy ($96)
Given that nothing in Lake Como is cheap, it's incredible that this gem is so affordable. This terrace alone is worth the price.
Airplane Hangar in Geneva, Florida ($41)
Minus the "man cave," description, everything about this apartment is quirky and fun. I mean, it's in an actual airplane hangar. Yes, it has Wi-Fi and air conditioning.
Renovated Barn in Seneca Rocks, West Virginia ($78)
If you're looking to get away and unplug in an authentically rural environment, look no further than this off-the-grid barn in West Virginia; it doesn't even receive cell phone service. I repeat, there is no cell service. There are, though, goats, chickens, and a peacock.
Cozy studio in the heart of Paris, France ($98)
There no better city than Paris to immerse yourself disguised as a local. It's a good thing, then, that this impossibly chic Marais apartment will make you feel right at home. Plus, no one will judge when you go into a self-induced cheese, bread, and wine coma before bedtime.
Casa Ocean View 1 in Canggu, Bali ($88)
A kitchen with the most Instagram-friendly tile ever? Check! A swim-up pool attached to said kitchen? Check. Full-time staff and on-demand masseuses? Check!
Warehouse Loft with Rooftop in Brooklyn, New York ($94)
Finding an affordable, not to mention presentable, accommodation in New York is a daunting task, which is why this spacious loft is such a rare find. Make sure to take advantage of drinking cocktails on the rooftop, sans the $15 most bars will charge you.
Jungle Hill EcoHouse in Bocas del Toro, Panama ($82)
While Panama is known for its many overwater bungalows, we love this house that's perched high in the jungle and overlooks the water from the treetop shade. The all-wood cabana is powered by a solar panel and is just steps away from a private dock with a hammock-filled tiki hut.
One-Bedroom Apartment In Shinjuku District in Tokyo, Japan ($39)
If you're a lover of the heart-warming animated feature My Friend Totoro (which, who isn't?), you're going to be obsessed with this Tokyo home filled with stuffed Totoros, themed wall decals, and even Totoro-adorned mugs. 
Geometric Dome in Andalusia, Spain ($61)
This warm-weather "igloo" is located in the scenic Andalusian landscape and has an outdoor shower and hammock ready for a siesta following that outdoor grill session. Need we say more? Well, we should mention that the squatting-style toilet is a bit of an adjustment, but when in nature...
Cozy Retreat with Mountain View in L.A. ($69)
Another city where it's not easy to find affordable options, this secluded one-bedroom stands out with its backyard lemon trees and mountain vistas and really nice price.
Tiki-hut in Los Cabos, Mexico ($52)
While not the most luxe or prettiest, it's pretty cool to be staying at an authentic huts steps away from the water and all the sea turtles. Bring mosquito repellent.