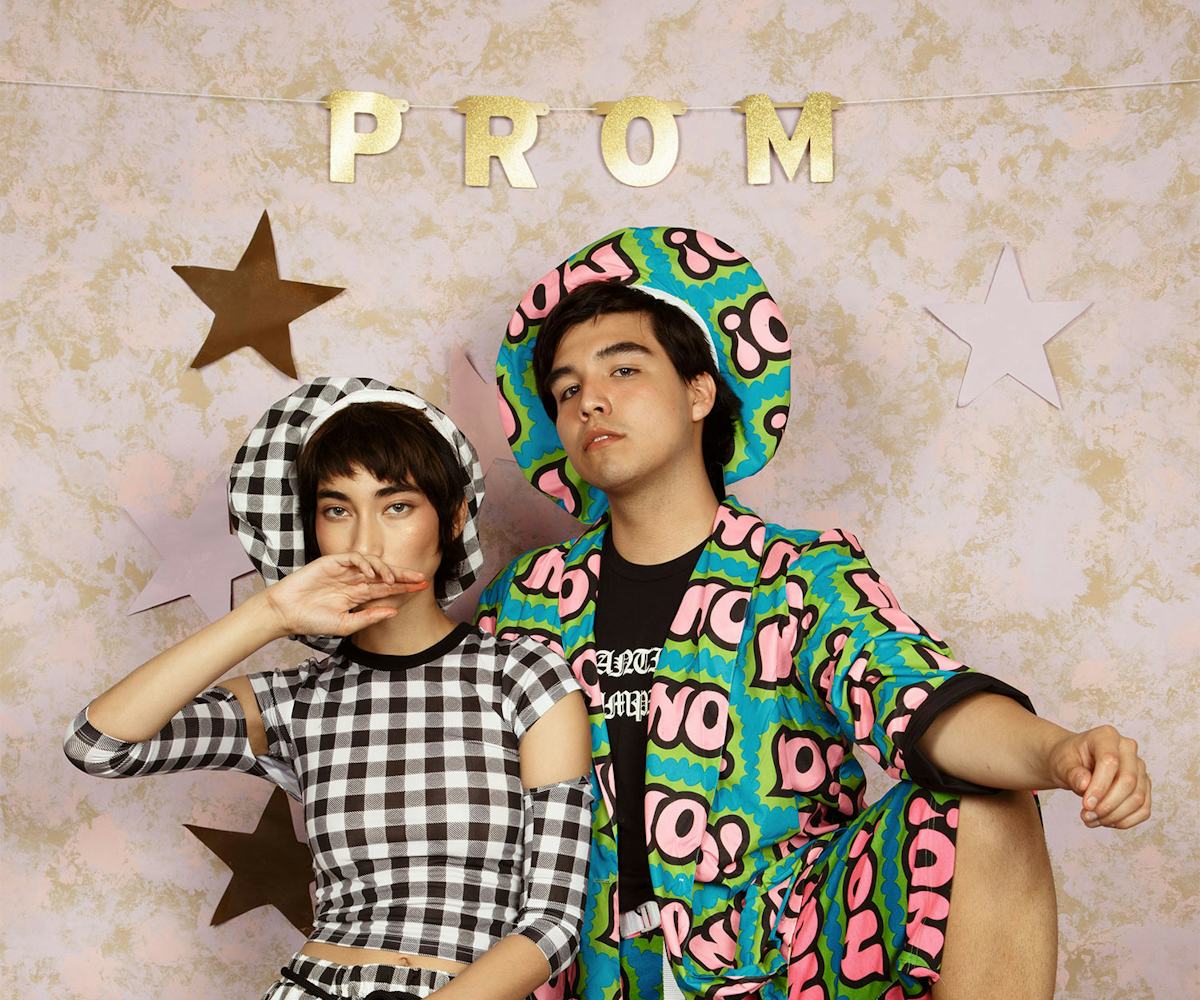 Photographed by Charlotte Rutherford, styled by Amelian Kashiro Hamilton
Let's Get Weird With These Unconventional Prom Looks
Prom, the night meant to serve as one of the biggest highlights of your high school career, is traditionally a formal affair—one requiring a fancy gown or tux, along with a ton of other "traditions." Well, while we encourage you to aspire to look your very best (whatever that entails for you), please believe us when we say that the days of sparkly, poofy princess gowns matched perfectly to your date's getup are long gone. Plus, why would you be anything but your true self?
Screw tradition. Below, you'll find all the unconventional prom looks the weirdo in you craves. From evening denim to punk influences, scroll down for tons of new prom inspo. We promise you'll stand out.
Photographer: Charlotte Rutherford at LMC WorldwideStylist: Amelian Kashiro HamiltonMakeup: Hadia KabirHair: Rachel Lee for OribeNails: Sheila Monaus for Priti NYCSet Design: Carson GilesVideo: Jessica Nicole CollinsPhoto Assistants: Johnny Kitsune and Isabel LevinStylist Assistant: Evan GibbyModels: Josephine Pearl Lee, Niko Karamyan, Shamir Bailey, Orixa Jones, Zayn Householder, Luna Lovebad, Champagne Cherub, Jade Nakash, Alexis Le Gall, Tierney Finster, Tzef Montana, Jordan Raf, Iconika, Charlotte Linden Ercoli, Isabel Levin, Asia Pelaez, Helena Escalante, Derrick Garcia, Maxine Lee, Johnny Kitsune, Henry Metcalf, and Mazzy McDaid
Why should you be limited to wearing just one prom look? Layer, layer, and then layer some more.
Left: Josephine wears Poche Ware dress and sweater, Marina Hoermanseder bodice, model's own jewelry. Right: Niko wears Martine Rose sweater, bra by Adonia Bree, and model's own shirt.
Tinsel, organza, and confetti—oh my!
Shamir wears kashiro.tv Blazer, No Sesso shirt, Diadora sneakers, Topshop socks, and stylist's own pants. Orixa wears Falguni and Shane Peacock coat, kashiro.tv dress, and Converse shoes.
Relive your Britney and Justin denim fantasy this year by pairing your favorite denim looks with sparkling accessories and bringing your Canadian tuxedo to a whole new level.
From clockwise: Zayn wears Jean Paul Gaultier blazer and sweater, Bond Vault pants, Poche Ware tie. Luna wears Phlemuns dress (over), No Sesso dress (under), stylist's own jacket and belts (worn as necklace). Champagne wears Phlemuns top and skirt, stylist's own boots and belts (worn as necklace). 
Not into typical sparkly and beaded dresses? Throw some studs into the mix and allow all of that teenage angst to shine through.
Jade wears a Falguni and Shane Peacock dress (over), We Are Confederacy dress (under), and Dior boots. Alexis wears Topman blazer and vest, Converse shoes, model's own shirt and pants.
No date? No problem. Roll up with your very best crew in a matching color scheme, and the night is yours.
Clockwise from top: Tierney wears kashiro.tv dress, model's own jewelry. Tzef wears House of CB dress, stylist's own gloves. Jordan wears Poche Ware neckties. Iconika wears House of CB top and skirt, Freak City sunglasses, and model's own jewelry.
While silky textures keep it formal, pops of prints keep it interesting.
Left: Charlotte wears Nike shoes, model's own suit, shirt, glasses. Isabel wears Phlemuns blouse and necktie, model's own skirt, stylist's own shoes. Right: Asia wears kashiro.tv shirt, model's own beret.
While some may say that punk and prom don't mix, we respectfully disagree.
Helena wears Vivienne Westwood blouse and pants, Arturo Rios bow headpiece. Derrick wears Homme Boy chokers and belts, model's own suit. 
Mismatched prints are totally the new matching to your date's look.
Maxine wears Experts Disagree top, pants, arm cuffs, and hat. Johnny wears Experts Disagree jacket, pants, and hat; Homme Boy tee; and Red Wing boots.
Are you the laid-back type? Pajama-like pantsuits make the big night all the more relaxed.
Henry wears Topman blazer and socks, Kenzo shoes, model's own shirt and pants. Mazzy wears Prada shoes, model's own suit and bra.
For more unconventional prom looks, check out the video below.