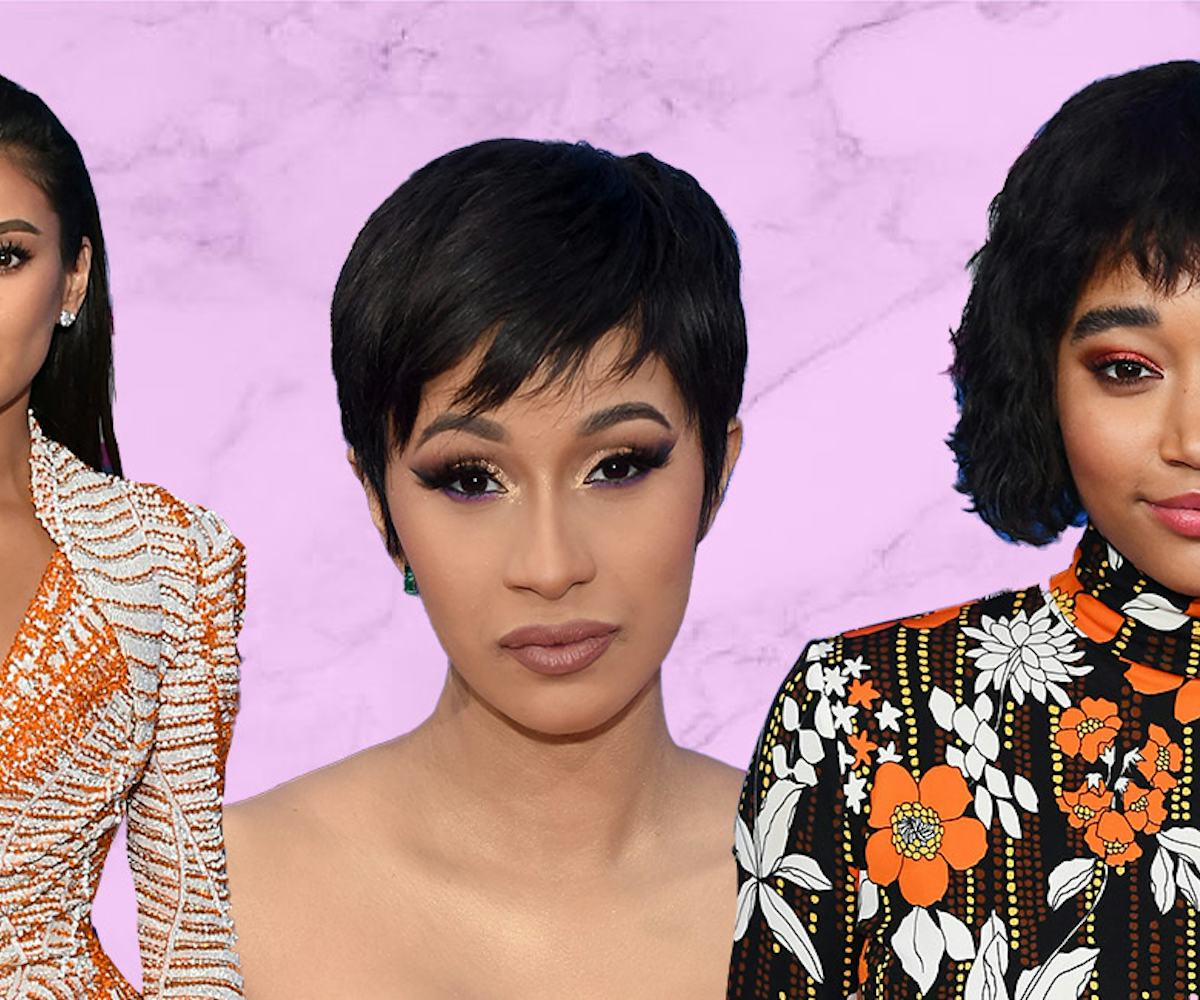 Our 10 Favorite Beauty Looks From Tonight's VMAs
Metallic eyeshadow reigned supreme
There was nothing subtle about the beauty looks from tonight's MTV Video Music Awards. Sure, there were quiet, natural moments, but our favorites were the loud standouts—because if there's ever an award show for experimentation, this is it.
The look of choice appeared to be metallic eyeshadow. Some stars went subtle and added it to the inner corner of their eyes, others went all out and took up the whole lid. Gold and silver were the most popular shades, but Amandla Stenberg swept in with a stunning red shimmer. At the end of the night, all served up looks just as shiny as the moon man himself. 
The hair looks were a little less uniform. Cardi B traded in her usual long locks for a short pixie, while Tiffany Haddish opted for a black-and-white braided updo. Shay Mitchell made us want to try the wet, slicked hair look and Bebe Rexha went for dramatic side-swept bangs. 
Check out the best looks of the night for yourself, ahead. 
Winnie Harlow let her gold eyes shine by going with sleek and simple pin straight hair.
New mom Cardi B surprised everyone with a short pixie cut and razor bangs. This definitely isn't a regular degular beauty look, and we're all for it.
We never thought to pair a dark lip with silver eyeshadow, that is until we saw Jasmine Sanders' beauty look.
A wet, slicked-back hair moment looks right at home on Shay Mitchell.
In addition to showing us an adorable shaggy bob, Amandla Stenberg continued the metallic streak with an unexpected red shimmery lid.
Rita Ora brought it back to middle school with the simple jewel adornment on the side of her eyes. Joining the black accessory was a fun matching swirl that played off the detailing of her dress.
In the similar spirit of matching your hair to your outfit, we have Tiffany Haddish with a special black-and-white hairstyle.
Millie Bobby Brown may be one of the youngest people on the red carpet, but she's taking a page out of the '80s book with her Twiggy-like bottom eyelashes and prim and proper hair.
Camilla Cabello looked adorable with her voluminous half-up, half-down hairstyle and bold red lip. 
Another nod to our past is Bebe Rexha's dramatic side-swept bangs. And because the singer got the metallic memo, she added a hint of silver to the inner corner of her eyes to match her glittering getup.