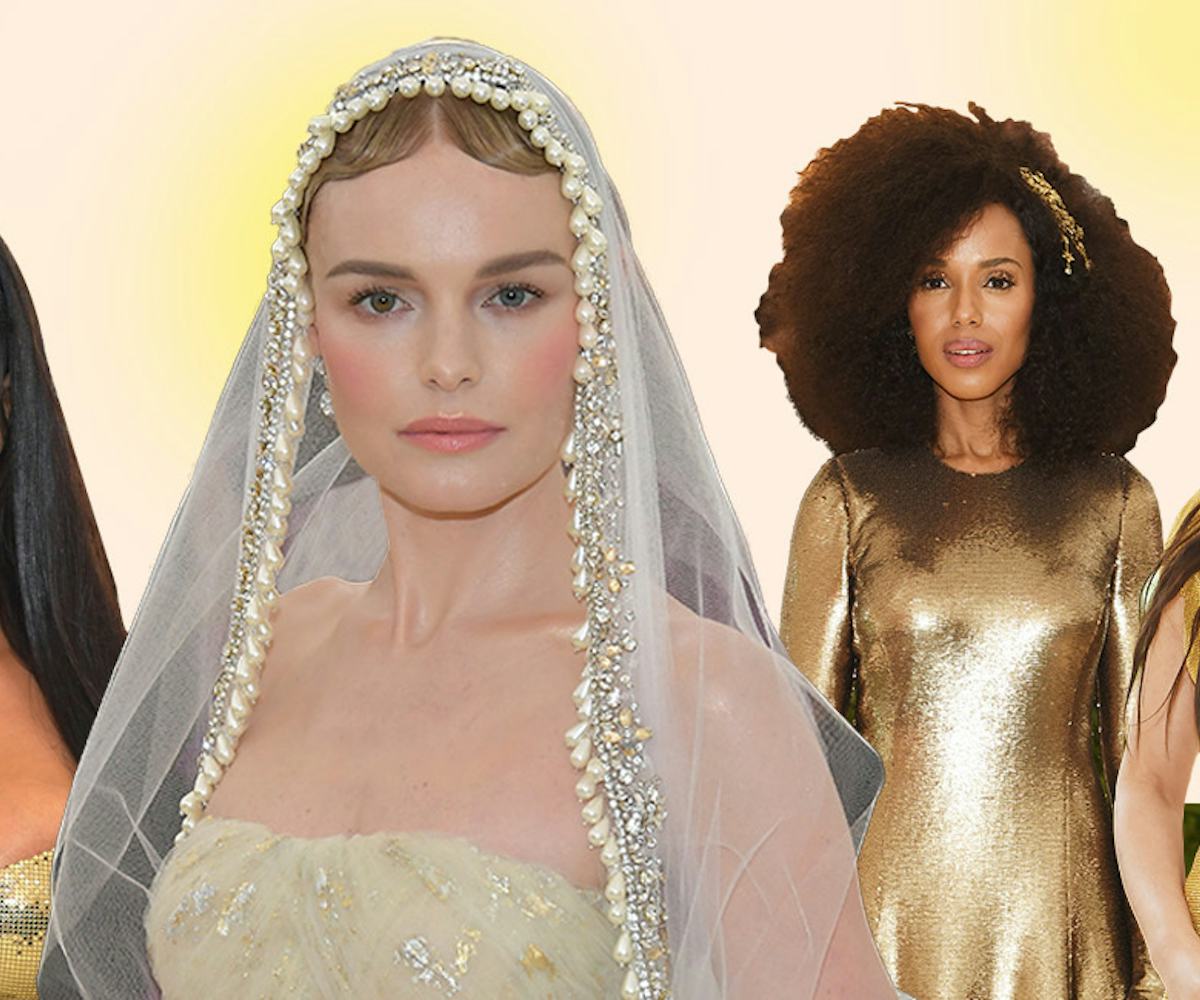 The Best Beauty Looks From The 2018 Met Gala
Headpieces and roses and hair changes, oh my!
This year's Met Gala theme was "Heavenly Bodies: Fashion and the Catholic Imagination," and while we knew this would mean rosaries and veils and other religious iconography, how would that translate to beauty?
There was, naturally, a lot of gold and silver, but there were also other daring beauty detals. Lily Collins gave us gothic makeup, while actress Jasmine Sanders stunned with a dreamy rose-adorned braid. There were some surprises, like a couple of new hair changes, tall updos, and a ton of headpieces. For the most part, as these things go, there were a handful of standouts and a lot of celebrities playing it safe. We guess that's fine this time around. Nobody wants to accidentally veer into sacrilegious territory. But, then, again, isn't that when things start to get fun?
Ahead, we share our favorite makeup and hair moments from the night.
Olivia Munn's chainlink headdress was complemented by a berry lip, red eyeshadow, and rhinestones placed on her inner eyes.
Jasmine Sanders left the rosary at home and, instead, opted for actual roses weaved throughout her braid. A beauty winner of the night, for sure.
Not to be overshadowed by her head piece, Lily Collins also accessorized her eyes with black crystals and a bright red tear drop. It was topped off with an iridescent oxblood glossy lip.
Kate Bosworth looked purely angelic with soft makeup and overdone blush that absolutely works in this case.
We're not sure if the higher the hair the closer to God was Kerry Washington's message here, but, hey: It works.
Okay, yes, obviously Rihanna's outfit was the show-stopping moment here, but she also bleached her eyebrows (or just really, really lightened them) and wore a superiorly smokey eye, because when she does a look, girl commits.
Sasha Lane draped her dreadlocks with crystals and, wow, if that isn't an updo done right.
What better place to debut a new hair look than on a red carpet? Kiersey Clemons showed off her new buzzed, platinum blonde look, which paired nicely with her gold dress and accessories.
And we also have a new pink hair look for Hailey Baldwin, which we're here for. 
Bangs? For summer? We're down, especially when it's Ruby Rose rocking them.
Amber Heard painted her roots gold to match her halo headband. The berry lip and gold eyes round out this very ethereal moment.
Jourdan Dunn debuted faux dreadlocks on the red carpet, which she accessorized with crosses and pearls.
We're not sure how a high ponytail and blunt bangs translates to Catholicism (maybe it's kind of Joan of Arc-esque?), but this is one of the most exciting beauty looks we've seen from Shailene Woodley, so we'll take it!
A beauty moment that stands out even when obstructed! Cara Delevingne's pink hair, yellow eye shadow, and red lip is the most striking combo of the night.
There are only a handful of hair colors and styles that Zendaya had yet to wear, and we're glad she debuted this red bob tonight, because it is perfect.
A bold eye look to upstage all other bold eye looks, courtesy of Kim Kardashian West.
Priyanka Chopra's head piece—which took over 250 hours to hand-bead—is stunning, and her '20s-reminiscent hairstyle makes us think she would look damn good with a pixie cut.