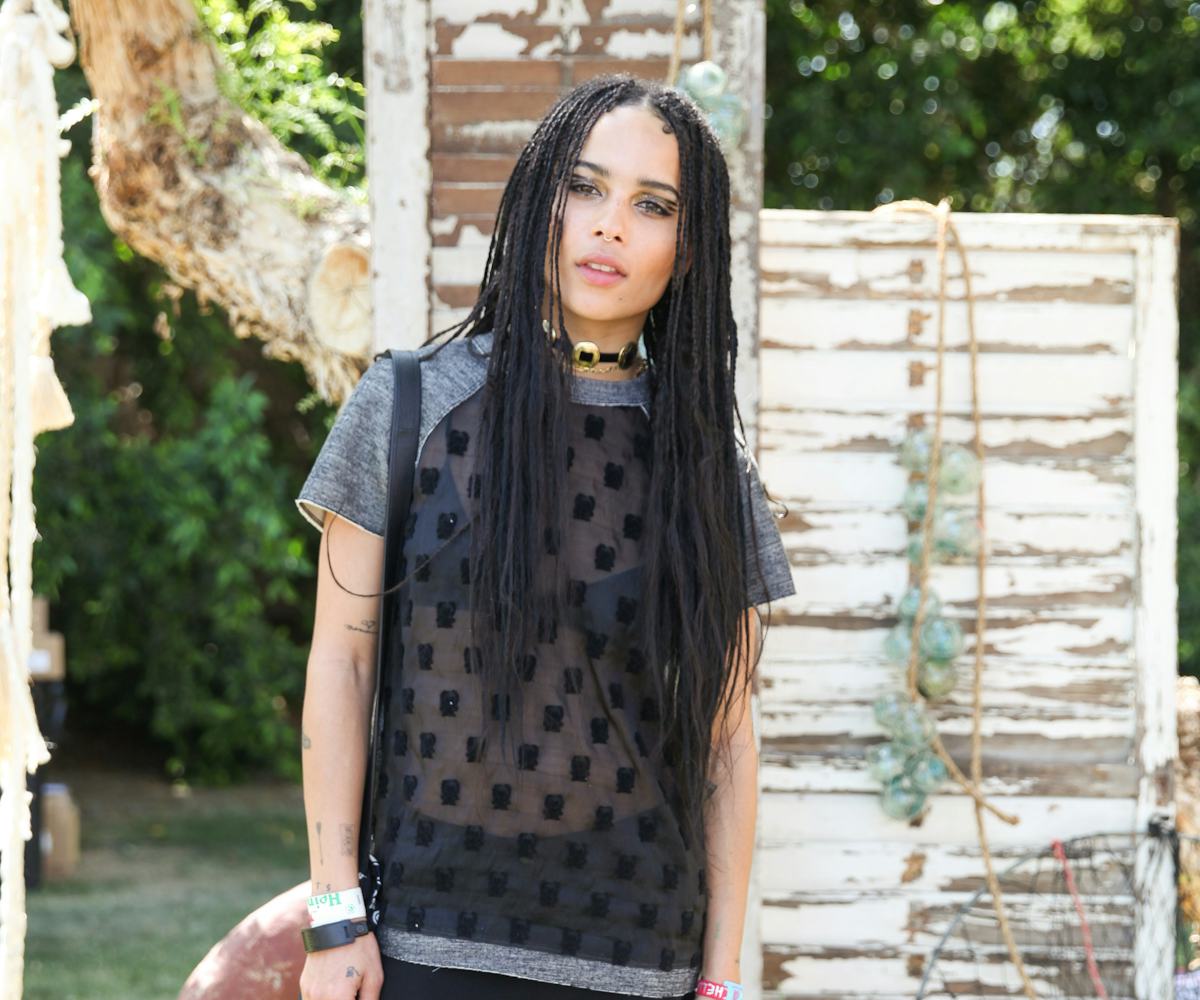 photo courtesy of coach
coachella's best dressed celebs
As we all know, Coachella has gone from a weekend full of music festivities to an upscale boho fashion week. This year, celebrities really stepped up their games and took their looks to the next level. With two weekends in the desert, they didn't just dress to impress—they dressed to survive.
After several hours of insta-scrolling, we managed to pick out our fave outfits from the two weekends. (Who said listening to music couldn't look so good? Hello, it's called "feeling your look" for a reason...) Peep them all in the gallery.
Related Articles:
26 Street Style Looks That Ruled Coachella
Zoë Kravitz killing it once again, this time in a black sheer Coach get-up.
Katy Perry reminds us what it means to be a California Gurl in this mesmerizing Coach ensemble.
Jena Malone got the memo for the sheer trend and she pulled it off with flying colors. It seems like Coach was made for Coachella.
No doubt Jared Leto was thinking "No pictures, please." And then the sun shined directly on him and angels came falling from the sky.
Queen Nicki Minaj. She even has a crown to prove it. Bow down.
Florence Welch, can we join your tribe?
Khloe Kardashian, Tyga, and Kylie Jenner literally leave us speechless.
SERIOUSLY — Kendall and Kylie Jenner looking so alt.
Paris Hilton is cross between electric cat and butterfly.
Alessandra Ambrosio is a beautiful, beautiful butterfly. Guess those Victoria's Secret Angels have a thing for wings ;-)
They say wearing white after Labor Day is a no-no, but Paris and Nicky Hilton make it white hot.
Marina Diamandis looking festival fierce in this cheetah-licious suit.
Kimbra, please let us borrow your badass platform booties.
Daisy Lowe is too cute in this floral maxi dress.
Ryn Weaver, beautifully radiant force of nature.
Tinashe makes looking cool seem so effortless.
Can Ryan Hemsworth stop being so cute? He may be a goof, but the boy can dress.
Vic Mensa and his posse are feeling those Coachella vibes. They dem boys.
Fergie Ferg just hanging out in some fringe in the fields, nbd.
Jamie Chung making floral crowns with actual flowers.
Since when are Michelle Trachtenberg and Amber Rose friends? We love it.
Really wishing we had Sarah Hyland's fur coat.
Gigi Hadid and Sarah Hyland looking like straight up stunnas for H&M.
Alessandra Torresani's floral crown is insane, Jessica Szohr's maxi dress is the bomb, and Jenna Goldsmith looks ready to rock and roll.
Really digging Hailey Baldwin's #casual Wildfox look.
Diane Kruger and Jason Wu stuck to the basics—and it worked.
Who died? Us when we saw R3hab and Ciara perform together. They kept it fresh in all black.
We'll have what Zoe Kravitz and Alexis Krauss are wearing, please.
Zoe Kravitz, can we come over and raid your closet sometime? Seriously, you nailed every look.
Only Rihanna could roll through Coachella in a purple fur coat and some pink Docs. #goals
Jourdan Dunn stunting on everyone.
The HAIM sisters win best sibling color coordination.
Bella Hadid lounging around in some spotless Adidas.
Katy Perry still can't let that left shark thing go.
Rosie Huntington-Whiteley looks like a magical fairy in an enchanted forest.
Alexa Chung, making our wardrobes look lame since 2008.
Azealia Banks wearing the best top of all time. WE NEED IT.
Sky Ferreira, softcore floral pastel grunge princess.
Atlanta de Cadenet Taylor wearing what is bound to become every gal's go-to beach/BBQ look this summer.
Monica Martin of Phox's accessory game was on point.