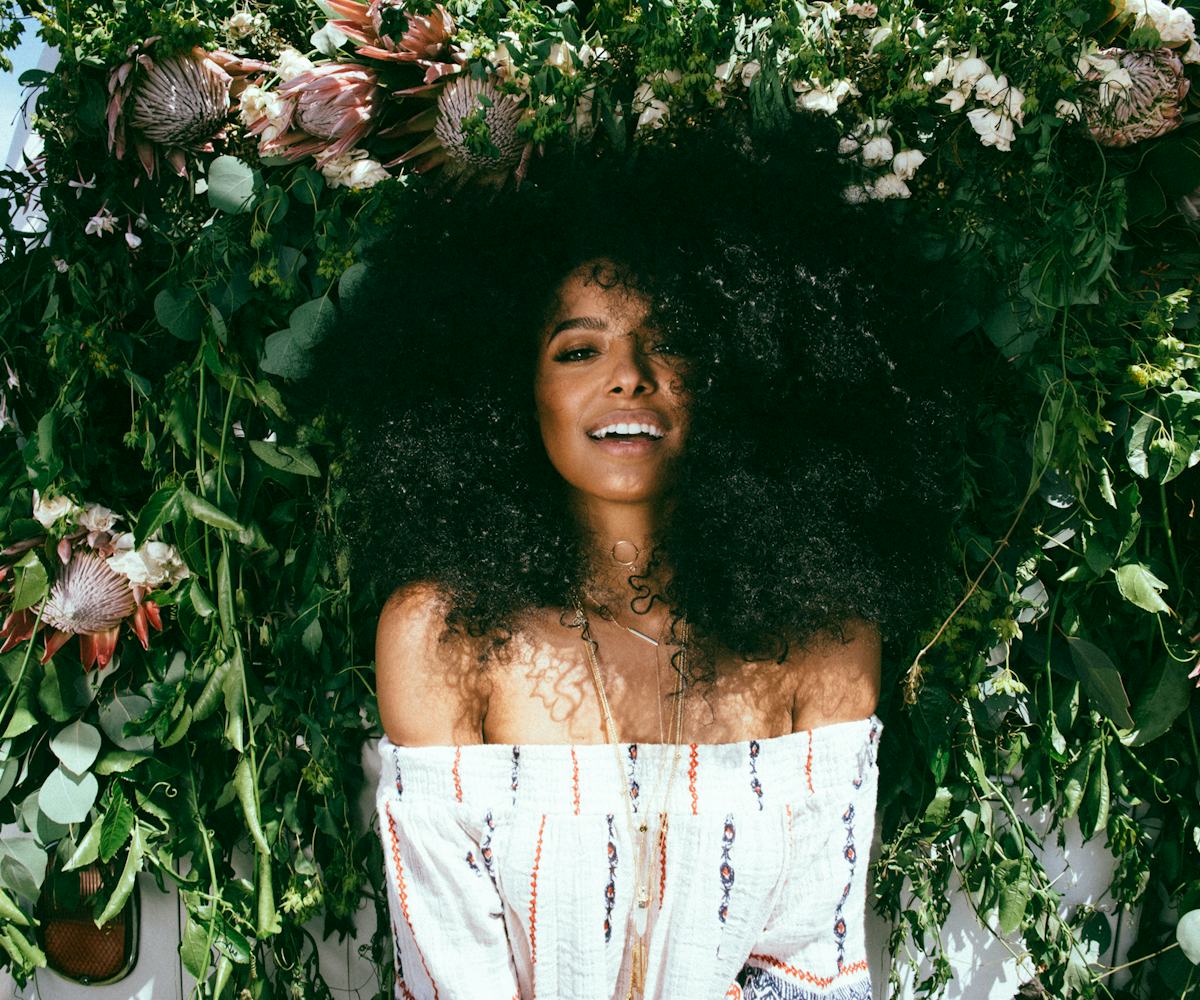 Photo by Lindsey Byrnes
The Boldest Beauty Looks We Saw At Coachella 2017
Keeping a freshly made-up face on under the beating sun of Coachella is a tricky feat. Those who manage to do so are truly magicians from a sweat-less planet and can probably rock a white T-shirt without fear of perspiring through it. (Who are you, and how do you do this?!)
This year's crowd went all out with metallics and nuanced takes on everyday classics. Some people modified the classic cat eye with iridescent eyeliner and an exaggerated flick, others wrapped up their hair in ways unimaginable, and the rest kept it simple, letting their natural glow shine. If fortune favors the bold, these humans are wonderfully fortunate.
Your move, future music festivals. Coachella just set the beauty bar high.
That's the face we made when we spotted kawaii angel Alice Longyu Gao.
She's got the (flower) power.
A lavender bond.
Oh man, Grace Mitchell.
Two-toned and bad to the bone.
R-E-S-P-E-C-T, Kat Graham.
"Smile for me, Amber Rose. (What you looking at?)/ Let me see ya grill/ (Let me see my what?)/ Ya grill/ Ya, ya, ya grill"
A not-so-mean green.
Waist length for extra strength.
Bishop Briggs' eyelash game is strong.
Finding that light.
Of course, NYLON's digital editor-in-chief, Gabrielle Korn, made a classic red lip look ahead of its time.
When you wanna be a festival flower crown princess but you're still a little sweet cherub.
NYLON's social media director, Bee Hill, kept it simple, lettin' that true glow shine.
NYLON's senior staff writer, Hayden Manders, serving up a different kind of red eye.
Famous In Love's Georgie Flores giving us sparkle.
Can Gigi Gorgeous share her hair tips? Thanks.
It's almost beach hair season.
Braided and bold.
Look at the flick of that eyeliner.
Mani(c) panic with Sophie Turner.
Sometimes tattoos are your best beauty accessory.
Sissy that walk, honey.
C'mon, how could we not include Alice Longyu Gao's second look?
BRB, showing this to our colorist the next time we're in.