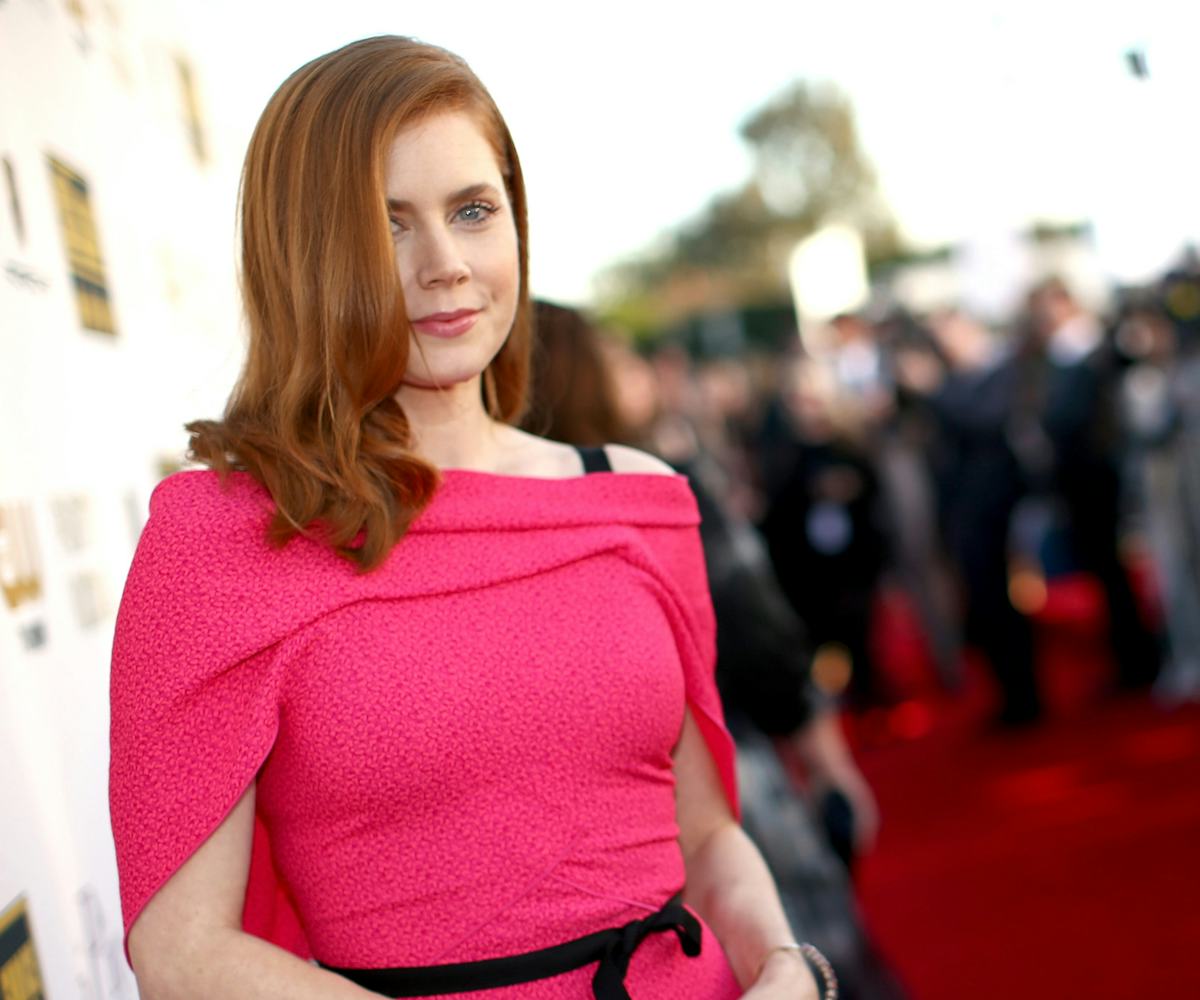 photo by getty images
best dressed: critics' choice awards
is this the best we've seen lupita, adele, and amy look all awards season?!
At this point it feels a bit like we're eating, sleeping, and drinking red carpet looks. Sunday was the Golden Globes, tomorrow is the SAG Awards, the week after is the Grammys. So it would be easy to feel a bit of Hollywood fatigue...but if last night's Critics' Choice Awards proved anything, ti's that there are still awesome dresses to be worn.
Take Lupita Nyong'o: We thought she reached perfection with her crimson Golden Globes gown...and then we saw her walk the red carpet in a cut-out Calvin Klein number, and she set the bar even higher.
Or look at Adele Exarchopoulos, who brought a little high fashion with her Louis Vuitton dress. We know haters are gonna hate, but don't you love a little fashion risk (plus a little sheer, a little sequined, and a little feathered)?
Even Julia Roberts, who is admittedly a bit out of our demo, caught our eye; in part because after Sunday's matronly look she wore something that we'd totally steal from her closet.
And while we know that everyone's saving their big guns for the Oscars, it's nice to see that no one's phoning it in in the meantime. Click through the gallery to see more looks for the Critics' Choice Awards red carpet.
PS: In case you were wondering about the actual awards, here is the list of winner!
Best Picture – 12 Years a Slave
Best Actor – Matthew McConaughey, Dallas Buyers Club
Best Actress – Cate Blanchett, Blue Jasmine
Best Supporting Actor – Jared Leto, "Dallas Buyers Club
Best Supporting Actress – Lupita Nyong'o, 12 Years a Slave
Best Young Actor/Actress – Adele Exarchopoulos, Blue Is The Warmest Color
Best Acting Ensemble – American Hustle
Best Director – Alfonso Cuaron, Gravity
Best Original Screenplay – Spike Jonze, Her
Best Adapted Screenplay – John Ridley, 12 Years a Slave
Best Cinematography – Emmanuel Lubezki, Gravity
Best Art Direction – Catherine Martin (Production Designer), Beverley Dunn (Set Decorator), The Great Gatsby
Best Editing – Alfonso Cuaron and Mark Sanger, Gravity
Best Costume Design – Catherine Martin, The Great Gatsby
Best Hair & Makeup – American Hustle
Best Visual Effects – Gravity
Best Animated Feature – Frozen
Best Action Movie – Lone Survivor
Best Actor in an Action Movie – Mark Wahlberg, Lone Survivor
Best Actress in an Action Movie – Sandra Bullock, Gravity
Best Comedy – American Hustle
Best Actor in a Comedy – Leonardo DiCaprio, The Wolf of Wall Street
Best Actress in a Comedy – Amy Adams, American Hustle
Best Sci-Fi/Horror Movie – Gravity
Best Foreign Language Film – Blue Is the Warmest Color
Best Documentary Feature – 20 Feet From Stardom
Best Song – "Let It Go" Robert Lopez and Kristen Anderson-Lopez, Frozen
Best Score – Steven Price, Gravity
Lupita Nyong'o
Amy Adams
Adele Exarchopoulos
Abigail Breslin
Margot Robbie
Brie Larson
Leslie Bibb
Camila Alves
Kristen Bell
Cate Blanchett
Juliette Lewis
Jessica Chastain
Julia Roberts