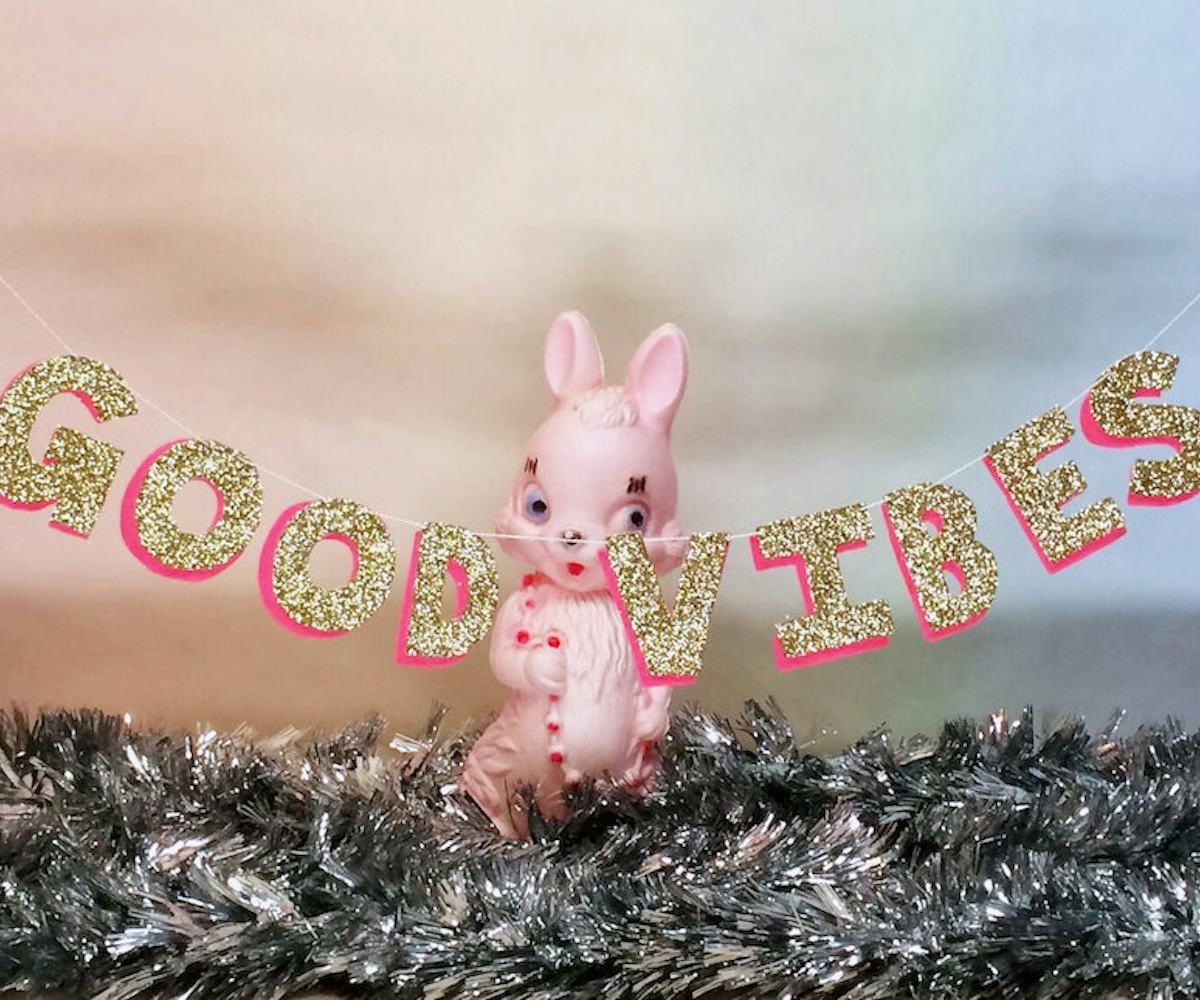 the best of etsy: 17 of our favorite shops
fashion, beauty + everything in-between
Whenever we have a spare minute or two, we find ourselves on Etsy. And as soon as we get to its homepage, it's almost like we're put into a trance. With 1.4 million active sellers and over 32 million items up for sale, it's nearly impossible to leave the site. Suddenly, minutes turn to hours, and at that point, we're late for all of our plans. But, no matter what our friends say about how it's "not nice" to "ditch" them "repeatedly," it all seems worth it.
Now, we have a drawer full of patches, a desk piled high with bespoke stationary, and a closet overflowing with one-of-a-kind kimonos. And we wouldn't be where we were without them. So, now, while we're waiting on Scully and Mulder to figure out exactly what spell Etsy has put us under, we have a go-to list of awesomely weird shops. 
Click through the gallery to see our 17 favorite shops, then get ready to fall down the rabbit hole.
DubuDumoAs any creative knows, you can never under underestimate the importance of design-oriented desk supplies. And while we'd dish out a ton of cash for pretty stationary and totally kawaii planners, DubuDomo keeps it affordable.
Brooklyn VoyagerIf you don't want to dig through thrift and consignment shop racks, Brooklyn Voyager is the next best place get your vintage fix. With a focus on prints and classic styles, like the button-down tee, this shop is a highly curated go-to for Millennials.
Fun CultWho doesn't want a banner with their favorite phrase on it? Fun Cult creates banners with glitter, fringe, and more—and somehow, they don't look like a crummy DIY project. Pick out your favorite phrase, or buy one of their pre-made options—we'd go for "Good Vibes" or "Endless Bummer."
French Fry ShopFrench Fry shop curates vintage with a thoughtful, normcore-focused eye. Need a Jean Paul Gaultier jacket, or a Kenzo Couture cardigan? Of course you do. And it's all here.
Golden PoniesFounded in 2009 and produced in Mexico, Golden Ponies is a great place to find affordable basic leather goods. Grab a great pair of Dorothy-esque ruby red shoes, or go for an iridescent bag. It's all there.
No ScrubsWhether you're looking for a super-affordable print to stick on your bedroom wall, or some stickers to personalize your leather-bound journal, No Scrubs has got you covered. Drawn by Kandi Bridges and her best friend, the limited selection, which features booty stickers and "Not Urs" pins, is basically a testament to girl power.
Yvng PearlNail art is still very much a thing, and doing it on your own (read: not having to pay mad bucks to get it done) is always a plus. Yvng Pearl is a great nail decal shop with your favorite themes—from Clueless to junk food to Freaks and Geeks. Let your inner fangirl out.
Ink PugIf you're pug-obsessed, or even just a general fan, well, congratulations: There's an Etsy shop for you. Naturally, Ink Pug carries pug-only prints and greeting cards, with little dogs for just about any situation you could think of. As an added bonus, all proceeds from select items go to S.N.O.R.T. Rescue.
Julia Rothman x TattlyFor those of who aren't quite ready to commit, Tattly Tattoos by Julia Rothman is the place to go for adult temporary tattoos. Featuring the cutest illustrations by the founder Julia Rothman, the designs feature everything from a basic watch design to best friend tattoos.
King Sophie's WorldIf we were ever to be made into a patch, we'd like it to be done in Sophie's eye. The sequined creations feature the best of the internet—think pizza, aliens, and Björk—and everything else we could ever dream of.
Love Signs VintageBased in Montreal, Canada, Love Signs has great vintage finds that feel European and chic. Find your girly floral dresses and high-waisted pants here.
Luna on the MoonThese are literally the most perfect quirky clutches a girl could ask for. Because, really, what more do you need than a sparkly fried egg bag? Shop our faves over at NYLONshop.
Pieces of StarrIf you're looking for cool, delicate jewelry (and, really, who isn't?), Pieces of Starr is your best bet. With everything from handmade metal chokers to gold and ruby ear jackets, every piece in this Atlanta-based brand seems like it was made to dress up your everyday white tee and denim look.
Elma ShopWith super-pretty silk bralettes and lacy lingerie, Elma mixes luxury fabrics with adorable shapes to create the coolest undergarments we've seen in a while.
Flaming IdolsRobin Markle created Flaming Idols as a tribute to people that have been inspirational in the LGBT community. Made to look like altar candles, there are illustrated figures devoted to just about anyone you could possibly worship, from Justin Bieber to Leslie Knope.
Fluff ShopThis vintage shop is curated to be a dream come true. It holds all the super-cool '90s garments you were too young to wear, from cool grunge slip dresses to knit crops and weird, colorful mule sandals.
Mokuyobi ThreadsThanks to Mokuyobi, you can relive your Girl Scout (or Boy Scout) days. But instead of grabbing your old sash, patch up a denim jacket, a bag, or a pair of thrifted high-waisted jeans.