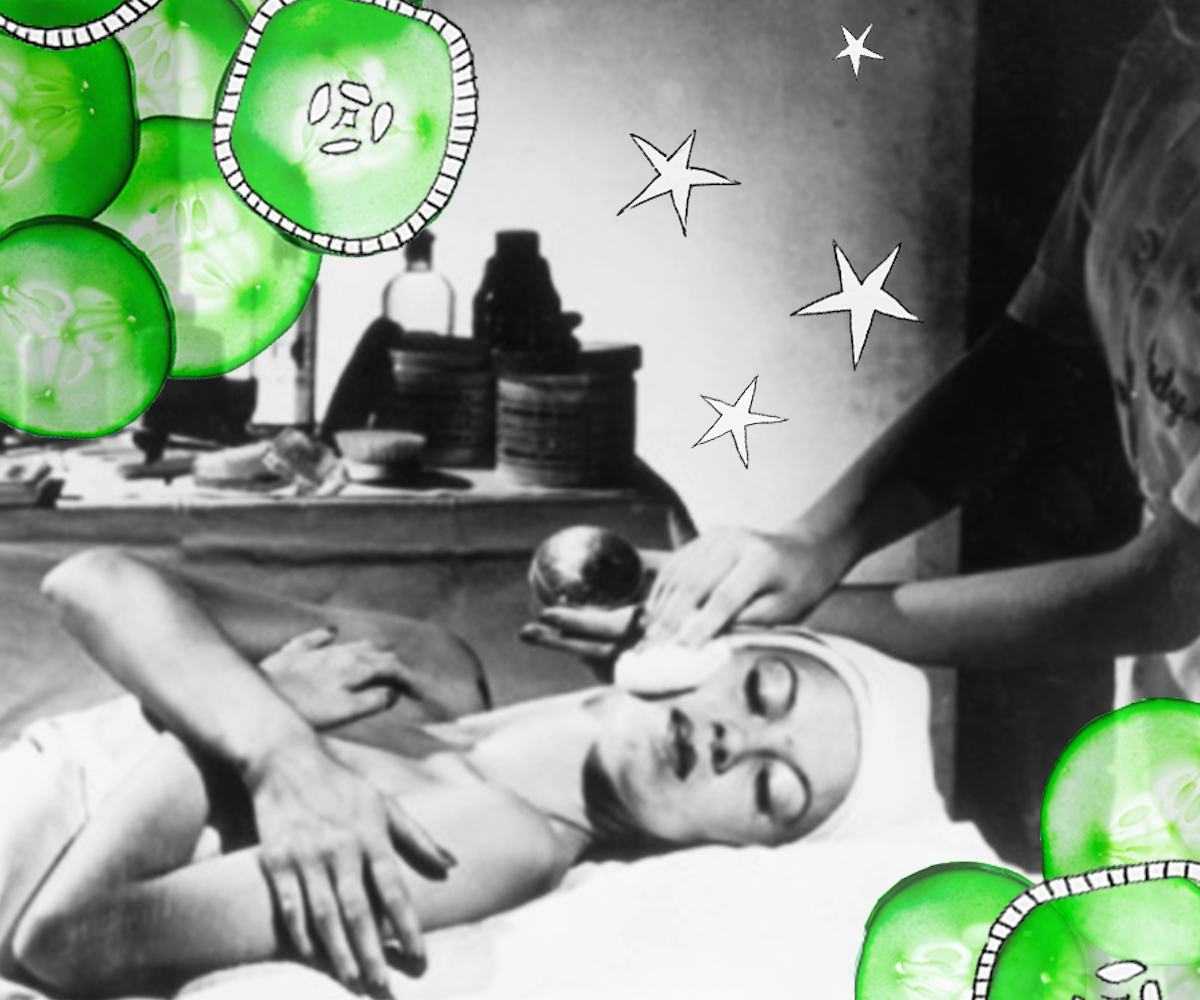 The Best Facials In NYC, According To Us
Get your pores cleaned like a NYLON editor
Unless you are Arya Stark, you will only get one face in this life. That face will be with you through the good times and the bad—and unfortunately, all that tends to show up on your skin. As editors in New York City, we spend our days squinting at computer screens and our nights staying out way too late, neither of which leads to the glowing complexions we'd like to post on Instagram. So it should go without saying that we A) take our skin-care routines very seriously and B) tend to outsource our skin care to professionals. Turns out, most of our editorial team has a secret go-to facial or a new favorite that they turn to when things get a little rough around the edges.
Ahead, we're revealing our favorite spots to hit up when we need help with our, um, spots. Click through for our beauty secrets, spilled. 
"Joanna Vargas's Triple Crown Facial is the kind of treatment that beauty editors and celebrities alike whisper to each other about. Collagen and elastic production are stimulated using microcurrent technology, which causes a kind of nonsurgical facelift–no, really. The aestheticians who do this treatment will sometimes show you when they're halfway done so you can see the difference it makes, and it's truly mind-blowing. I've done this a couple of times when I'm feeling particularly haggard and it gets rid of fine lines, makes my eyes look wider, and my skin overall brighter and clearer. Despite the sciencey sounding name, there's nothing scary about this treatment—it feels really nice. Basically someone just very slowly rubs a two-pronged metal thing (okay, a very fancy microcurrent machine) over your whole face, and it feels like a massage. If looking tired is your skin-care concern, I can't recommend this enough." —Gabrielle Korn, digital editorial director 
"After a transatlantic flight, changing climates (in favor of the sun-drenched), and too little water, my usually problem-free skin was not so unexpectedly dehydrated and boasting an oily T-zone, clogged pores on my chin, and breakouts on my forehead. Settling on the 50-minute Vinosource Facial Treatment, I was promised that it would nourish my moisture-deprived skin and restore radiance to it. "Every change of season we need to rebalance our skin after travel, stress, and winter and remove the dead cells," says Régine Berthelot, treatment manager at 
Caudalie
Vinotherapie Spa. "Vinosource treatment normalizes the skin, so you're ready for the next season and can go back to whatever skin routine or concern you want to target afterward." From the moment you slip into a bathrobe, take a sip of the red vine leaf tea with a dash of cinnamon (that helps blood circulation, improves digestion, and helps eliminate water retention), and proceed to one of the treatment rooms, you are instantly transported to the vineyard in South of France where the miracle properties of the grapes, upon which the brand is based, were discovered.
After discussing my skin concerns with my Vinotherapist, Oksana, I climbed into the massage bed, heated, nonetheless, to get the body in its most relaxed state. Oksana began by gently removing my makeup and then proceeded to cleanse, exfoliate, and tone my skin using all 
Caudalie
products. "Most of our products use the grape seed oil that's rich in vitamin E and omega-6, very rich and nourishing ingredients," says Berthelot. While a machine misted steam, my face and neck were treated to several serums, a beauty elixir, and grape water. The highlight of the treatment came after Oksana performed a light extraction targeted at my clogged pores and breakouts. Using fresh grapes cut in half, she massaged my face using circular strokes. "Grapes help your moisture, and are super hydrating and have a mild exfoliation effect because of the fruit acid, so it's super gentle and good for all skin types," says Berthelot. The "grape modelage" was then followed by a long, and relaxing, sculpting massage that extended to the face, neck, hands, and feet, and almost left me asleep.
Oksana secured the hydration with the application of an ultra-moisturizing mask, and the session ended with an application of more moisturizing products, lip balm, and a tinted moisturizer to even out my skin tone. In addition to leaving my skin feeling saturated with moisture, the facial left my body and mind divinely relaxed. It only further helped my tranquil state of mind when I was offered a glass of red (made from the same vineyard grapes used in the products) in the wine lounge where I continued to rest at afterward. The biggest surprise took place when I looked in the mirror following the treatment. Typically following a facial, my skin turns red and a little blotchy in the areas where the extractions occurred. Instead, my skin looked absolutely flawless and incredibly radiant to the point where I went makeup-free for the rest of the day." —Irina Grechko, digital content editor
"I first went to see Samantha Wright at Dangene in 2014 when my skin decided that I was to suddenly develop severe adult acne. She convinced me not to go on Accutane, and after a few sessions, she also convinced me to put her in charge of my face. Samantha is the only person who has been able to get my acne under control, with a strict product regimen that I always regret deviating from, chemical peels, microdermabrasion, oxygen treatments, light therapy, and the most thorough extractions you can imagine. Make no mistake: This isn't a spa in the traditional sense. Facials here aren't what you'd call relaxing; the extractions are so intense that it can be quite painful. And you don't leave looking so hot, either—this is a long-term solution, not an immediate results sort of thing. But over time, what they do here really does clear up your acne, and if you use only what they tell you to, it'll stay clear. Samantha also taught me a lot about how to take care of my face on my own, which involves not picking at it, ever. That was hard for me, but now that I rarely to never try to pop my own zits and go to Dangene regularly, I pretty much only break out when I have my period or am really stressed." —GK
"The more "grown up" I become, the more I crave beauty products, treatments, and routines—with a heavy emphasis on the latter. There's something therapeutic (and, let's face it, romantic) about getting ready in the morning and washing up at night. Sometimes, though, you need a little more than your nightly cleanse, tone, and cream. I've been a huge fan of 
Skin
Laundry
's sheet masks since they wound up on my desk one day, but had yet to bring myself into one of its locations for a laser facial and treatment. (In all honesty, I've never gone somewhere to have a facial, ever.) So, I put my grown-up pants on and went.
A little waiver signing led to a pre-treatment face wipe-down that led to me laying on the comfiest surgeon's bed I've ever laid down on, with goggles over my eyes and my hair tied back. I learned that the folks who perform the procedure are certified healthcare professionals. The entire treatment took maybe 10 minutes, once the first round of lasers vaporized whatever dirt and bacteria were in my pores. (You can smell this happening. It's not offputting, but it's definitely a shocker. Like, all of that was on my face?!) The laser itself doesn't hurt, but rather feels like warm, little taps on your 
skin
. They follow up the two rounds of lasers with an IPL (Intense Pulse Light) treatment, which feels like nothing. Afterward, once the cooling cream used for the IPL treatment was wiped off and toners and an SPF cream were applied, my 
skin
face felt like it was breathing—like HD breathing. 
The professional said my 
skin
took the treatment well, too, so hooray for validation. I took some selfies in that #Natural #Light and asked a few coworkers how my face looked. They all said how wonderful, light, and clear it appeared. It felt smooth and tight, too, but I wasn't about to be an HR nightmare and ask everyone to feel my face as well. 
Skin
Laundry
recommends multiple treatments if you want to see a more even tone and visibly reduced wrinkles and age lines. I've only been once, but can attest to its positive effects. It's a perfect facial for someone with an event to attend, but no time to live that spa life. Your 
skin
will feel cleaner and look fresher than ever. 
Laundry
now has two different meanings—one more relaxing than the other." —Hayden Manders, staff writer 
"This is THE place to get a thorough, affordable facial in New York City. My problematic
skin 
(no severe acne here, just grumpy, mid-20s blemishes and blackheads) and I have been going for four years, monthly. At other spas, I've tried some facials boasting diamond-tipped tools and miracle light waves. None of that at Tamago. The simple Japanese spa offers their most popular Green Tea Facial for $75, with a calming matcha mask and serious extractions that don't pinch. You're left with airbrushed 
skin
just hours after you leave." —Tile Wolfe, social media director
"The Triad Facial at NY Dermatology Group is the closest thing to magic that's ever happened on my face—very, very expensive magic. This quick three-step facial involves microdermabrasion, a laser, and a chemical peel, and I walk out of the office looking like a yoga-loving vegan who gets eight hours of sleep a night and doesn't sweat the small stuff (I am none of those things). It also, as promised, improves the quality of your skin over the course of a few days, so while day one is amazing, by day three you're pretty much ready for anything. Because this short treatment is pricey, I reserve this for special occasions, like New York Fashion Week, but it's totally worth it. It's really hard to find a facial with instant results; usually, you're kind of red or puffy or, at the very least, a little too dewy with some sort of fragrant oil, but not so with the Triad. A ton of celebrities do this right before the red carpet, so don't just take it from me." —GK