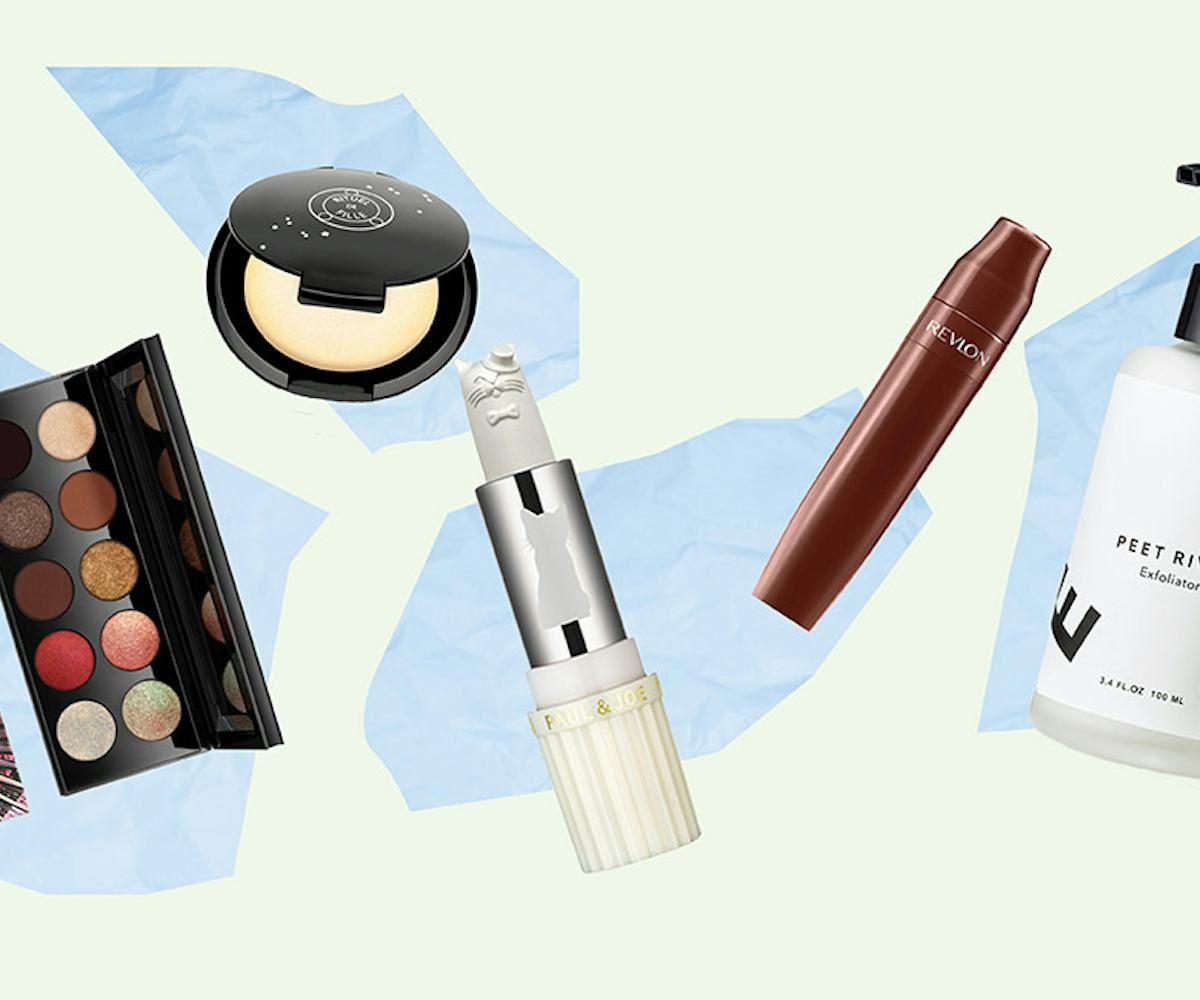 26 Fall Beauty Launches You'll Want To Try
The best things to hit the shelves this season
With every new season comes new innovations in skin care, hair care, and cosmetics, and this fall is proving to be especially exciting.
While we wouldn't say we're thrilled to see summer come to an end (we're not monsters), this season's newest launches are worth the hype. And, to be honest, we're excited to get creative with our makeup, rather than worry about it melting off. From vitamin-packed facial spray to the eyeshadow palette of all palettes (leave it to the legendary Pat McGrath), we'll be done missing Summer Fridays and days spent at the beach in no time.
Excuse us while we swap out our moisturizers for charcoal-infused facial oils and neon liquid liners for rich, smoldering bronzes and jewel-toned shadows. Read about our must-have picks of the season, below.
Pat McGrath Labs, Mothership V: Bronze Seduction Palette, $125, available 9/7/2018 at PatMcGrath.com.
When we first got the chance to lay our eyes on the glorious new Mothership Palette coming from Pat McGrath, we knew we needed it, stat. This bronze-y, glimmering palette comes with 10 shades (complete with five different finishes), including a gorgeous metallic crimson and sparkling rose gold. And it's finally launching tomorrow.
IGK, Trust Issues Instant Scalp Rebalancing Treatment, $29, available at Sephora.
This scalp treatment spray will be our saving grace when the temps get colder (and our scalps get dry and itchy). Hyaluronic acid and yuzu lemon moisturize and nourish while ACV rebalances without leaving behind a greasy residue.
Palladio, Face Masks, $10 each, available at Palladio.
This fall, botanical beauty line Palladio is expanding from its lineup of colorful, vitamin- and antioxidant-enriched cosmetics into skin care. The launch includes four different face masks: the Calm Clean Pure Detoxifying Charcoal Mask, the Radiant Youthful Glow Brightening Peel Off Mask, the Happy Healthy Hydrated Moisturizing Mask, and the Smooth Soft Polished Exfoliating Mask. The best part about 'em? They're only $10 but are made with high-quality ingredients, so we can get all the bang for our buck.
Tarte, Blush Book Palette, $44, available at Tarte.
Even if we're not heading back to school this month, how could we not fall in love with this adorable notebook-inspired blush palette? The 10-shade palette features eight blushes, one bronzer, and one highlighter—all you need to keep you glowing this September.
Paul & Joe Beaute, Stick Highlighter, $30, available soon at Paul & Joe Beaute.
Not much is more perfect than Paul & Joe Beaute's cat-themed fall beauty collection. But the winner? This glimmering silver highlighter stick that, yes, is shaped like a tiny cat wearing an even tinier top hat. Like, are you kidding us?!
Rituel De Fille, Rare Light Crème Luminizer in 'Stellaris,' $29, available at Rituel De Fille.
Not many highlighters compare to Rituel De Fille's amazing Rare Light Crème Luminizers, and this brand-new iridescent, golden opal is about as breathtaking as it gets.
Belif, Aqua Bomb Sleeping Mask, $34, available at Belif.
Fall—and winter—are coming, so we'll need to make sure our skin gets the hydration it needs. And this sleeping mask? A miracle-worker. The pudding-like texture melts into skin, nourishing and hydrating overnight, so you wake up fresh-faced and glowing every morning.
M.A.C, Grand Illusion Glossy Liquid Lipcolor, $21, available at M.A.C.
Yes, we know, holographic glosses have been having a moment for some time now. But this otherworldly new collection from M.A.C truly tops them all. Available in 24 holographic, iridescent shades, Grand Illusion is here to give you some truly show-stopping lips.
Glamglow, Starpotion Liquid Charcoal Clarifying Oil, $54, available at Sephora.
We love a good facial oil, but a facial oil with charcoal? Sign us up. Glamglow's new launch uses activated coconut charcoal and White Japanese Binchotan charcoal to deep-clean pores, while oleic acid-rich oils plump and hydrate. Vitamin C, salicylic acid, turmeric, and aloe vera work to brighten, smooth, and protect, giving us quite the multitasking face oil.
Glossier, Zit Stick, $14, available at Glossier.
Glossier is continuing to slay the acne treatment game with its brand-new Zit Stick, a powerful, yet calming, on-the-go formula that begins to heal your blemishes in a matter of hours. Our zits don't stand a chance!
Kat Von D Beauty, Dagger Tattoo Liner, $20, available at Kat Von D Beauty.
As longtime fans of Kat Von D's legendary (and indestructible) Tattoo Liner, we were quite pleased to see her latest liner solve our winged tip problems. The new Dagger Tattoo liner features a new angled brush tip that makes creating the perfect cat eye a breeze.
Manic Panic, Amplified Color Spray, $10.49, available for pre-order at Manic Panic.
Not all of us can commit to the candy-inspired hair colors we see take over our Instagram feeds. The solution? Manic Panic's new Amplified Color Sprays, pigment-packed temporary hair color sprays that won't weigh your hair down or leave it feeling stiff. Not keen on hot pink hair? Our personal favorite is Stardust, an ultra-sparkly colorless glitter spray.
Marc Jacobs Beauty, Highliner Glam Glitter, $25, available at Marc Jacobs Beauty.
Look, we all love a little sparkle when it comes to our makeup, but glittery eyeliner can easily go from glimmery to overdone in just a quick swipe. That's why we're obsessed with these new glitter versions of Marc Jacobs Beauty's cult-favorite Highliner. These pencils are packed with super-fine glitter fragments that add a gorgeous glistening effect to each shade without looking, well, tacky.
Fresh, Vitamin C Antioxidant Glow Face Mist, $44, available at Sephora.
If there's any face mist we're keeping at our desks to keep our skin dewy throughout the harsh fall and winter, it's this one. Its blend of vitamins C, E, and B5 protect the skin while moisturizing it, and it doubles as a cooling primer or makeup-setting spray.
Peet Rivko, Exfoliator, $34, available at Peet Rivko.
Aubrey Plaza's favorite beauty brand has come out with an exfoliator that won't irritate or harm your skin. Made from jojoba beads (a sustainable, plant-based alternative to microbeads), oatmeal, and rice bran, it will instead remove dead skin cells, leaving skin soft, smooth, and radiant.
Bond No. 9, New Bond Street, $405, available 9/15/2018 at Bond No. 9.
The newest offering from our favorite luxury perfume brand, New Bond Street fragrance packs intoxicatingly warm notes of cocoa, coffee beans, creamy chestnut, and vanilla with a punch of pepper that you will want to wear it all autumn—and beyond.
Frank Body, Anti-Makeup Cleansing Oil, $23.95, available at frank body.
The brand responsible for our favorite body scrub—it even snagged itself a spot on our 2018 Beauty Hit List—just launched a three-piece skin-care line. We are partial to the natural oil cleanser, that turns milky when combined with water and leaves skin clear, soft, and makeup-free.
Ole Henriksen, Transform Plus Goodnight Glow™ Retin-ALT Sleeping Creme, $55, available at Ole Henriksen.
Leave it to the Danish skin-care guru Ole Henriksen to find a plant-based, less harsh retinol alternative, bakuchiol, for his newest range. Also formulated with AHAs, this rich overnight crème will exfoliate the skin's surface, leaving it absolutely glowing and dark spot- and line-free come morning.
Amika, Velveteen Dream Smoothing Balm, $25, available at amika.
The brand that snagged several of our Beauty Hit List awards, amika has more recently come out with a lightweight, heat-activated hair balm that protects against humidity for smooth, frizz-free strands. As always, the formula contains the line's signature ultra-nourishing Sea Buckthorn Berry.
Peter Thomas Roth, FIRM X 360 Eye Renewal, $75, available at Sephora.
This cream, that contains hyaluronic acid, has quickly proven to be a miracle-worker in transforming the appearance of under-eye puffiness, darkness, and lines.
Follain, Under Cover Deodorant, $14, available at Follain.
Effective natural deodorant is hard to come by, which is why we're so excited for this launch from our beloved clean beauty retailer. The baking soda-free formula uses charcoal to detoxify, cornstarch to absorb moisture, and essential oils to fight odor-causing bacteria. Oh, and it smells amazing, thanks to tea tree oil and bergamot.
DevaCurl, Super Stretch Curl Elongator, $30, available at DevaCurl.
The biggest frustration for curly girls, next to the amount of time it takes to detangle our hair, is shrinkage. For those unfamiliar with natural hair lingo, shrinkage is basically when, while wearing a wash-and-go style, your curls appear shorter than they would if you were to stretch your hair with, say, a two-strand twist. It's the bane of my existence, basically, but DevaCurl's new product helps to make an otherwise annoying problem a little easier. The brand's Super Stretch cream helps to elongate curls without sacrificing definition. It's a solution to at least one of my wash-day problems, and it comes in a really great smelling jar.
Ecoco, Eco Style CBD Infused Gel, $12, available in mid-September at Ecoco.
The cannabis conversation has started seeping into beauty over the past year or so, but it's mostly been designated to skin-care and makeup products. Well, hair brand Ecoco is coming out with a pretty dope CBD-infused gel. As we know, CBD and hemp oil can help with acne breakouts and soothing psoriasis, but it's also great for moisturizing and encouraging hair growth.
Revlon, Kiss Cushion Lip Tint, $9.99, available at Ulta.
If you, like me, prefer the "just ate a cherry popsicle" lip look to a full coverage one, then Revlon's lip tints are pretty perfect. The cushion tip releases just enough product to provide a faint flush of color. And, if your lip needs change throughout the day, you can always layer on more.
Kinky-Curly, Perfectly Polished Nourishing Hair Oil, $15.49, available at Target.
Fall… is coming and it's bringing cold weather with it. What that means is your hair will need more TLC than usual. Kinky-Curly's new blend of oils is great as a hot oil pre-shampoo treatment or just as a finishing touch for your hair. It will help your mane get the moisture it's bound to leave behind in summer.
Glow Recipe, Blueberry Bounce Gentle Cleanser, $34, available at Sephora.
Glow Recipe's cleanser was already a regular staple in our skin-care routine, but now the brand has upgraded the product to contain more coconut oil, gentle exfoliating AHAs, and hydrating hyaluronic acid. The packaging is also a lot more shelfie-friendly, if you're worried about that kind of thing.