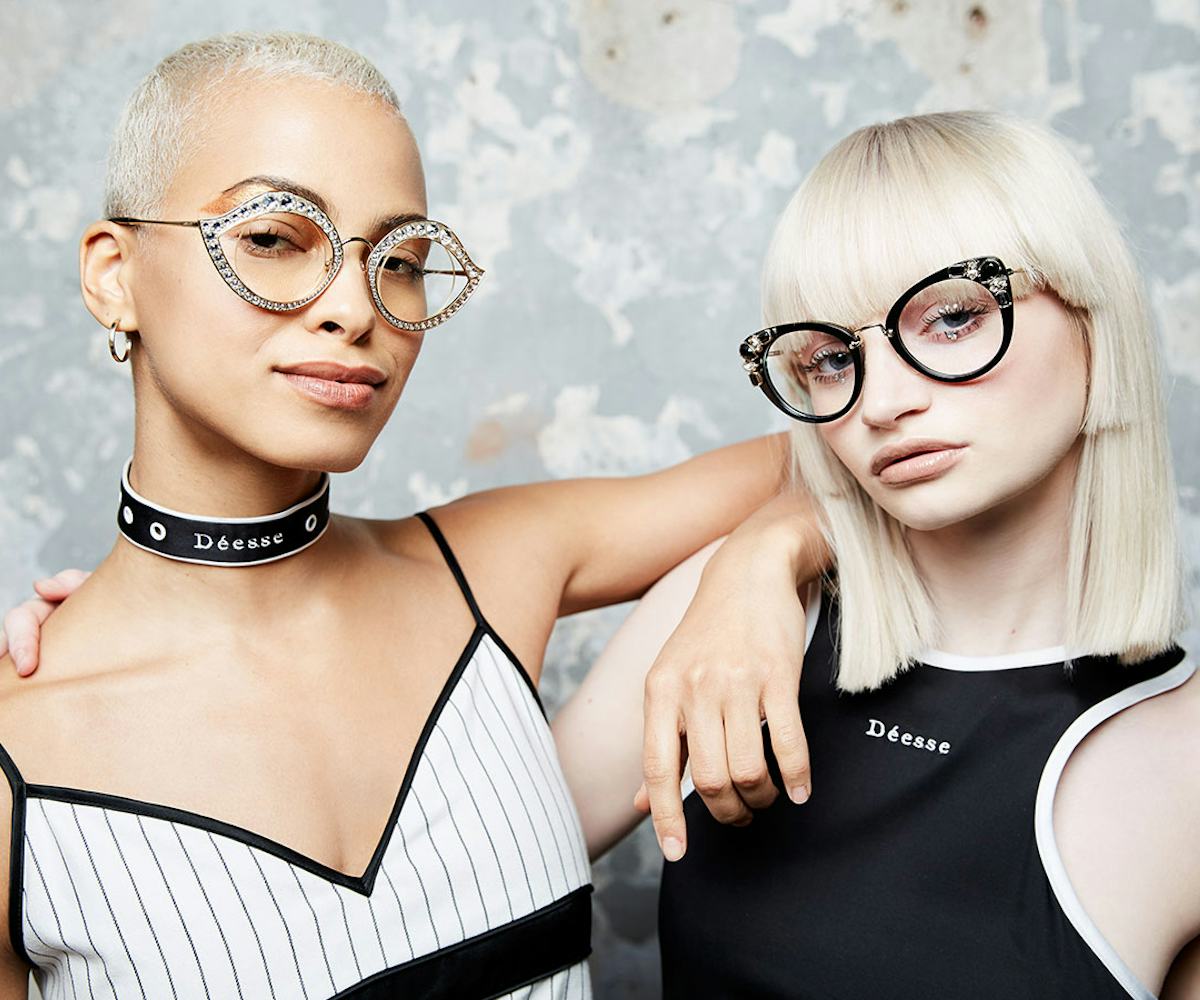 Photographed by Lauren Perlstein. Styled by Sam Bates. Kota wears glasses by Gucci, chocker and dress by I Waited For You..., Brii wears glasses by Miu Miu and dress by I Waited For You
7 Ways To Get Into A New Frame Of Mind This Season
Amidst the whirlwind of flashy clothes, shoes, and bags that parade in and out of our vision every season, one major accessory tends to go unnoticed, and it's literally right in front of our faces: optical glasses. As we make our way into springtime, what better time to focus on taking your eyewear game to the next level? Glasses already draw attention to your face, so you might as well have everybody looking at you for the right reasons. Feast your eyes on all the possibilities with a helping hand from makeup stylist Tony Tulve in the gallery, below.
Photographer: Lauren Perlstein
Stylist: Sam Bates
Hair: Remy Moore
Makeup: Tony Tulve using M.A.C Cosmetics
Models: Brii, Daniella, Samia, Kota, Stephany, and Aidana at MSA models. 
These frames are a modern take on the cat eye and are set off by the model's super-bold pout. Tulve focused on Stephany's lips with a mix of Matte Royal and Anything Once metallic lipsticks with a dab of Lipglass Clear. This combo created a custom metallic navy that pops like the frames. For this look, he also tight-lined the eyes with Eye Kohl and a good helping of the Haute & Naughty Too Black Lash mascara for a feline finish. Meow.
Gucci, 53MM Eye Optical Glasses, $375, available at Saks Fifth Avenue.
Tulve's concept here was to present a "new nude" vibe by further framing Kota's eyes with a swipe of metallic color close to her skin tone, Pigment Sparkle in Copper. He also applied a generous amount of In Extreme Dimension Lash. But that shimmering pigment came into play again as a liner around Kota's lips to enhance the hues of her natural color while still not taking away from the clear frames.
Grey Ant, Solo: Tortoise / Gold, $445, available at Grey Ant.
Tulve wanted Aidana's eyes to stand out behind these popping purple Jimmy Choo glasses, so he applied a wash of pigment from lash line to crease, perfectly complementing the frames. Aidana's lips were grounded with Lip Pencil in Stone and Lip Conditioner.
Jimmy Choo, Glitter Eyeglasses, $202.17, similar styles available at Amazon.com.
There's no looking away from these gorgeous geometric frames, so Tulve made the look all the more eye-popping with Pigment in Old Gold. Tulve also dabbed the brand's Lipstick's in Antique Velvet to keep all the attention on Samia's eyes. 
Karen Walker, Emmanuel Silver Clear Lens, $238.72, available at Karen Walker.
These glamorous glasses are a sparkly dream, and so is the accompanying makeup look. Tulve used a wash of Extra Dimension Eye Shadow in Ready to Party on Brii before affixing some gem stones along the lash line and finishing with a swipe of Haute & Naughty Too Black Lash. Brii's lips play off the tones in the frames with a slick of Lipstick in City Slick and a top layer of Lipglass Clear. 
A-Morir, Meyers, $300, available at A-Morir.
The high shine of these can't-miss frames on Daniella inspired Tulve to create an equally shiny lip. He made it happen with Retro Matte Liquid Lipcolour in Dance With Me and gave it a vinyl-esque coating with Lipglass Clear. To finish this rocker chic look, he heavily lined using Eye Kohl and Haute & Naughty Too Black Lash. 
Warby Parker, Finch, $95, available at Warby Parker.
Kota is an absolute vision in these sparkly frames, a manifestation of Tulve's belief that since the eyes are the windows to the soul, they should be made up to reflect your inner beauty.
"I always find when working with glasses that making points of light which can bounce back behind the lenses really helps open the eyes," Tulve says. "Creating some structure and playing with defined colors or shapes can help keep the eye from getting lost behind lens glare. I love the idea of matching makeup to something that makes that frame special, whether it's through colors, shape, or embellishments."
Gucci, Crystal-Studded Cat Eye Glasses, $830, available at Saks Fifth Avenue.