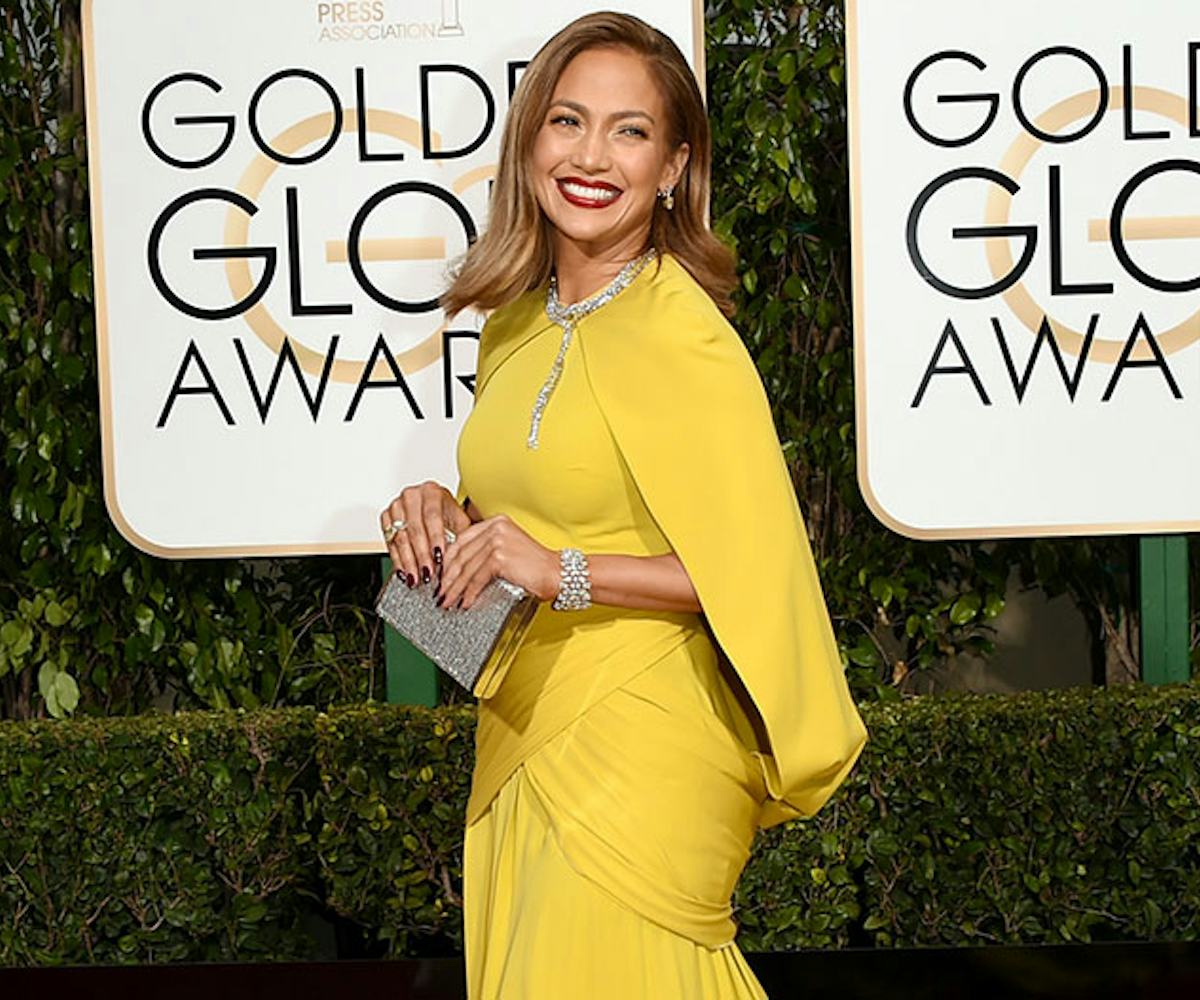 Photo: Jason Merritt/Getty Images.
Capes Had A Major Moment At The Golden Globes
Red carpet fashion always spawns some sort of trend. Some years it's the Angie Leg, some years it's a color. This year, it's all about the cape. Literally—okay, well not literally everyone, but almost everyone wore a cape to the Golden Globes. Just when you thought a dress couldn't be caped, boom! There it is flowing in the hot, Los Angeles wind, begging for other famous people to step all over it. So while other folks toil over best dressed lists, let's get a load of all the capes that haunted their way down the Golden Globes' red carpet in all their majestic, wind-swept, magical glory. Oh, and don't worry: Our best dressed list is coming soon.
Regina King's cape looked very luxe. Designer Krikor Jabotian's love of gold was apparent.
We almost passed by Viola Davis' Marchesa cape, but then realized that the shimmer surrounding the How To Get Away With Murder star wasn't just her angelic halo, but a very nice, bejeweled cape. 
Emilia Clarke may be smiling, but that Valentino cape is screaming goth.
Get a load of Taraji P. Henson's Stella McCartney Couture cape! 
Jennifer Lopez's canary cape was a very good looking cape indeed. It was designed by Giambattista Valli and rumor has it, with enough wind, the cape turns into a parachute. Such fashion.
Jada Pinkett-Smith wore a Versace cape and looked fierce. That is all.
This Marchesha cape is very ethereal. Lily James looked like an angel sent from a very nice place to bless us with this very nice cape.
The only thing missing from this Yves Saint Laurent Couture by Hedi Slimane cape is a sign helping people pronounce Saoirse [SUR-SHA] Ronan's name.
Cape—Oops! Hehe!—Cate Blanchett looked very nice and very expensive in this Givechy almost-cape.
And just when you thought we had found all of the capes for this roundup of capes, check out this one on Queen Latifah. That is a nice cape of the warmest color.