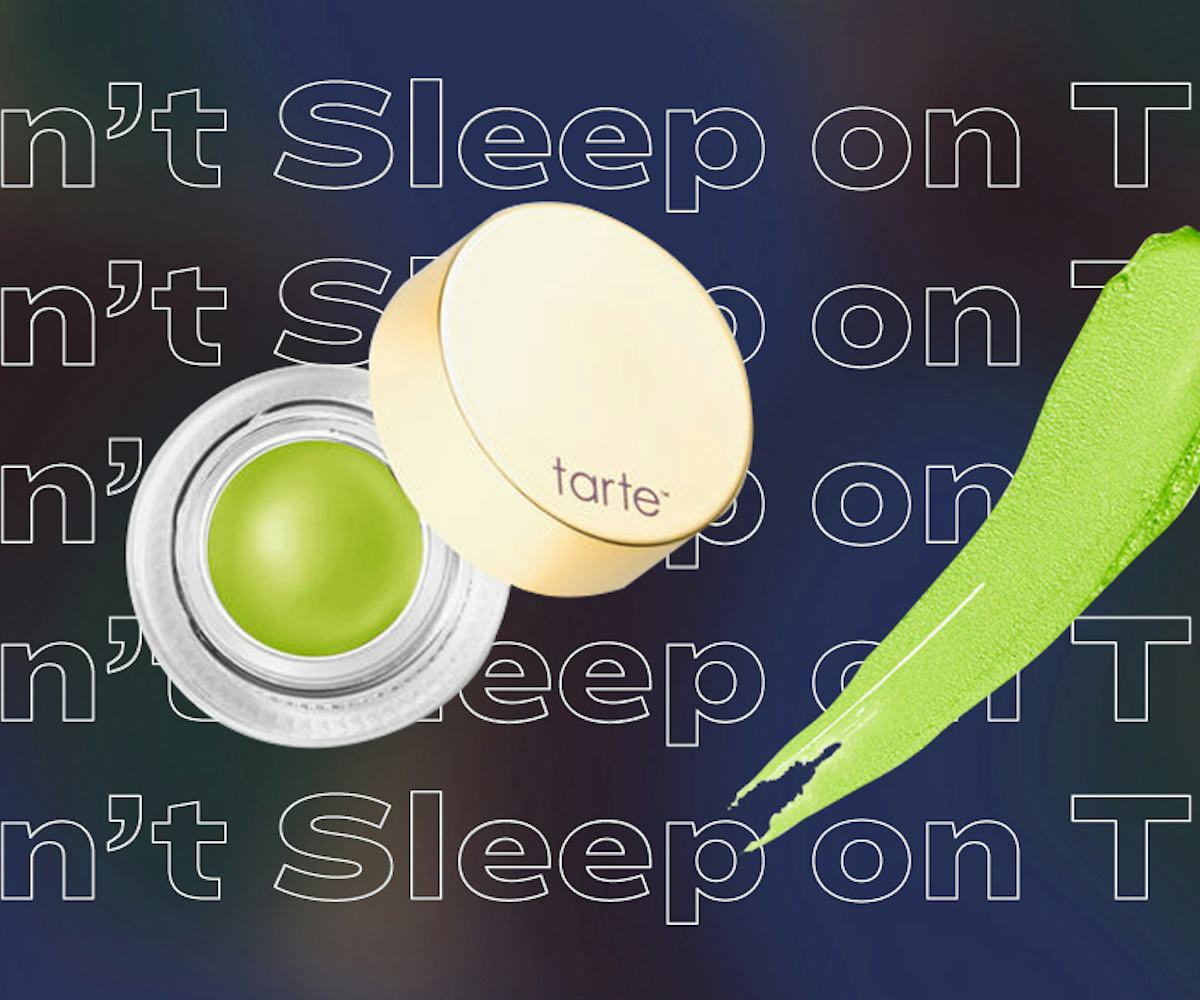 This Lime Green Eye Shadow Makes Me Look Like I Made Out With Slimer
Friends don't let friends miss out on all the cool, under-the-radar things they know about, like which little-known beauty brand is low-key making the best highlighter around. And because we consider our readers to be like friends, we gather together all our best finds in our Don't Sleep on This series. Check in every week to see what things we can't wait to share with you.
In my ongoing search for color cosmetics that pack a punch, I can feel confident in saying that I've finally found The One.
But first, the reason that I've been searching for brightly pigmented makeup is that, ever since I traded in my neon- and pastel-drenched bleached blonde locks for my natural deep brown, I've wanted some other color-induced way to turn heads—and that way was eye makeup.
Mostly, I used classic eye shadow to get the look I was going for. So when a colorful array of Tarte's Clay Pot Waterproof Shadow Liners made its way to my desk, I filed them away. (I'm not much of a cat-eye girl, especially when it comes to using a tiny brush and a pot of liner.)
Then, one morning, I woke up and realized what I needed that day was a lime green eye shadow. Not emerald, and not neon, but a yellow-tinted, almost-but-not-quite-pastel slime green. And that's when I remembered those Tarte liners. Among its whimsical matte brights and shimmery pastel shades, existed a lime green aptly named Margarita.
Not too vivid nor too muted, Margarita is the perfect shade of chartreuse. Sure, it's slightly reminiscent of Nickelodeon's infamous green goo, but what's more punk rock than that? And while the product may technically be categorized as a liner, its creamy texture allows it to double as a cream shadow. (Even Tarte says so!) All you need to do is paint it over your lids with a shadow brush, wait a few seconds for it to set, and voilà!
The best part of all? Right now, the entire collection is on sale for $15 a pot, a cool six dollars off. These colors are limited-edition, so snag yours now before it's too late. (I'll be ordering about 15 backups, thank you very much.)
Tarte, Limited Edition Clay Pot Waterproof Shadow Liner in 'Margarita,' $15, available at Tarte.