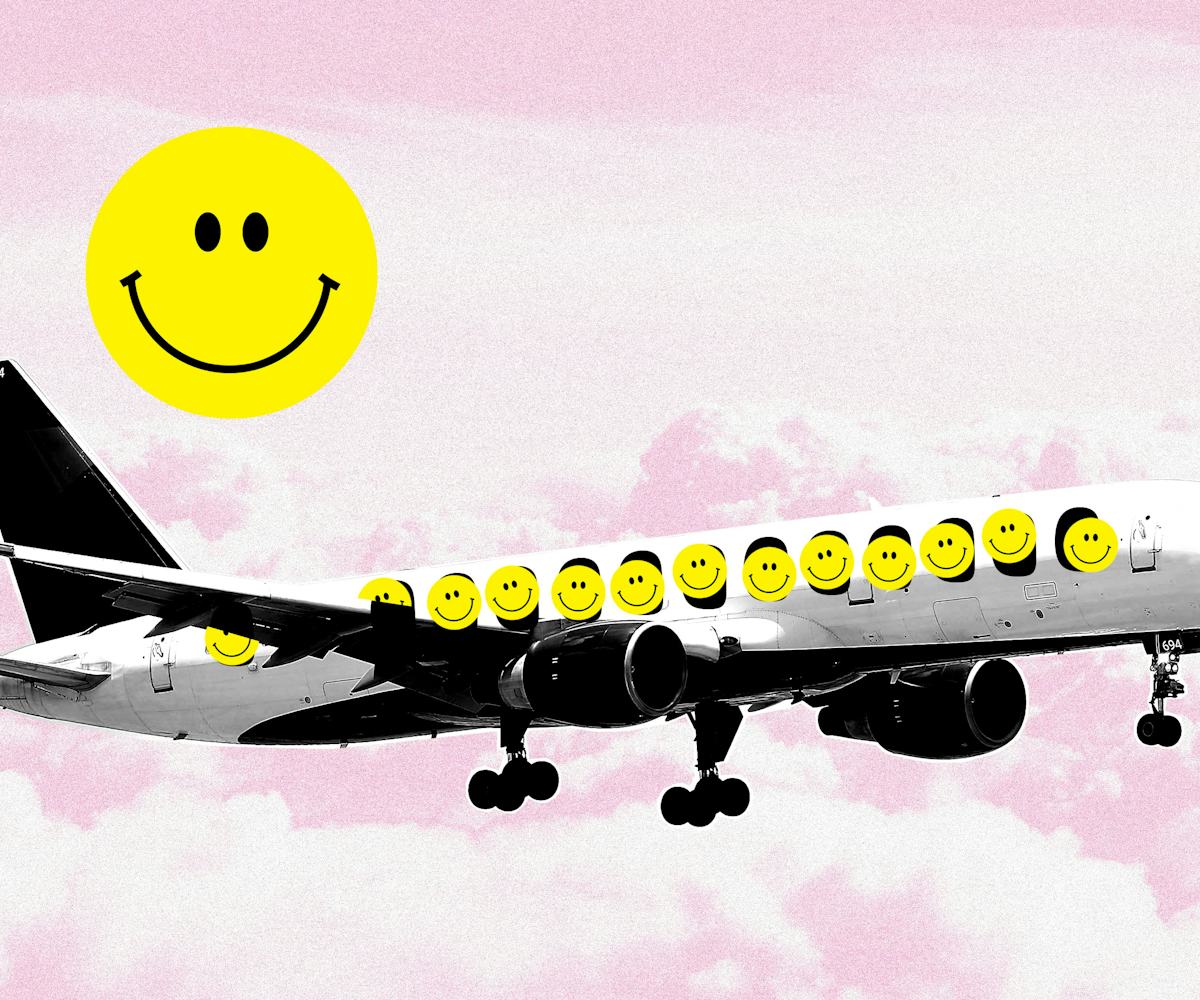 Illustrated by Liz Riccardi, Collage images via Getty Images
The Pros And Cons Of Group Travel And How To Do It Right
Before adult responsibilities like work and bills crept into my life, I fully intended on doing a ton of traveling. My plan was that I would graduate from college and spend a year or two trekking the globe with friends before settling into grown-up life. I'd greet adulthood with a hard-earned tan, an enlightened sense of being, and some world-spanning trivia. The best laid plans usually fall apart, though, and before I'd realized it, college courses turned into internships and internships turned into job opportunities and then, all of a sudden, there I was with a full-time job, an apartment lease, and all sorts of debt.
Thanks to all of my—and my friends'—various commitments, trying to plan a weekend or holiday trip out of the country together via group chat feels practically impossible. My friends' schedules are even more chaotic than mine at times, and they never seemed to line up.
So after spending the last few years grinding away at my suddenly all too adult life, I had started to give up hope when it came to traveling the world. I didn't want to go alone, and yet I couldn't make it work with my friends. It was getting more and more clear that this was a dream that would never actualize. There were too many moving parts. It was too inconvenient, too expensive; it never seemed to be the right time.
Or, so I thought until I started looking into group travel packages.  At first, the concept of group travel sounded like the kind of school trip I used to be forced to take, where my displeasure with many of the people whom I was traveling with overpowered all pleasure I took in it. But after talking to people who have gone around the whole world—while simultaneously maintaining full-time jobs and paying off student loans—it seems like group travel might actually be the answer to my wanderlust prayers. Here's a look at group travel in a nutshell.
The Pros:
It's the perfect compromise for a 20- or 30-something who wants to travel, but doesn't have a lot of time, and wants someone else to figure out all the details. Travel groups are a one-stop shop. There's an all-inclusive fee (minus airfare) which covers meals, lodging, and adventures. All you have to do is pack a bag and show up. While much of the planning is taken care of for you, there's still the chance for you to do your own thing and manage your itinerary to a certain degree. It's not a school trip after all.
The Cons:
If you're not a super-social person, you might feel overwhelmed by the fact that you're stuck with lots of other people, regardless of how cool and chill they might be. Because the trip is planned for you, you can't really run off and go on non-inclusive excursions, even though you'll have the (limited) ability to customize your trip. You're on a set schedule and have to stick to it. And while the prices of these trips are fair when you consider all that they include, they can still be costly.  
With that in mind, here are some of our most highly recommended companies to get the ultimate group travel experience.
If you're a foodie or a cyclist, this is your dream tour. Boston-based DuVine handcrafts small group and private cycling itineraries that provide immersive, wine-infused culinary experiences. From beginners who haven't gone on a bike ride in years to ultra-advanced cyclists, DuVine offers a variety of trips that can accommodate everyone. These tours offer personalized service led by award-winning local guides who promise to make your trips as boozy and food-filled and active as you'd want. Some DuVine tour destinations include Italy, France, Morocco, Croatia, Peru, Chile, and Napa Valley.
Prices range from $2,000-7,000
If you want to get an authentic experience for how locals live in places that are totally off the beaten path, Intrepid Travel might just be perfect for you. Their main priority is showing you the type of places you can't easily Google—or even find on Google Maps. With Intrepid, you'll visit small, non-touristy locales in which you'll get a real feel for the place you're exploring. You'll also learn about a place's history and present reality. Group size average around 10 people, so it's pretty intimate. Some Intrepid destinations include Kenya, Jordan, Zimbabwe, Belize, Hungary, Iceland, the Galapagos Islands, Papua New Guinea, and even Antarctica.
Prices range from $1,000-2,000
This is a small group of travel experts who have devoted their lives to becoming knowledgeable and resourceful tour guides—and you get to benefit. Typically they cap off their group trips at 12, as they believe that the smaller the group, the more enriching the experience is. And whether you're going on a trip to make friends or not, G Adventure alumni have a reputation of staying close for years after their trip is over. After all, there's a one-of-a-kind intimacy and camaraderie earned when you're going on 20-mile hikes or riding a camel with someone. Some G Adventures destinations include The Amazon River, The Arctic Circle, Egypt, Guatemala, Costa Rica, Vietnam, and India.
Prices range from $1,000-10,000
REI is a trusted outdoor adventure brand, so the people who are drawn to these trips are going to want a focus on physical adventures. While these trips have the luxury of being all-inclusive and lead by local tour guides, they're a bit more rustic in that they cater to the more committed outdoor enthusiasts. For any given adventure, expect hiking, kayaking, canoeing, climbing, rafting, and camping to be on your itinerary. Some REI Adventures destinations include Cambodia, Mongolia, Alaska, The Virgin Islands, Norway, and Spain.
Prices range from $700-$7,000
These trips accommodate slightly larger groups, and some tours will take up to 24 guests. Abercrombie & Kent is a well-known luxury brand that's got extensive experience with safaris and deeply authentic immersions and now offers a more boutique experience for the younger, travel-hungry set via its venture A&K Connections Boutique Group Journeys. They're led from start to finish by a resident tour director. Every adventure is anchored by stays in boutique accommodations: one-of-a-kind hotels that put you in the heart of the places you most want to be in, even when the destinations are far off the beaten path. Some of the Abercrombie & Kent destination include Finland, Germany, Zambia, Japan, Sri Lanka, and New Zealand.
Prices are high and range up to $20,000