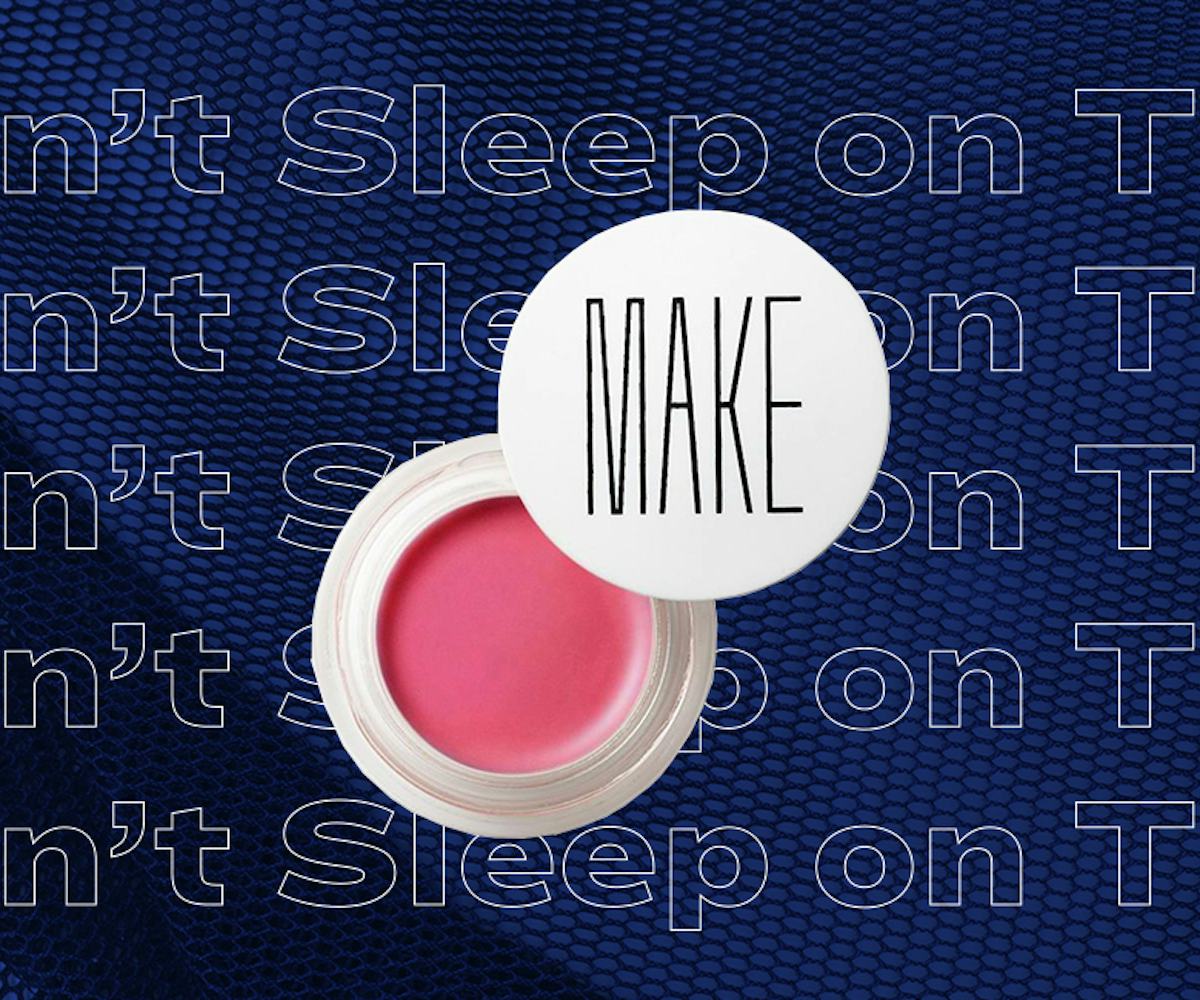 Photo via MAKE
Our Holy Grail Product For Faking Fresh, Dewy Skin
Even in the middle of winter
Friends don't let friends miss out on all the cool, under-the-radar things they know about, like which little-known beauty brand is low-key making the best highlighter around. And because we consider our readers to be like friends, we gather together all our best finds in our Don't Sleep On This series. Check in every week to see what things we can't wait to share with you.
I love fall. Cozy sweaters, pumpkin pie, trading in cold brew for hot lattes—what could be better?
However, as wonderful as autumn may be, it does have its downsides. As soon as the days get shorter and colder, the leaves begin to dry out, shrivel up, and die—and so does my skin, sort of.
In preparation for fall and winter weather wreaking havoc on my complexion, I slather on facial oils, heavy moisturizers, and a slew of other products meant to keep my skin hydrated during these colder months. Still, no matter how much product I apply during my morning routine, it's not an easy task achieving that coveted fresh, dewy summertime glow for an entire day. That's where MAKE's miraculous new Dew Pot in Lily comes into play.
MAKE originally launched three subtly pigmented, multifunctional Pots that deliver a sheer wash of color with a fresh, dewy finish: the Dew Pot, a barely-there pink that's perfect for highlighting; the Bronze Pot, a radiant and warming bronzer; and the Blot Pot, a deeper rosy rouge that leaves the prettiest wash of color on lips and cheeks. And for a recent collaboration with the movie Assassination Nation, the cool kid beauty label launched three new products—including a brand-new Dew Pot in the most gorgeous bright pink shade, named after the film's character Lily. And it's the greatest thing ever to happen to my face.
First things first, don't be turned off by the vividness of this hot pink. This bubblegum-esque shade applies much sheerer than you'd think it would. The formula transforms into a soft pink flush over my cheeks, yet can be layered for a more intense color payoff. The dewy finish mimics a mid-July glow, even though it's actually October. Unlike a majority of the lip and cheek tints I've encountered in my career (which, a lot), this one distributes just the right about of pigment and blends easily. No blotchiness, no weirdly distributed color, and—most importantly—no accidentally staining your face (because, yes, this has happened to me).
Oh, did I mention that the formula also works to moisturize your skin? Who doesn't love a good-for-you, multifunctional cosmetic?
You can snag your very own pot of dewy heaven for $20, here.