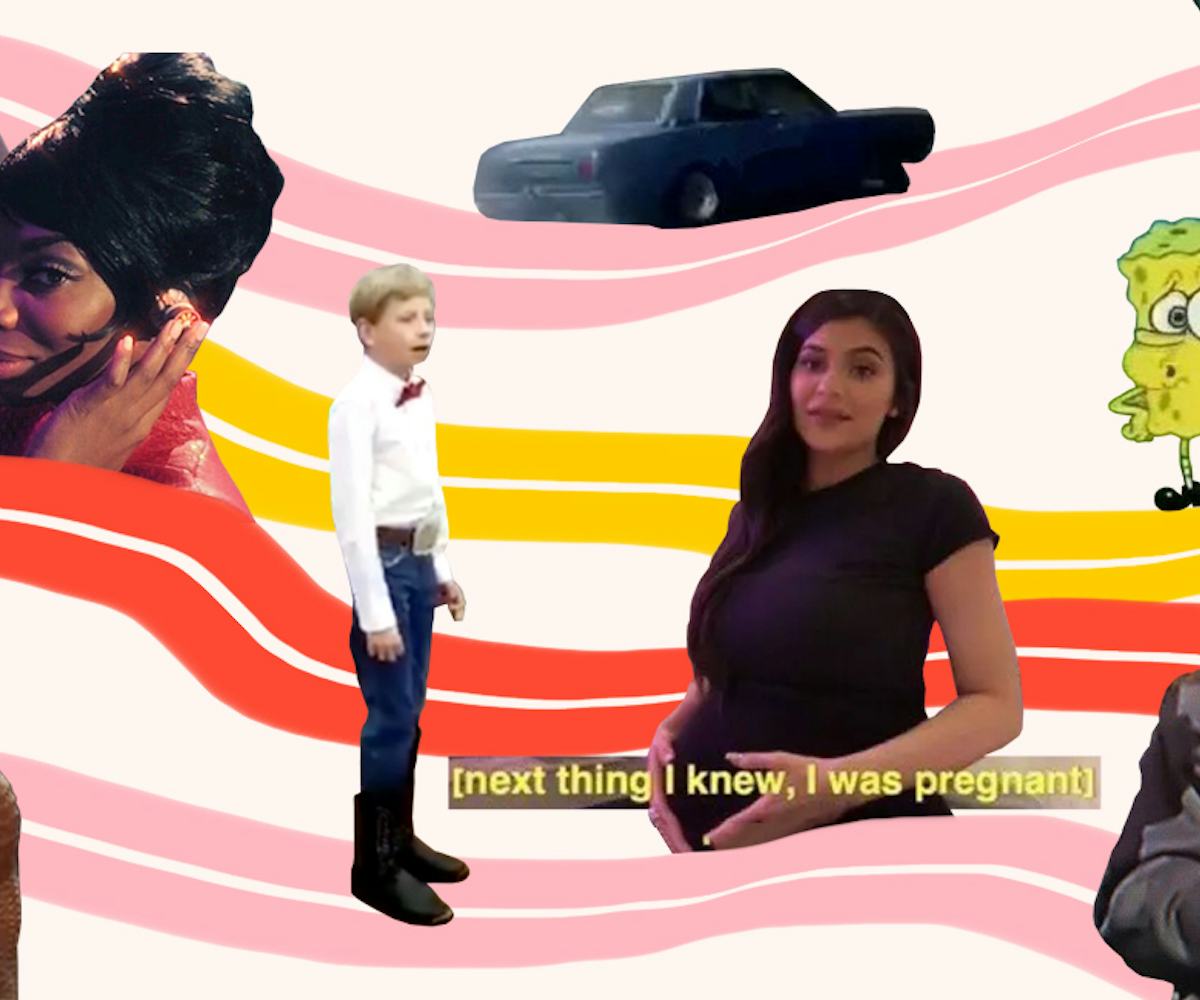 The Best Memes Of The Year (So Far)
From the Super Bowl selfie kid to a confused Cardi B
Memes have made the past few years go 'round—or, at least, tolerable. They uplift with humor and sometimes sting for how real and relatable they can be. It's content made by the internet for the internet, and we already have a ton midway through 2018.
The best thing about a meme is that it can emerge from pretty much anything: an old scene from SpongeBob SquarePants, a kid in a crowd during a Super Bowl performance, an overlooked moment on the red carpet. Everything has meme potential, and it's up to the internet to determine what's worthy.
So, ahead, we round up some that we think are worth revisiting from the past six months. It's also a friendly reminder that the first half of the year wasn't all destruction and terror (though the more dismal the year, the better the memes). There were at least 11 viral moments that made the internet (specifically, Twitter) a place worth logging onto again.
Michaela Coel On Black Mirror
Toward the very beginning of 2018, actress Michaela Coel accomplished what she didn't even know was on her list: becoming a meme. And she has the most recent season of Black Mirror to thank. A still from the "U.S.S. Callister" Star Trek-inspired episode shows Coel's character answering a call on her futuristic Bluetooth and looking all kinds of petty while doing so. So, naturally, it served as a jumping-off point for people to recount past and present petty-adjacent moments.
Prince Harry Running to the Dance Floor
Before the royal wedding mania began, we were gifted a brief clip of Prince Harry being interviewed in 2013 while on duty with the British Army in Afghanistan. Midway through and mid-sentence, Harry is called to action and is seen stripping himself of his mic and running off. Five years later, what was once a tame clip of Prince Harry running to a helicopter became Prince Harry running to the dance floor. Whether it's Beyoncé's "Formation," Ariana Grande's "Into You," or, our personal favorite, Juvenile's "Back That Azz Up," Harry is ready to party.
Meghan Markle Looking Up at Prince Harry
There were a couple of good meme-able moments from the royal wedding, but the one of Meghan Markle looking up adoringly at Prince Harry is one of our favorites. It all started with a tweet that asked: "Do you look at your man like this?" People then proceeded to respond with everything from the blunt, "Is my man a prince?" to the earnest, like… "subpar dudes on skateboards," "bread," and "Taco Bell menu at 2am." Same.
Black Panther IS THIS YOUR KING?!
Black Panther gave us a lot of things this year: The Dora Milaje, Shuri making fun of her brother's man-dals, and this meme of Michael B. Jordan shouting, "IS THIS YOUR KING?!" before throwing the film's hero, T'Challa, off the side of a waterfall. After one user made the line a little more punny while questioning this year's unseasonably cold weather, other people used it to question other dubious situations.
Yodel Boy
Mason Ramsey—aka Walmart Yodel Boy—was an easy target for meme'ing, but his talents also got him a pretty bop-able remix and a guest appearance at Coachella. Proof that memes are good for something other than distracting us from the current state of our country.
Frustrated LeBron James
Nothing like a great meme to make us pay attention to sports. During this year's NBA Finals, LeBron James got a little frustrated with his teammate J.R. Smith after Smith made a game-changing mistake. James, pointing to the court, soon became the vehicle for Twitter users to insert their own points of frustration.
Honorable mention also goes to James walking away with his briefcase during a press conference.
Car Swerving
This one doesn't involve a celebrity or even a person at all, it simply includes an image of a car swerving at the last minute to catch its exit. The image has turned into people placing what it is they should be doing versus what they end up doing onto the Exit 12 sign. The result: a bunch of people confessing to and bonding over their not-so-commendable behavior.
The Super Bowl Selfie Kid
The most exciting part of the Super Bowl wasn't the game or Justin Timberlake's halftime performance, but rather the little boy who was caught on camera taking a selfie with the singer. After snapping the picture, he looked down at his phone instead of continuing to engage with the live concert going on around him. And thus a meme was born, mostly at the expense of Timberlake (who, we'd argue, wasn't worthy of that performance slot anyway).
Winded SpongeBob
Someone unearthed a shot from an old episode of SpongeBob panting, and it became a playground for anyone who has ever done anything that required even a modicum of effort. Our favorite cross-meme love-pairing is that of tired SpongeBob and the viral squinting woman image. A match made in meme heaven.
Kylie Jenner: Next Thing I Knew I Was Pregnant
In February, Kylie Jenner put out a video documenting her pregnancy journey. It's really, really cute, but some viewers became fixated on one particular scene where Jenner says the line: "Next thing I knew, I was pregnant." They then proceeded to screengrab that bit of the video and put it adjacent to, well, moments that might spur a sudden pregnancy. The thirst was high with this one. 
A Confused Cardi B 
As if the world wasn't already obsessed with Cardi B, she managed to turn the charm meter up during this year's Grammys. While being interviewed on the red carpet by Giuliana Rancic, Cardi B looked thoroughly confused. It then became a highly relatable moment for anyone that's ever been stuck in an awkward conversation they wanted very badly to get out of.