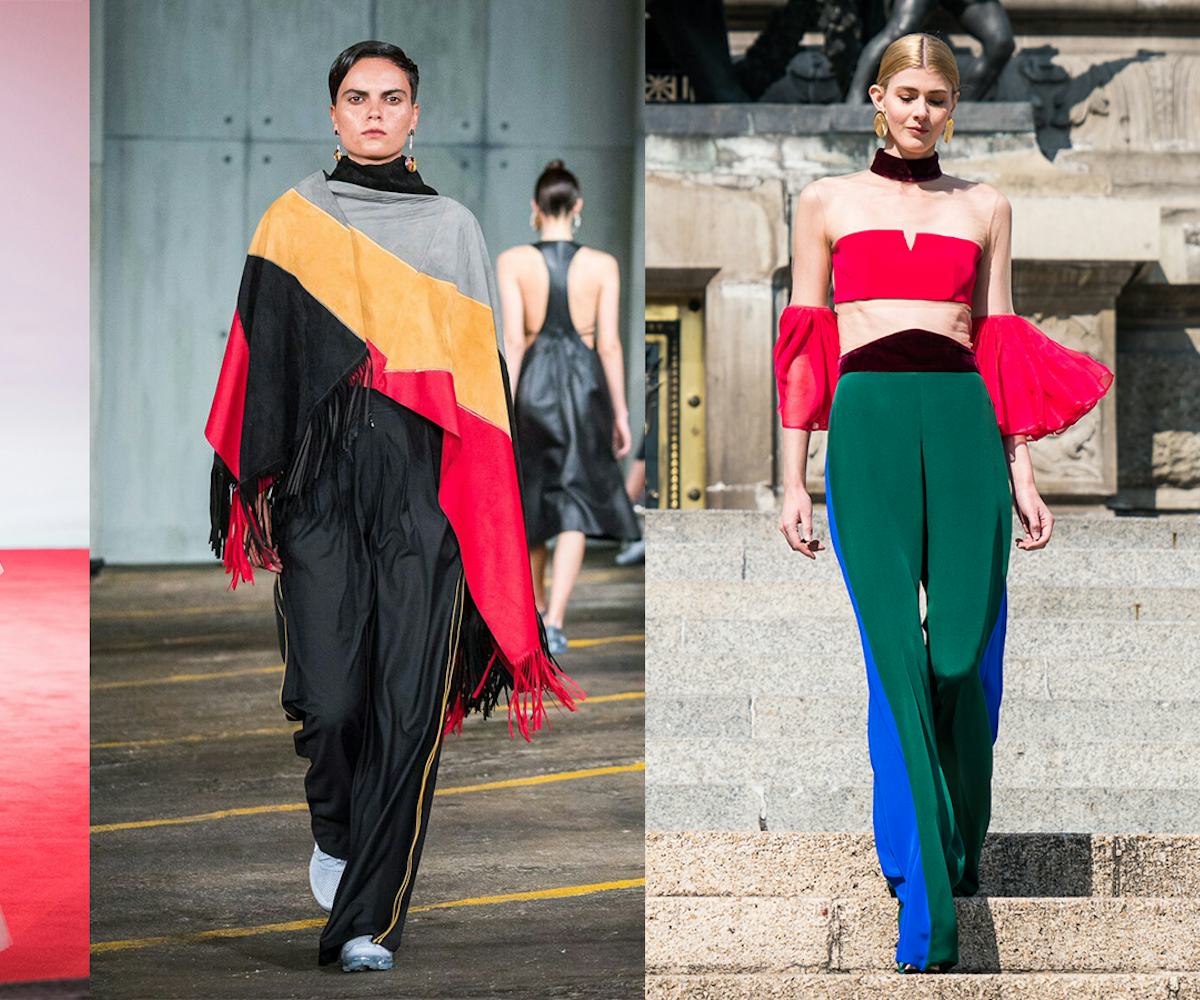 Photograph courtesy of Mercedes-Benz Fashion Week Mexico City.
The Best Of Mexico City Fashion Week
Today's the day! The club kids, meme-makers, designer-clad desperate et al. are finalizing their crashing-the-Met-Gala-after-parties plan. (That's so, like, 2011-2014 for me!) Meanwhile, I'm just as fashion-fatigued as the fashion-obsessed soon will be after trying to write the perfect Insta caption for their best (Rihanna, obviously) and/or worst dressed Met Ball pick(s).
My weariness is thanks to the fact that, hi, I've just returned late last night from Mexico City's often fantastically forward-thinking, sometimes cuckoo Mercedes-Benz Fashion Week. I'm all about emerging, exciting designers getting that promo, so I've attended many a should-be-on-your-fashion-radar fashion weeks, from Shenzhen, China, to Honolulu, Hawaii. Like the aforementioned fantastic fashion weeks, what went down the non-traditional runways (shows took place in a parking garage, a circus tent, on the iconic Angel of Independence monument steps) in CDMX (aka Mexico City) showcased head-turning numbers, often with distinctive local vibes and pizazz. There were a lot of Mexican pop star bops and live Mexican rock bands providing the show soundtracks as well as punchy text on garments, like a "Viva" (long live!) T-shirt and "Mexico Is The Shit" (#fact) bombers. (I also was into metallic corn, or maiz in Spanish, graphics on a few sweater dresses.) 
Sophisticated with a heavy side of sass evening womenswear, quirky as shit numbers, V-Files-y unisex-friendly streetwear—it was all happening. Lemme break it down for you and thank me later.
Mexican designers Kris Goyri and Cynthia Buttenklepper killed it with their fancy and funky womenswear. Goyri kicked the week off with his Fall 2017 show on the aforementioned steps of the tourist selfie-favorite location that is the iconic and gorgeous Angel of Independence. The collection was all about '70s Diana Ross-on-the-Studio 54-dance-floor. Hi there, shoulder-free caftans and a sapphire sparkly halter trapeze dress. ILY. Also, lots of velvet, an eggplant jumpsuit with a plunging sweetheart neckline, and fun bell sleeves were everything. And the VELVET CHOKERS. According to Vogue, the collection was inspired by "magic mushrooms," which makes so much sense. Buttenklepper was supermodel-friendly luxe with a touch of Sporty Spice. A color-blocked fringed poncho paired with baggy track pants and Nikes provoked some maniacal mind-losing on my end. And then there was a model rocking a fiery and fierce red pantsuit, an open sexy secretary jacket sans bra, matching red high-waisted tracksuit-y pants, and, yep, Nikes. Someone get Bella Hadid on the phone.
The best venue ever aka a circus tent hosted many a fashion freakshows. The university students from Centro took the "Björk at a rave/business meeting/cocktail party" trophy. I kind of don't know what was going on, but I'll give it a go. Okay, so, I feel like Carrie Bradshaw at her most Patricia Field moment would rock a lot of this. Well, a tulle-meets-power-suit moment actually gave me Carrie-meets-Miranda vibes, and it somehow works. Although the Little-Edie-playing-dress-up at the Grey Gardens manor took the quirky cake. 
Kudos to The Pack's grungy and on-trend Alexander Wang-y streetwear, who were a V-Files rack-ready runner-up in the streetwear department. But cool kid favorite Anuar Layon (the equivalent of Alexander Wang or Opening Ceremony in Mexico City) really got my brain in a downright tizzy as models stormed the strobe-light-lit parking garage runway. I wanted (see also: needed) to immediately check everything in my shoddy suitcase, including a putty pink denim jacket and ALL of the male models, but I could barely fit the basket of tequila one of the sponsors kindly gifted me. #Priorities I did cop the killer "Mexico Is The Shit" bomber, though, because I wanted to be like the cool kids with their immaculate street style.
It wasn't until I was reviewing my bomber-clad selfie in front of the Angel of Independence where I noticed a photobomb from a local, particularly her middle finger. Apparently, the bomber's English-language slogan has been making many lost-in-translation heated headlines in CDMX publications ever since Mexican photographer, Carlos E. Lang, took a photo rocking the punk-ass piece across the street from the Trump Tower in New York last fall. The designer himself did explain his intentions to the press months ago: 
It is a tribute to all those mexicans around the world that are shifting global culture with their beautiful hearts and brilliant minds; it's a way to show that we are many and we are together; that we are raising the standards, reminding the world that our voice matters. 'Mexico is the shit' is a community, a support system and a movement inspiring love, respect and trust!
In short, Mexico City Fashion Week, you are fearless, you are loved, you ARE the sartorial-slaying shit. If only there was a tux jacket version of the political (and very comfortable!) bomber. Because then, I'd definitely get into the Met Gala after-parties. 
Anuar Layon
Anuar Layon
Anuar Layon
Kris Goyri
Kris Goyri
Kris Goyri
Kris Goyri
Kris Goyri
Kris Goyri
Cynthia Büttenklepper
Cynthia Büttenklepper
Cynthia Büttenklepper
Cynthia Büttenklepper
The Pack
The Pack
The Pack
Centro
Centro
Centro
Centro
Centro