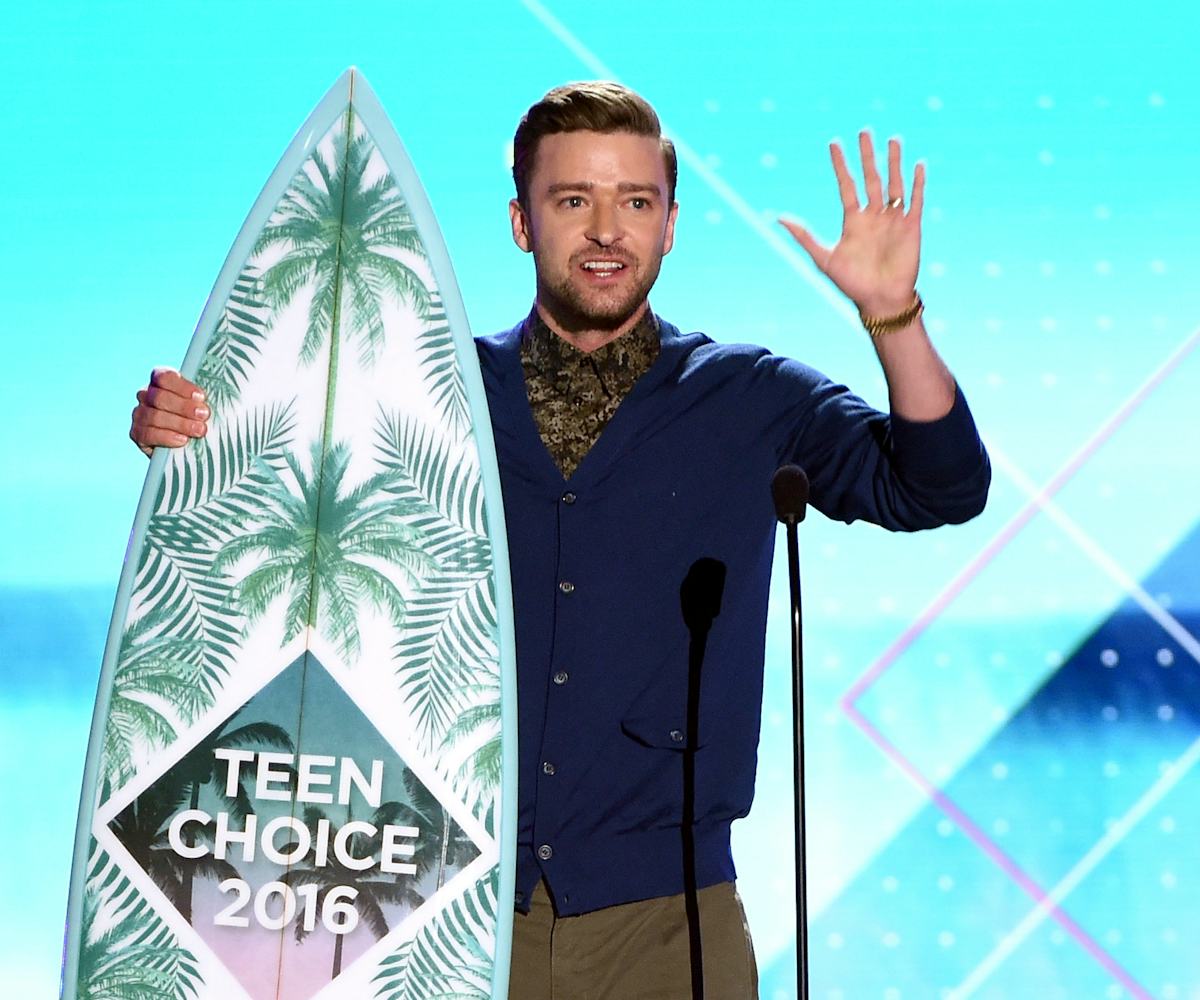 Photo by Kevin Winter / Getty images
These Were The Top 3 Moments From The 2016 Teen Choice Awards
Justin Timberlake and Jessica Alba got serious
While the Teen Choice Awards don't have the credibility of the Oscars or the cool cred of the VMAs, they do offer something unique. Increasingly the award show has become a place for celebrities to deliver inspirational speeches about the importance of individualism to teenagers who are living in confusing times, or to address issues that are important for the younger generation. Sunday was no different, as Justin Timberlake took the stage to accept the Decade Award and urged teens all across the world to make the most of their time on this earth. Below that moment, and the rest of the best from the 2016 Teen Choice Awards.
Justin Timberlake accepts the decade award.
Who better to receive the lifetime achievement award than JT, who's been a teen icon for nearly two decades? After talking about his upbringing in Tennessee, the singer moved to the inspirational portion of his speech. "As a relatively new dad and a former teen, I am here to say you will make mistakes along the way. You will fall down," he said. "I have many times. Even Ali did. But what we do after that fall is how we make history, because impossible is nothing. So don't waste your 20s, they're gonna be here before you know it and they will go fast.… So go out, do the impossible, and just go out and become the greatest generation yet."
Jessica Alba and Ne-Yo deliver a powerful anti-gun violence message.
At the end of the show, Jessica Alba appeared on stage with relatives of gun violence victims. "They are the brothers, sisters, daughters, and family members of recent victims of gun violence," she said. "Tonight we stand together with these teens united in a call for peace and an end to this violence," Alba continued as she fought back tears. "Now more than ever we need to stop, feel, and ask: What's going on?" Ne-Yo then broke into a rousing rendition of Marvin Gaye's "What's Going On," and there wasn't a dry eye in the house.
John Cena and Victoria Justice spoof Donald Trump and Hillary Clinton.
The show's organizers weren't about to miss this opportunity to encourage young people to vote, in what might be the most important election of our lifetime. What better way to do that than to have two huge stars perform gender-swapping impressions of both candidates? Wrestler John Cena took the stage as Hillary Clinton, while Victoria Justice played Donald Trump, in what was by far the show's funniest moment. "It's the one chance for your vote to be heard because it's your future too," Justice told the crowd and viewers at home. For once, Donald Trump is right.