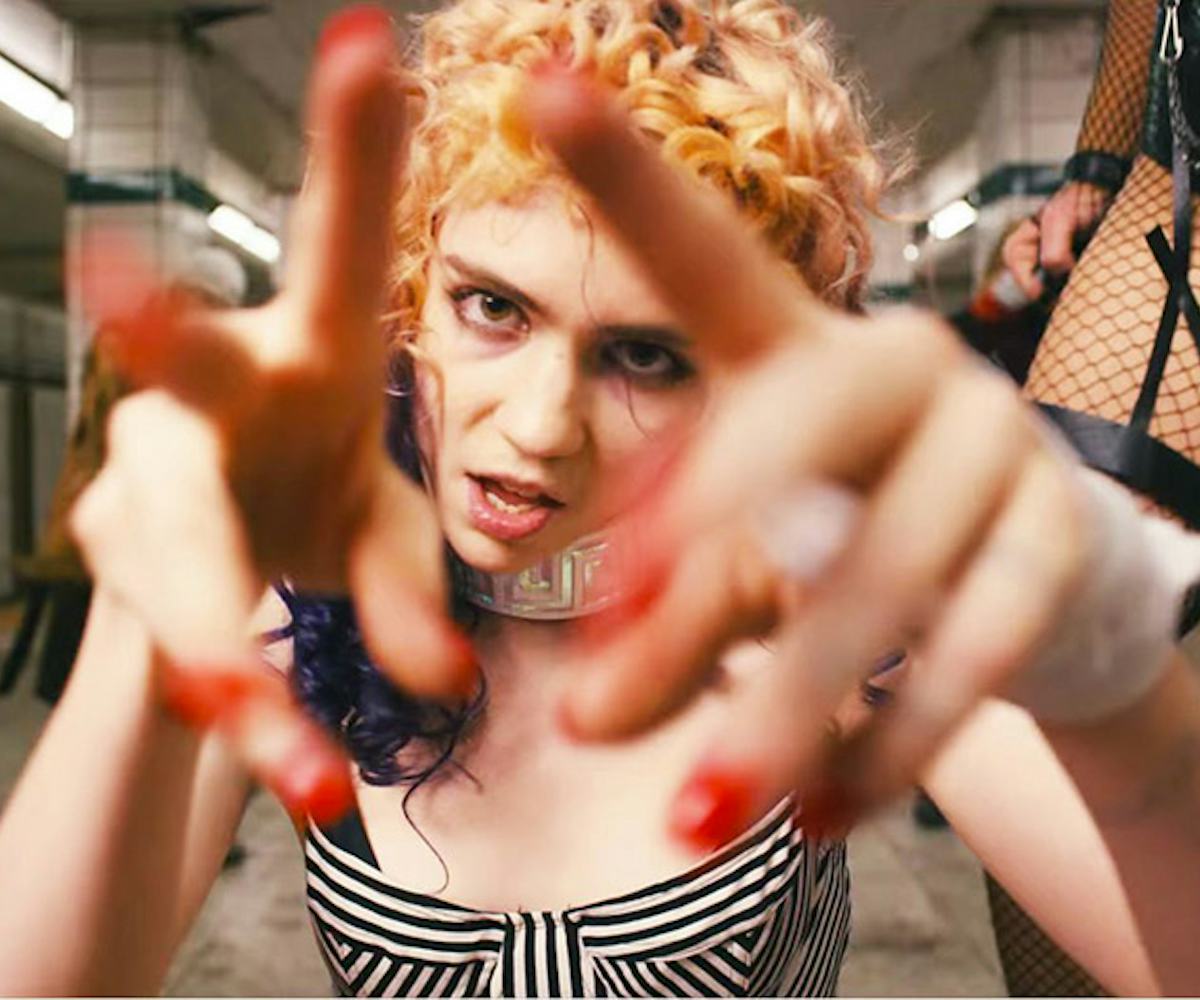 Photo via YouTube
The Best Music Videos Of 2016
I want my music video television
Music videos in the age of YouTube are thriving. They may not be the destinations they were years ago, but they still pull audiences. This year's most watched video was seen by more than a billion pairs of eyes.
Nearly 5,000 videos dropped this year, which makes for quite a trip down memory lane when then year ends and reflecting time comes along. Raise your hand if you forgot FKA twigs released a music video this year! I did! Sure feels like a century ago, what with all that's gone and going on in the world. So, to help make things a little brighter and make you say, "Oh yeah, that happened!" here are the 10 best videos of this garbage year, as voted by us. Hell, if Lady Gaga and Beyoncé can both release country-pop bops, perhaps next year will finally give us "Telephone, Pt. 2." Paws up, Monster Beyhive.
10. "Drone Bomb Me" by ANOHNI
Change.org petition to have Naomi Campbell star in all of ANOHNI's music videos, please!
9. "Kill V. Maim" by Grimes
Released at the top of 2016, Grimes' frenzied video for one of Art Angels' most frenzied songs delivered the goods: colors, punk cherubic wigs, goth subway raves, fun illustrations, and a sweet pair of fangs. Misbehaving has never looked more fun.
8. "Gosh" by Jamie xx
Director Romain Gavras said the video should be watched on a "full screen with loudspeakers and headphones." He's right because not only do the speakers/headphones do Jamie xx's densely layered track justice, but you'll be floored by the drone footage and dystopian imagery, which, fun fact, features no CGI or 3-D effects. This is all real. Oh my gosh, indeed.
7. "M.I.L.F. quot; by Fergie
Fergie's first song in forever is a bit of a snooze, but the video for it? Enlisting Hollywood's most famous mothers, like Kim Kardashian West, Chrissy Teigen, Ciara, and more, ensured Fergie viral gold. Oh, you thought being a mom meant being less sexy? Think again, honey.
6. "Good To Love" by FKA twigs
Though twigs' avant-garde visuals are flooring, "Good To Love" proves she doesn't need to go over-the-top to push the boundaries.
5. "Fade" by Kanye West
2016 will also be known as the year the world was reintroduced to Teyana Taylor. 2017 will be the year of #TeyanaTaylorBodyGoals.
4. "Work feat. Drake" by Rihanna
Aubrih knows the public loves seeing them together. So they gave the people what they wanted. Twice.
3. "Don't Touch My Hair" / "Cranes In The Sky" by Solange
Drenched in a muted nude palette, Solange's two A Seat at the Table videos tied in our voting, and for good measure; you can't talk about one without the other, and, really, without talking about ASatT in general. These videos are a testament to the intersection of blackness and womanhood and all the accompanying trials and tribulations. Like her sister, Solange made 2016 a year of personal liberation and through their work, many others doubtlessly did the same.
2. "Famous" by Kanye West
Yeezy's second appearance is also his most controversial. Sometimes "best" doesn't mean good, it means what was everyone talking about this year, and "Famous," aside from some yellow fruit, was it—regardless of how tasteful both the song and the video were.
1. LEMONADE by Beyoncé
Honestly, what did you expect? It's Beyoncé at her most confident, powerful, creative, and, well, everything. There really was no question or surprise here.