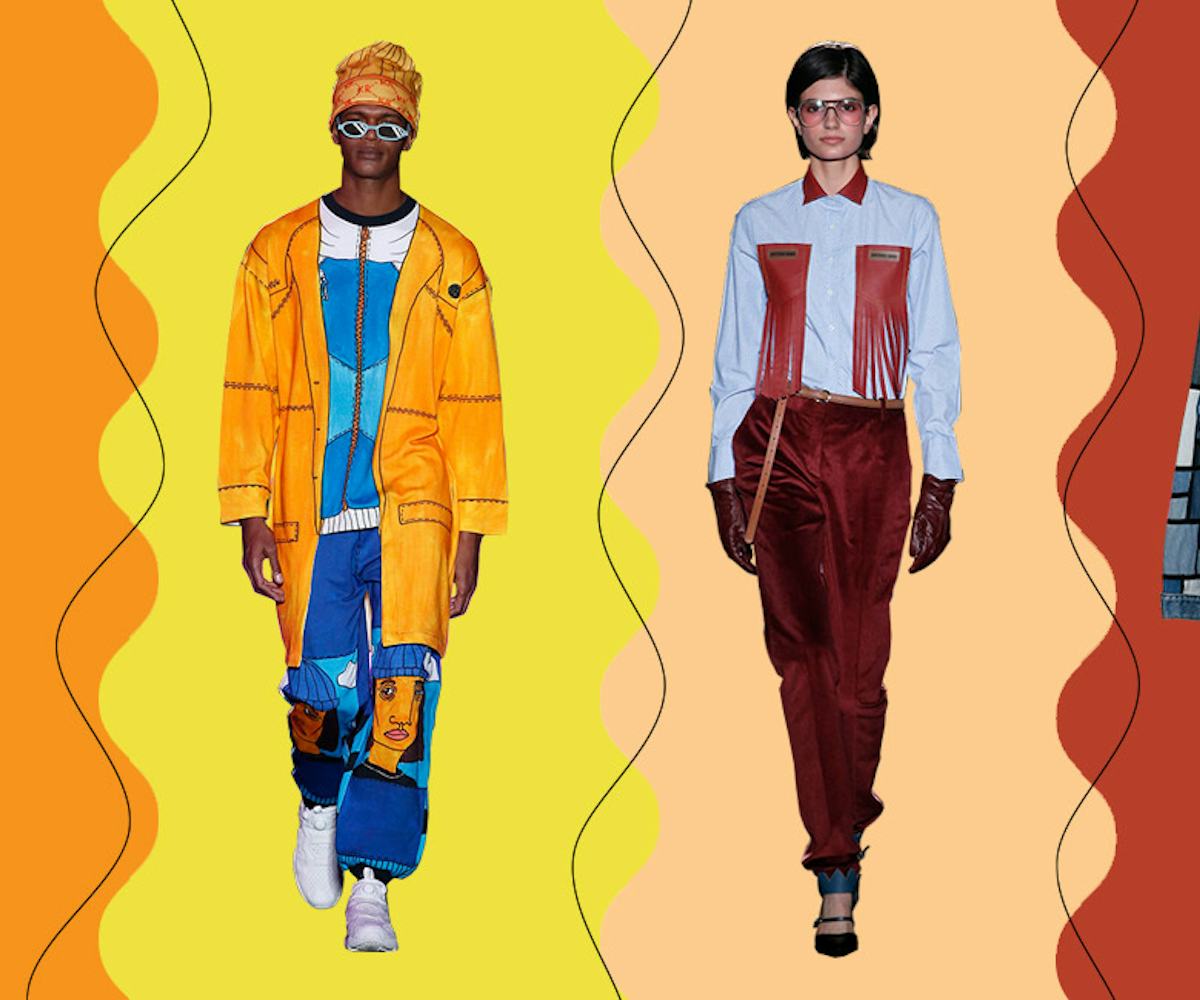 Barcelona Fashion Week Can Be Summed Up In Three Words…
Everything was beautiful at the 21st edition of 080 Barcelona Fashion. (Editor's note: The Catalan capital doesn't have an official fashion week, which is kind of confusing, because 080 Barcelona Fashion, named after the city's postal code, feels very much like a fashion week, though it only lasted for four days.) Anyway, back to the beauty. Let's start with the venue where a total of 32 designers and fashion brands held their shows: the historic Sant Pau Art Nouveau Site. It's a dream of a gem for modernista and art nouveau lovers and, as demonstrated at 080 Barcelona Fashion, also for street style photographers and famous-ish-on-Instagram types.
For four days, I'd ascend those majestic steps and take my seat, where, while waiting for the shows to begin, I'd observe the stylish front row attendees. Barcelona menswear trend alert: It's all about fun track pants carefully cuffed to non-subtly showcase cool socks in zany patterns paired with sneakers, usually Nike. To truly fit the hip Barcelona beautiful boy bill, an individual hoop earring is a requirement. (Meanwhile, I was mostly in Forever 21.)
Oh, and the shows! Also very beautiful. A handful of menswear shows proved that sporty streetwear isn't going anywhere (and I'm not complaining), but it was the womenswear that dominated the week—I mean, the four days. Womenswear Catalonian catwalk trend: very autumnal muted colors, lots of knits and tweed, and trenches and ponchos. Sophisticated numbers. Very... casual-Victoria-Beckham-on-a-fall-day-strolling-in-Central-Park. Beautiful! That word again.
In a sea of safe, and in true masochistic form, I eventually craved something… deliciously dangerous. Something engagingly outlandish. Something bold… and beautiful! AND I GOT IT! Enter Brain & Beast and its cuckoo collection. Inspired by the Freudian concept of "concealing memory," lunatic looks were aplenty. For me, am-I-high highlights involved a hunk wearing a dope oversized basketball jersey featuring a skull graphic paired with a denim kilt and Timbs as well as a beret-wearing model rocking a cropped sweatshirt which read "Maleficent" in the classic Marlboro cigarette font/graphic. This fashionable fuckery was all about working with basic fabrics and patterns (denim, plaid, camo), but fucking with the cuts and the styling (refer back to the bananas kilt x Timbs combo). In summary, 'twas all playfully demented with major Christopher Shannon vibes.
Antonio Miro kept the inventive/progressive/confusing-in-a-good-way theme going, as models stormed the runway in sophisticated, classic pieces (blouses, wool trousers, knitted jumpers) in earthy colors albeit with a head-turning '70s remix. Example: a formfitting bustier caging an ordinary blouse. Additional vibes included '70s Wild Wild West-y Wrangler meets Almost Famous-y rock 'n' roll groupie, I mean, Band-Aid. Nothing hurt here.
Oscar Leon brought the gloom in a moody, memorable show. It sort of felt like glam goth girls rolled around in a graveyard pre-show and then stormed the runway. Smudged black eyeshadow, black lipstick, distressed, dirty-looking t-shirts, some scribbled with goth crosses and intriguing words like, "My Daddy Will Kill You." Very millennial existential crisis. Really cute though! More maniacally memorable looks came from Txell Miras, who unsurprisingly was inspired by the Holy Inquisition and witch hunts. A slew of witchy, yet wearable, numbers, perfect for a rack at OAK, were on display, but it was their version of, I think, ski masks that really left a (question) mark. What the Knitting Gone Wild, minimalism x fetishism is going on here? Well, they did look quite warm. A fuzzy bondage facelift tape silhouette, if you will. And they're certain to be catnip for street style photographers. Isn't NYFW like, today? I'll take two please. Go on and throw on one of Miras' (interesting…) wigs, too, for an extra pop of crazy.
Although Custo Barcelona, who closed 080 Barcelona Fashion, was the most well-known label to show, Krizia Robustella put on a massive show. Minutes before the show began, the sounds of incoming and outgoing texts, sent emails, and even Grindr alerts acted as the foreshadowing soundtrack. In other words, a slew of hip millennials hit the runway in a crazily colorful collection, aptly dubbed "Trendy Flock," which was clearly a satire on the youth of today. It all gave major Walter Van Beirendonck x Jeremy Scott x whoever is the artist behind Rugrats and Doug vibes. (Shout-out to illustrator Susana López who collaborated with Robustella on this killer collection.) It basically was a wild and wonderful explosion of '90s nostalgia for the millennials who were raised on Nick At Nite and whose first CD was most definitely TLC's Crazy Sexy Cool.
Actually, I swear I didn't mean to do this, but that sums up the best of Barcelona fashion. Crazy. Sexy. Cool.
Brain & Beast
Brain & Beast
Brain & Beast
Brain & Beast
Brain & Beast
Brain & Beast
Brain & Beast
Brain & Beast
Txell Miras
Txell Miras
Txell Miras
Txell Miras
Antonio Miro
Antonio Miro
Antonio Miro
Antonio Miro
Oscar Leon
Oscar Leon
Oscar Leon
Oscar Leon
Krizia Robustella
Krizia Robustella
Krizia Robustella
Krizia Robustella