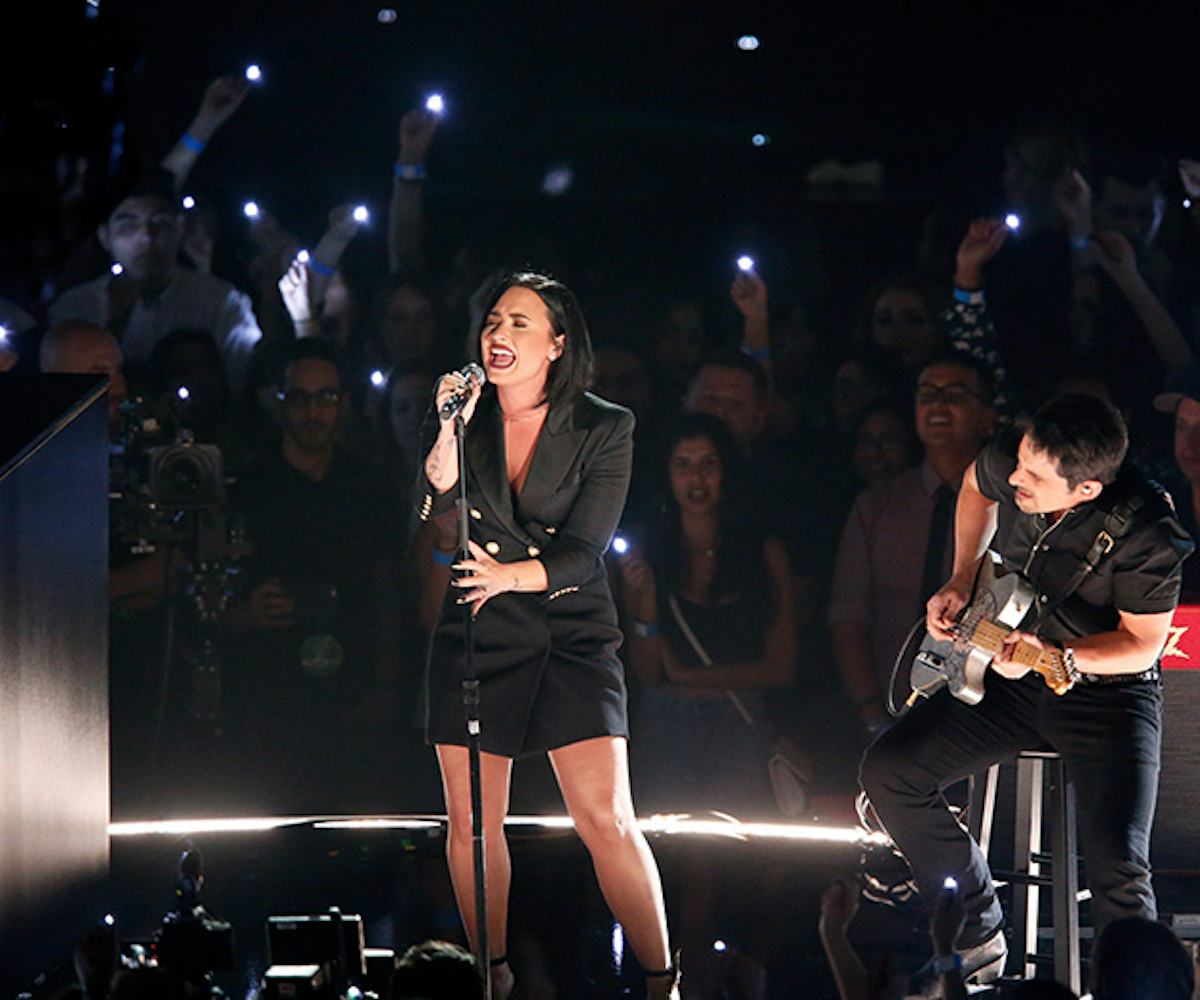 Photo by Rich Polk/Stringer.
The 5 Best Moments From The 2016 iHeartRadio Music Awards
Just when you thought awards season was over, out came the iHeartRadio Music Awards. This year's ceremony crept out of nowhere and gave us many questionable things, like Justin Bieber's dreads and Chris Brown winning an award over Beyoncé. (The latter is a serious head-scratcher, for sure.) There were nice moments, though. You know, things you can feel good about. The bevy of performances included DNCE and Zayn Malik. Taylor Swift won many awards, too. (You could probably guess that, though.) All in all, it was a pleasant ceremony. Here are five of the night's most memorable moments. 
1. Taylor Swift's Best Tour Acceptance Speech
Taylor Swift won the first-ever Best Tour Award. During her speech, she thanked "the most amazing person to come home to," her boyfriend, Calvin Harris—aka Adam Richard Wiles.
2. Justin Timberlake's Donald Trump Joke
Singer, dancer, tequila-pusher, and comedian Justin Timberlake introduced Taylor Swift's Best Tour Award. Before that, he made a Donald Trump joke. It was cute.
Did you catch Justin Timberlake's Donald Trump joke at last night's iHeartRadio Music Awards? #TheDailyHithttps://t.co/Fn0ArHMrMD — New Day (@NewDay) April 4, 2016
3.  Demi Lovato's "Stone Cold" Performance
Lovato continued to show off her pipes with a harrowing performance of "Stone Cold." She brought out Brad Paisley to help. Prepare for the feels.
ICYMI: Quite possibly the performance of the night so far by @ddlovato & @BradPaisley #iHeartAwardshttps://t.co/NjaS0ezkRZ — TBS Network (@TBSNetwork) April 4, 2016
4. Justin Bieber's "Love Yourself" And "Company" Performances
Bieber took a break from his Purpose World Tour to stop by the iHeartRadio Music Awards. If you can look past the dreads, you'll see two insanely fun performances: one of his acoustic-tinged "Love Yourself" and one of his next single, "Company." 
5. Gigi Hadid's Reaction To Zayn Malik's Performance
Malik performed "Like I Would." Somewhere in the world, Gigi Hadid watched it and Snapchatted it. Her reaction to his ending riff is perfect. 
@GiGiHadid via snapchat @zaynmalik #Zayn #GigiHadid pic.twitter.com/3UXvSiHq4f — Hadid_news (@EllieSab1999) April 4, 2016