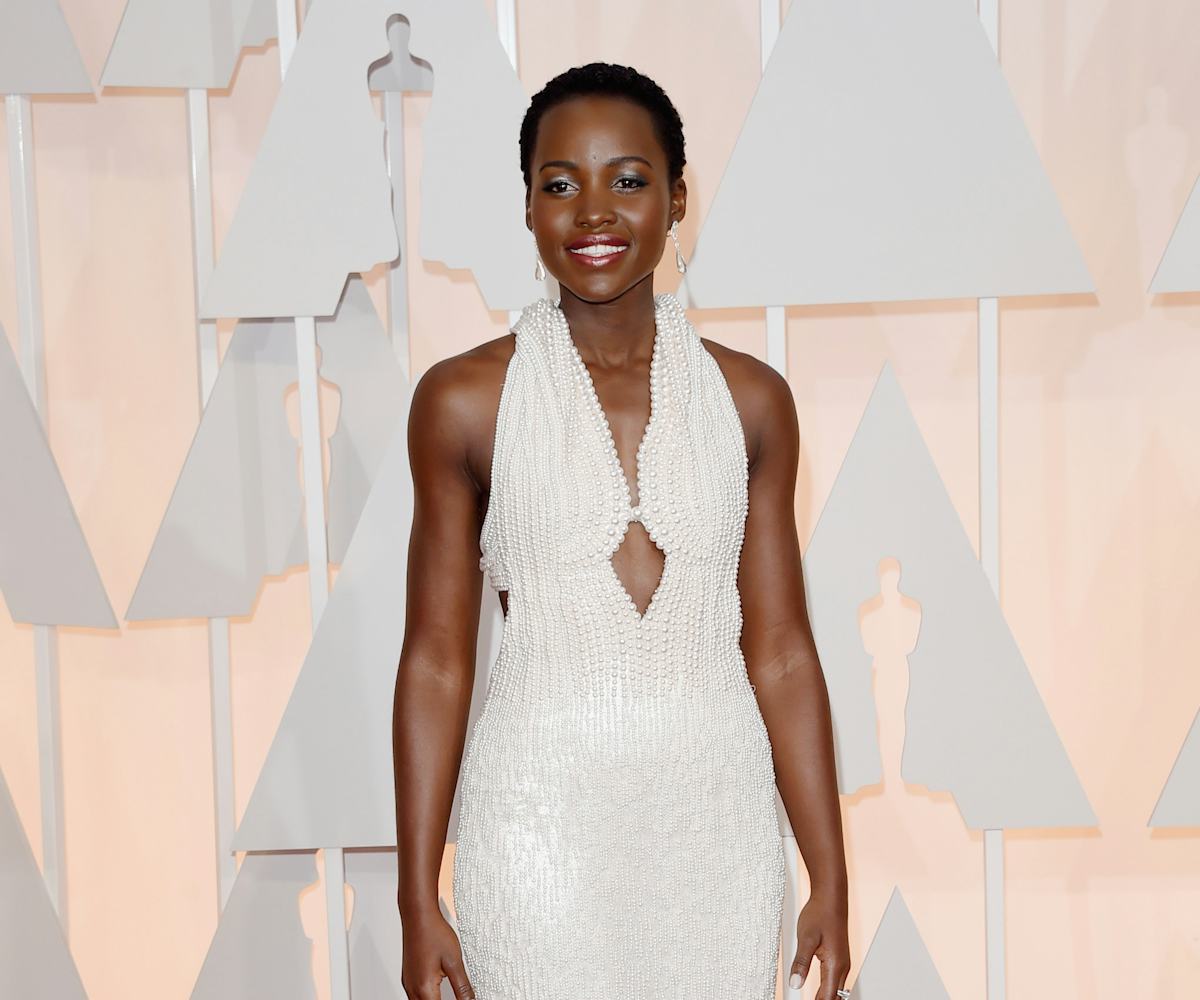 Photo by Jason Merritt / Getty Images
the oscar's 13 most stunning dresses
by leila brillson + gabrielle korn
The fashion statements at tonight's Academy Awards proved one major thing: For our favorite celebs, red-carpet fashion is officially no longer about looking classic. Sure, the looks we loved were classic in the sense that they were stunning, but there was a modern, almost futuristic vibe to the couture. From ultra-bedazzled fabric to mixed textures to shapes we've never seen, these gowns deserve their own awards show. 
Ahead, the stunners we're obsessing over. Let us know if you agree. 
Anna Kendrick in Thakoon
Big ups to the girl for going after a lesser-known American designer for her gorgeous coral dress, which has a keyhole neckline that is absolutely stunning. The gauzy number isn't going to break any records, but it is certainly a gorgeous and fitting bet.
Lorelei Linklater in Gabriela Cadena
This slightly gothic dress isn't exactly a safe choice for your first Oscars, which is part of the reason why we like it so much. The rest of the reason: It's just plain awesome. Between the extreme slit, sheer fabric with a floral-branching pattern, and red detail, this black gown isn't subtle. And why should it be? 
Dakota Johnson In Saint Laurent
Despite the fact that it's apparently impossible for most people to talk to Dakota Johnson without making a Fifty Shades joke, her stunning red gown was serious business. Floor-length with one shoulder bare, it was elegant and sophisticated—and that one sparkly snake-like strap added an extra oomph. Also, she was positively strewn with Forevermark diamonds. Because, if given the option, wouldn't we all be? 
Laura Dern in Alberta Ferretti
Okay, top secret: Laura Dern always, always kills it on the red carpet. Go on, Google it. Check out her dress last year. Yeah, it's pretty good, right? And this year, she seems to be heading in the exact opposite direction with this metallic strapless gown that feels oddly Game of Thrones. House Dern, for the win. 
Felicity Jones in Alexander McQueen 
If we were going to an alien prom and taking an angel as our date, this is the dress we'd want to wear. The silvery gown was unlike anything else on the red carpet: The bedazzled top and voluminous skirt cut a romantic silhouette with futuristic details. Slow clap for this one. 
Naomi Watts in Armani Privé
Naomi is another easy pick, as a seasoned, well-heeled red carpet pro. But the shimmery Privé with a bandeau top is a refreshing way to approach shine without getting all bedazzled and sequin-heavy. The blocky clutch reflects the geometry of this lovely dress, which is luckily kept light with just a simple watch. Beautiful. 
Rosamund Pike in Givenchy
What a babe. What a perfect, poised babe. Somehow, the cut is understated while the color is pure emotion. But what really makes the dress is that Rosamund (or her stylist) understand the importance of an incredible fit. She took a risk with the matchy-matchy shoe, but it actually makes the whole look unified, not boring. Those embellished roses, even with all the texture, still keep the look super sleek.
Emma Stone in Elie Saab 
Okay, given her near-perfect track record, there is no surprise Emma Stone was put on our best-dressed list. In fact, we would change our name to EmmaStoneRules.com if we could (we can't, legal reasons), because she looks fabulous, but more importantly, she's always funny, relatable, and thoughtful. However—however—this gown may have been the best of the evening. Though the chartreuse isn't a typical red carpet color, the cut is so classic, resulting in a sparkling update to something truly timeless.
Scarlett Johansson in Versace
Wait, sorry, we didn't realize that it was gonna be this kind of night. You know, the kind of night where Scarlett shows up in a gorgeous, simple, emerald green dress with a massive, high-necked jeweled situation. And then she caps off the event with a Piaget earcuff that makes her look like an elven warrior goddess who is coming here to save your life.
Lupita Nyong'o in Calvin Klein
This gown was custom made for Lupita by Calvin Klein Collection's Francisco Costa. Made of strands of pearls, the shape of the gown makes it demure rather than gaudy, with a figure-hugging cut and playful keyhole. It was a good move skipping a necklace here—it's like her whole dress is one giant pearl statement. We're not complaining. 
Rita Ora in Marchesa
Our March cover star Rita Ora went full-on glam for the occasion, and she really stood out: This strapless, midnight-blue gown with it's dramatic train demanded to be looked at. The gold details were stunning, too. It's all slightly avant-garde, which is exactly how we like our extreme glamour.
Kiera Knightley in Valentino
Motion to name this the loveliest maternity gown of all time? The floor-length gown had layers upon layers of gauzy ned fabric that was covered in French words and embroidered flowers. It was like fairy-princess moves to the city—both ethereal and downtown-cool. 
Marion Cotillard in Christian Dior
This polka-dotted white majesty is awesome from the front, but the back is what makes it a moment. Structurally voluminous in the back, the fabric gathers with a black band across her lower back, creating an incredibly modern shape. From the side, it gave her a cool-girl slouchy look. Love it or hate it, we can all agree that this dress was anything but ordinary.