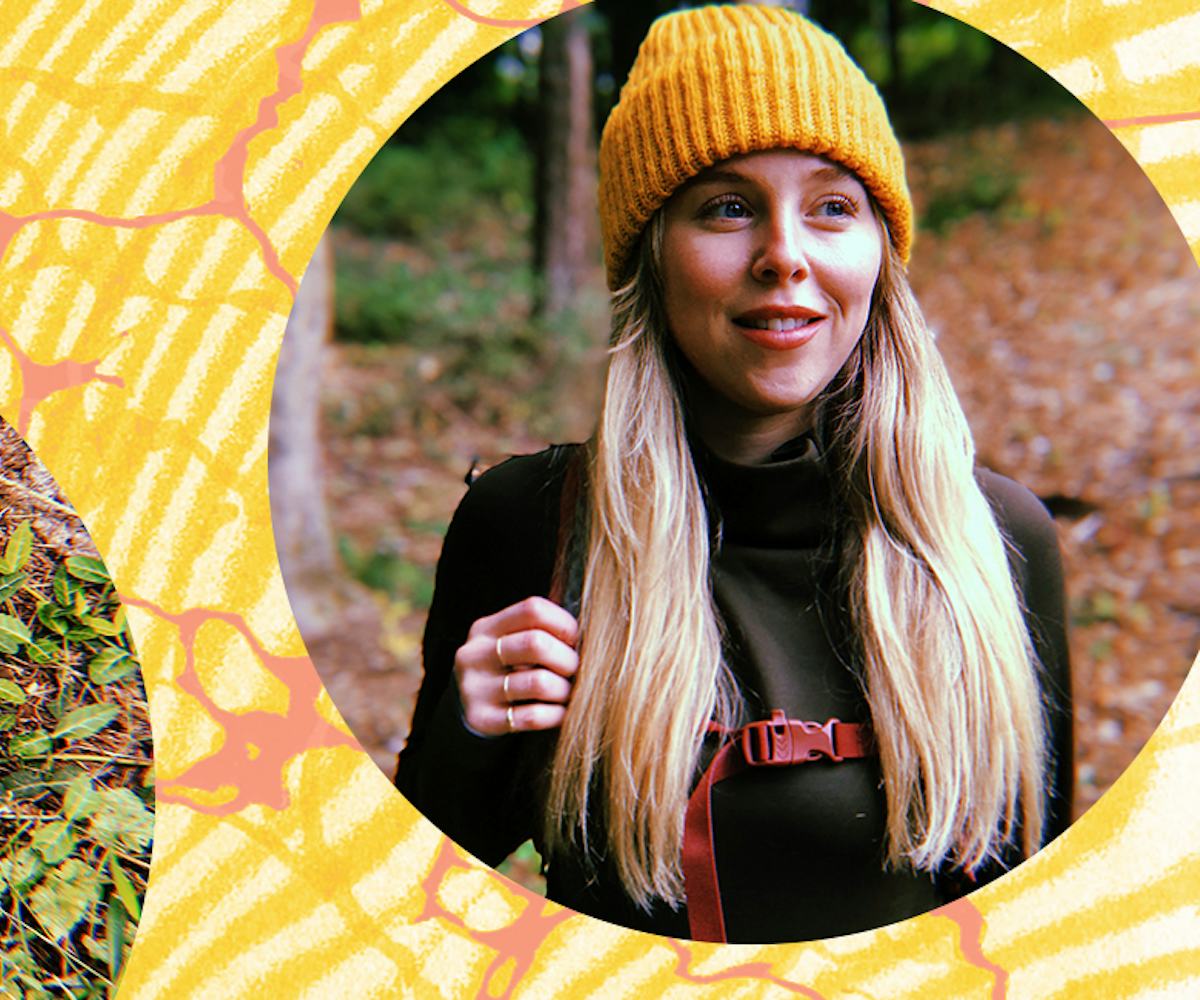 A Guide To All The Cold-Weather Outdoor Gear That Actually Works
From base layers to boots
Once upon a gear-less time, hiking was a warm-weather-only sport for me. I had always assumed that unless you were Everest-bound, hiking was a casual summer-to-fall pastime that started with a tank top and ended with a fleece. But that was then; now, my entire perspective on hiking has been changed, thanks to an Instagram post. I had just posted a picture of me at the summit of a Catskill trail; the world below was a sea of tri-colored treetops awaiting the first snow. "Last hike of the year!" I captioned my post. After a few minutes, the confused and contrary comments rolled in: "Ever heard of a jacket?" "Hiking is not a seasonal sport!" "Are you about to turn in your legs or something?" My seasoned outdoor friends trolled me hard.
Growing up as a mostly indoors kid, I'm new to outdoor adventures. The fact that I had made it out on the trails in the first place seemed like a significant accomplishment for me, so I never considered that my involvement with the sport was half-assed. To embrace the challenge and expand the limits of my sense of adventure, I set out for a hike in the bitter fall. Using trendy gear recommendations from Instagram ads and influencer pages, I collected quite a bounty. And, to be honest, having what I assumed was the right equipment made me even more excited to hike. My hiking boots matched the ones on the cover of Wild, my jacket looked like something that might show up on a page of Nat Geo—I was wearing more layers than a croissant, and I felt warm and ready to go.
But after miles of freezing, sweating, and slipping down dangerous inclines, I came to an unfortunate realization: my cute, Instagram-friendly hiking gear was just that—it wasn't actually functional. Sure the boots were trendy and comfortable, but when it came to trekking through leafy trails, they had no grip. And when it came to the snow, the soles got packed with slush and became death slippers. My cotton blend socks left my toes frozen and numb, and instead of enjoying my time outside, my mind was consumed by discomfort and fear. I was constantly waiting for that moment when the parking lot comes into view. I had literally followed Instagram ads down a rabbit hole that left me unsafe and uninterested in embracing the seasonal outdoors.
If you're going on a short, dry hike on a well-traveled path, a pair of yoga pants, a sweater, and some fashion-friendly boots might cut it, but if you're going into the woods and committing to a few miles of trailblazing, you can't cut corners with gear. Over the last year, I've been testing out real gear—gear that I didn't find on Instagram, gear that avid hikers trust—and I've curated an entirely new collection of hiking essentials that makes all of the difference. When you're dressed properly, no matter what the temperature, you can enjoy being outside. 
If this is a novel concept to you as it was to me, you'll appreciate this list of high-quality outdoor gear that will prepare you for a safe and comfortable wilderness adventure. Using proper gear doesn't have to mean sacrificing your fashion sense. We're all human, we all want to look cute in our proud summit pose. But, you'll look a lot cuter when you're properly dressed for an all-weather hike, rather than a low-key wilderness-inspired athleisure look that's 100 percent non-functional. 
Here's your guide to functional gear, for even the most unseasoned hiker.
Fabric 101: Cotton is cozy, and when it's cold out, the desire to wiggle into your favorite hoodie is strong. But when you're going to be physically active outside, cotton is a killer. If you don't add a single new piece of apparel to your wardrobe, you can still avoid cotton. Poly-blend fabrics and wools help pull the sweat off your skin and dry it out before it affects your body temperature. You will be warmer wearing a thin moisture-wicking T-shirt than your largest and coziest cotton sweatshirt.
Base Layers: Being comfortable outdoors is all about layers. Moisture-wicking fabrics and heat technology are a must. Start with a sturdy sports bra with epic wicking capabilities. Outdoor Voices makes a great sports bra that keeps your chest warm and dries out your under-boob sweat before it chills you or makes you uncomfortable. If you want to complete the look, Outdoor Voices also makes heat tech leggings called TechSweat which will keep your legs incredibly warm but ventilated at the same time. If you're looking for a more classic outdoor legging, Active Pursuits makes a solid hiking tight that is UV protected, has wicking capabilities, plus mesh inserts that help keep your temperature regulated. Over your sports bra, you'll want a heat tech long-sleeved shirt. REI makes a comfortable mock neck pullover that has neck ventilation in case you want to cool down without taking it off. If it's a comfortable temperature, you can just add a vest or lightweight jacket over it, and if it's a colder day, you can wear a fleece pullover on top of it, and you'll stay nice and toasty. Merino wool socks from SmartWool are a safe and comfortable foot option. You'll want a taller fit to keep you safe from ticks and cold. For extra protection, you'll want to pull the socks over the bottom of your tights.
Outerwear: When you're hiking, you don't want to be weighed down. You want a light jacket that will keep you warm but will also fold down into a packable item if you get too warm. Down and synthetic down jackets are ideal. REI makes a lightweight jacket called the Magma 850 Down Hoodie that can be rolled into a tiny ball, wrapped around your waist without getting in the way, or worn over a thin layer to keep you comfortable. Any down lightweight puffer will be your best friend on a hike—just keep in mind that, while goose down might be warmer, synthetic down dries out faster in wet weather. If it's cold or wet out, you'll want to wear a pair of waterproof trekking pants over your leggings to keep you extra warm and dry. If there's snow on the ground, you'll want the ability to sit down without soaking your pants. Fjällraven makes a pair called the Keb Eco-Shell trousers which have three layers and lots of ventilation.
When it comes to a scarf, you want to keep your neck and face warm, but you don't want to sweat. Poly-blends, wool, and cashmere are ideal. If you want something that doesn't get in the way, Buff Headwear makes multifunctional neck-warmers that are long, thin, and stretchy. If you like your scarves chunky, REI's Wallace Lake makes a great Lenny Kravitz-esque loop scarf that you can wrap around your face or even use as a shawl for extra warmth. If you have sensitive skin, you'll want to avoid wool and opt for a material that you won't mind wrapped around your face. Even if it's a very dry day, your warm breath against the fabric will great condensation, and if the fabric is not moisture-wicking, your scarf will fail to keep you warm.
Though your hands will get very warm as you hike, even in cold weather, it's important to keep them covered. Avoid cotton and mittens and opt for a waterproof glove that isn't too bulky. To be safe, you'll need full use of your hands and fingers at all time.
Shoes: A sturdy pair of all-weather shoes are a must. Vasque makes great tall hiking boots that support your ankle, protecting it from all maneuvers and wobbly steps, plus they're made with Gore-Tex technology which makes it breathable, waterproof, and incredibly lightweight. Most importantly, the soles are arched just enough that you'll have no problem trekking through snow or dry dirt without slipping. For more casual hikes on even terrain, the Danner Mountain 600 hiking boot will keep you comfortable and supported.
Gear: If you're just going on a day hike, you don't need to go full Portlandia with the gear. Parks Projects makes a great lightweight backpack that won't hold you back on the trail and is big enough to carry everything you might need in a day. Traverse trekking poles from REI are affordable and useful but are totally not necessary for a basic to average hike. That said, they will offer some support if you want it. Goal Zero makes a solar-powered light and charger called Lighthouse Micro Charge, and it's clutch. Add to your backpack some wet wipes, tissues, and snacks. If it's warm out, you'll want an icy drink in an easy-to-use thermos; Takeya makes a durable one with a quick-sip mouthpiece. If it's hot out, you'll want an insulated thermos that will keep a hot drink steamy all day; Yeti makes perfect thermoses for this.