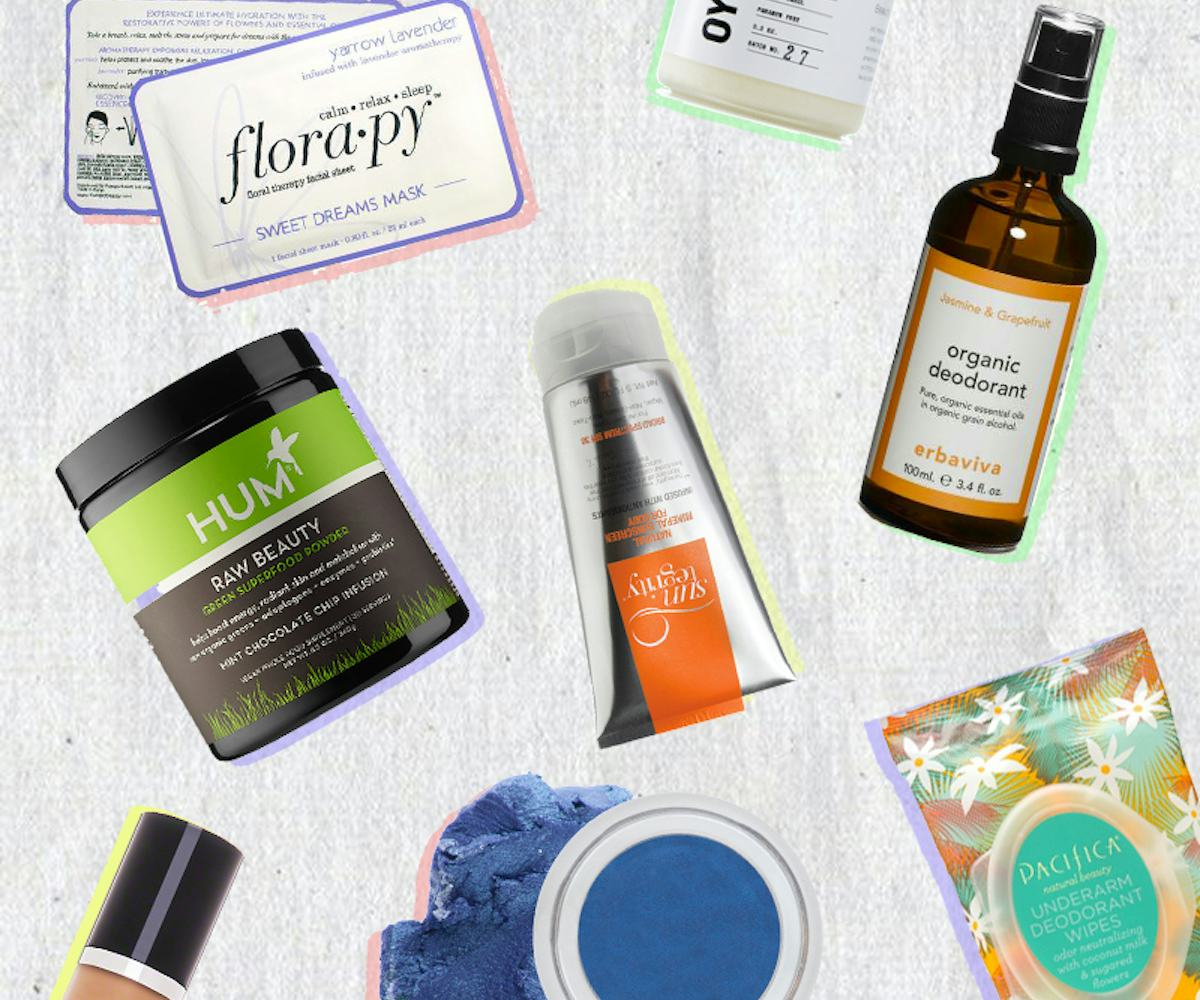 22 Coolest Beauty Products We Found At The Indie Beauty Expo
Where we also caught up with the co-founder
When it comes to some of our favorite products at NYLON, they are often from under-the-radar brands that have either come recommended to us or have just one day magically landed on our desks. But with a beauty market currently oversaturated with the Etsys of the world, it gets increasingly harder to sort out the good from the not-so-great when it comes to smaller brands. Luckily events like Indie Beauty Expo can do all the sleuthing and sorting for us. 
Serving as a platform to discover, recognize, showcase, and celebrate independent beauty, wellness, and lifestyle brands, the trade show was founded a year ago by Jillian Wright, celebrity aesthetician (who has worked on the likes of Kim Kardashian and Kristen Wiig) and founder of Jillian Wright Clinical Skin Spa and Jillian Wright Skincare, and Nader Naeymi-Rad, entrepreneur and management consultant, to support the growth and success of indie brands.
After years of being an aesthetician, the idea of the Expo first came to Wright when she was getting ready to go to market with her line. She soon discovered that there was nowhere to go to introduce her products to the public. "My colleagues and friends and I didn't have a platform to showcase our products, launch new packaging and formulas, and connect with the right people to elevate our brands for further distribution," Wright says. And despite her industry connections and reputation, the mass retailers and distributors were no help either. "Even with my very successful spa, I found it difficult to get my products in front of new people," she says. "The beauty industry, as I knew it, ignored luxury indie beauty brands; it was all about big dollars and mass consumption and I felt—and perhaps this is unfair to say—there was no regard for the consumer or new ideas, such as clean beauty products or green beauty products."
She quickly learned that, with more competition than ever, it was going to take a lot more than supplying high-quality products to make her line successful. She next participated in a few trade shows, only to realize that they weren't effective for her business and were not getting her the exposure she needed. "I needed guidance and there was none," she says. "And I knew I wasn't alone. As a spa owner. I had learned of so many great new brands and ideas, and I didn't see them represented at shows or on shelves at all." Wright took matters into her own hands, and Indie Beauty Expo was soon born with the intention of bringing brands, buyers, and consumers together in a "meaningful, grassroots way, where people could meet each other and connect over these amazing entrepreneurs who have but nothing short of their blood in their businesses."
In making the Indie Beauty Expo, Wright set out to create an event where she could showcase "the most incredible, hard-to-find products on the market" and give small, independent brands the credit that they deserve in the industry. "Indie brands are changing the way people shop for their beauty. Indie brands are trendsetters; they are looking for new solutions to problems consumers face, new solutions for the environment, new alternatives to canned, packaged marketing."
The brands, 130 of them at Wednesday's 2016 event to be exact, are seriously vetted before being selected to participate. "A brand should be ready for distribution, have beautiful packaging, solid formulation, and a reason for people to buy their products. We go for brands that are beautiful, have great websites, are professional, and can support the retail environment," says Wright. "Most of all, they should have a story to tell."
With that in mind, we set out to the expo for the very first time. In addition to meeting some incredible on-the-rise indie beauty brands—some brand-new to us, some that we've had an opportunity to test out previously, and some that are already stocking our medicine cabinet—and hearing some inspiring stories of their beginnings, we experienced the interactive portion of the show. Titled Shop Indie, it involved live music from Sleigh Bells' Alexis Krauss, flower crown DIYs, mini beauty and hair makeovers, and even an express peel bar. "This is more than a tradeshow. It's a spirit and an energy and there is so much potential to keep the creativity flowing and blowing it out year after year," says Wright of the experience.
And, of course, we got to sample a giant selection of new products. Ahead the 22 that impressed us the most.
Infused with organic pigments, this gorgeous iridescent nail polish is five-free, made without parabens, sulfates, petrochemicals, GMOs, triclosan. It's also vegan and cruelty-free—making this an obvious choice for any nail polish fanatic.
Adesse, Liquid Chrome Nail Polish in 'St. Regis,' $20, available at Adesse.
Fact: We all need more sleep and zen in our lives. Enter: Florapy Beauty and their 100 percent coconut sheet masks. The chamomile and patchouli-infused formula will calm your senses and quiet the mind, leaving the skin feeling stress-free and rejuvenated, while the yarrow and lavender one will soothe and leave you relaxed and ready for a night of beauty sleep.
Florapy Beauty, Sweet Dreams and Stress Relief Sheet Masks, $8 each, available at Florapy Beauty.
These highly pigmented cream formulas are 100 percent natural, cruelty-free, vegan, and made in the U.S.A., and can be used as eyeshadow, eyeliner, or even as a brow filler. We were immediately drawn to this gorgeous shade of blue.
Au Naturale Cosmetics, Crème Shadow in 'Larkspur,' $20, available at Au Naturale Cosmetics.
The brainchild of U.K. anti-aging and wellness experts, Dr. Daniel Sister and Susie Rogers, BeautyWorkWest supplements approach beauty and health literally from the inside out. All-natural and brimming with vitamins, plant extracts, and minerals, these Energy capsules are just the miracle boost you need when you're feeling sluggish and tired come 3pm.
BeautyWorksWest, Energy supplements, $110 for 60, available at BeautyWorksWest.
We said it once and we'll say it again: Golden Waves Sea Salt Shimmer is the beauty product dreams are made of. After getting to know the rest of the products in the range at the expo, we instantly became smitten with the organic brand and its founder, Jana Blankenship. Each one is a clear product of love, made using recyclable and reusable glass packaging and featuring handwritten designs and signage. Our second obsession: Mermaid Dry Shampoo, in an adorable salt-like container, that left our tresses light and oil-free.
Captain Blankenship, Golden Waves Sea Salt Shimmer, $28, available at Captain Blankenship.
First thing that you will notice about skin-care line Circ-Cell is its sleek packaging. The first thing that you will notice when using skin-care line Circ-Cell is its visible effects. The standout? Red Algae Clarifying Masque—a blend of tea tree, grapeseed, thyme, lavender, and grapefruit oils—that exfoliates, detoxifies, and gently removes impurities for softer, smoother, and brighter skin.
Circ-Cell, Red Algae Clarifying Masque, $70, available at Circ-Cell.
We might have to stop our search for an effective and organic deodorant after discovering this one from Erbaviva. The organic essential oils work hard to reduce sweat while naturally fighting underarm bacteria and exuding a more-than-pleasant citrus-floral scent. Added bonus: The brand offers the formula in a travel size so you can use it on the go.
Erbaviva, Jasmine Grapefruit Organic Deodorant, $20, available at Erbaviva.
Meet your new (electric-free) diffuser. These stones diffuse ESYM's essential oil blends over time when sprayed, for some easy aromatherapy whenever, wherever.
ESYM, Scent Stones, $45, available at ESYM.
This natural soap is your savior if you suffer from acne, eczema, or overly oily skin—cleansing without over stripping the skin's natural oils. We're also pretty in love with the packaging.
Flynn & King, Detox Neem And Activated Charcoal Soap, $14, available at Flynn & King.
If you are already familiar and love the many nutritional solutions that Hum Beauty offers, know that they are not stopping at the quirkily named supplements (think: Wing Man, Pimp My Calcium, and Turn Back Time). Their most recent launch: superfood powder. The smoothie-like concoction—which can be prepared with water, milk, or non-citrus juice— tastes like a delicious mint chocolate shake, and promises to boost energy, promote radiant skin, and kick-start your metabolism with a blend of raw organic greens, adaptogens, enzymes, and probiotics.
Hum Beauty, Raw Beauty Green Superfood Powder, $39, available at Hum Beauty.
Josephine's organic and vegan Lip Liqueurs are rich and creamy, blended with shea butter, coconut oil, camelina oil, and vitamins A & E to soften, nourish, and protect the lips. This vampy shade is the icing on top of the cake.
Josephine, Hyperluxe Lip Liqueur in 'Mimosa,' $34, available at Josephine.
Already a favorite in our beauty arsenal, Amika wowed us this time when they rubbed their innovative dry conditioner formula into our locks. The spray-on product weightlessly conditioned our strands, adding softness and shine to our ends and eliminating static and frizz. Coming next for the brand: a line of new blowout tools that had us oohing and aahing and desperately wishing for October already.
Amika, Silken Up Dry Conditioner, $24, available at Sephora.
Lyeska uses super-hydrating and nourishing Siberian cedar nut oil in all of their products. This eye cream not only hydrates and firms the skin, but also boosts collagen production, promotes circulation, and reduces dark circles.
Lyeska, Eye Cream, $52, available at Lyeska.
After founder, Marie-Veronique Nadeau, first brought us back to life at the hours-long event with a spritz of the Pre+Probiotic Daily Mist, she urged us to try the tinted zinc oxide-only (aka safe for all) sunscreen. Not only did the formula blend into our skin in the most seamlessly dewy way possible, it provided us with the SPF coverage that we so desperately need but often forget to put on.
Marie Veronique, Everyday Coverage Tinted SPF 30, $48, available at Marie Veronique.
While we previously would not have thought to purposely dredge our faces in bacteria, Mother Dirt quickly convinced us otherwise. Containing live ammonia oxidizing bacteria, the multipurpose AO + Mist restores natural balance, contributes to smoother complexion, and improves dry and oily skin, disproving the long-held myth that bacteria is harmful to the skin.
Mother Dirt, AO + Mist, $49, available at Mother Dirt.
You can't resist the adorableness that are the travel-friendly nügg Beauty masks. But don't be fooled by their minuscule size; we've previously tried the face masks and they pack quite the beauty punch. The latest addition, the 100 percent natural coconut oil and shea butter vegan lip mask, had us in love at first smack.
Nügg Beauty, Intense Lip Boosting Mask, $8.99, available at nügg Beauty.
This creamy cleanser uses watermelon seed oil and mineral-rich sea salt to balance the skin—and it smells divine.
Oille, Watermelon + Sea Salt Facial Cleansing Milk, $72, available at Oille.
These whipped body butters smell incredible and have the most luxurious, rich texture. We're obsessing over the litsea basil formula, which has a refreshing lemongrass-basil scent.
Oy-L, Body Butter, $25, available at Oy-L.
We're longtime fans of 100 percent vegan and cruelty-free beauty brand Pacifica, but when we saw these easy deodorant wipes, we were intrigued. They're perfect for the girl on the go whenever she needs to freshen up a bit, and the sugared flower scent is slightly floral, slightly sweet, and simply delectable. We'll be stocking our bags and desks with these.
Pacifica, Coconut Milk & Sugared Flowers Underarm Deodorant Wipes, $9, available at Pacifica.
This rosy mask uses active probiotics and fruit acids to balance the skin and leave you glowing. You can get creative with it too—add the powdered mixture to water, hydrosol, honey—and even avocado.
R.L. Linden & Co, Whole Lotta Roses Nurturing Probiotic Mask, $56, available at R.L. Linden & Co.
Kardashian-approved Suntegrity is the natural sunscreen that you have been looking for all summer. Chemical-free and offering the broad spectrum for the full body, this formula impressed us with its foolproof application and unexpectedly pleasant citrus scent.
Suntegrity, Natural Mineral Sunscreen For Body Broad Spectrum SPF 30, $36, available at Suntegrity.
This incredible organic mask uses five superfoods to exfoliate and nourish the skin—from royal jelly to strawberries. We couldn't help but fall in love with how gorgeous (and delicious) it looked inside the jar.
Laurel, Facial Mask: Honey Berry Enzyme, $44, available at Laurel.