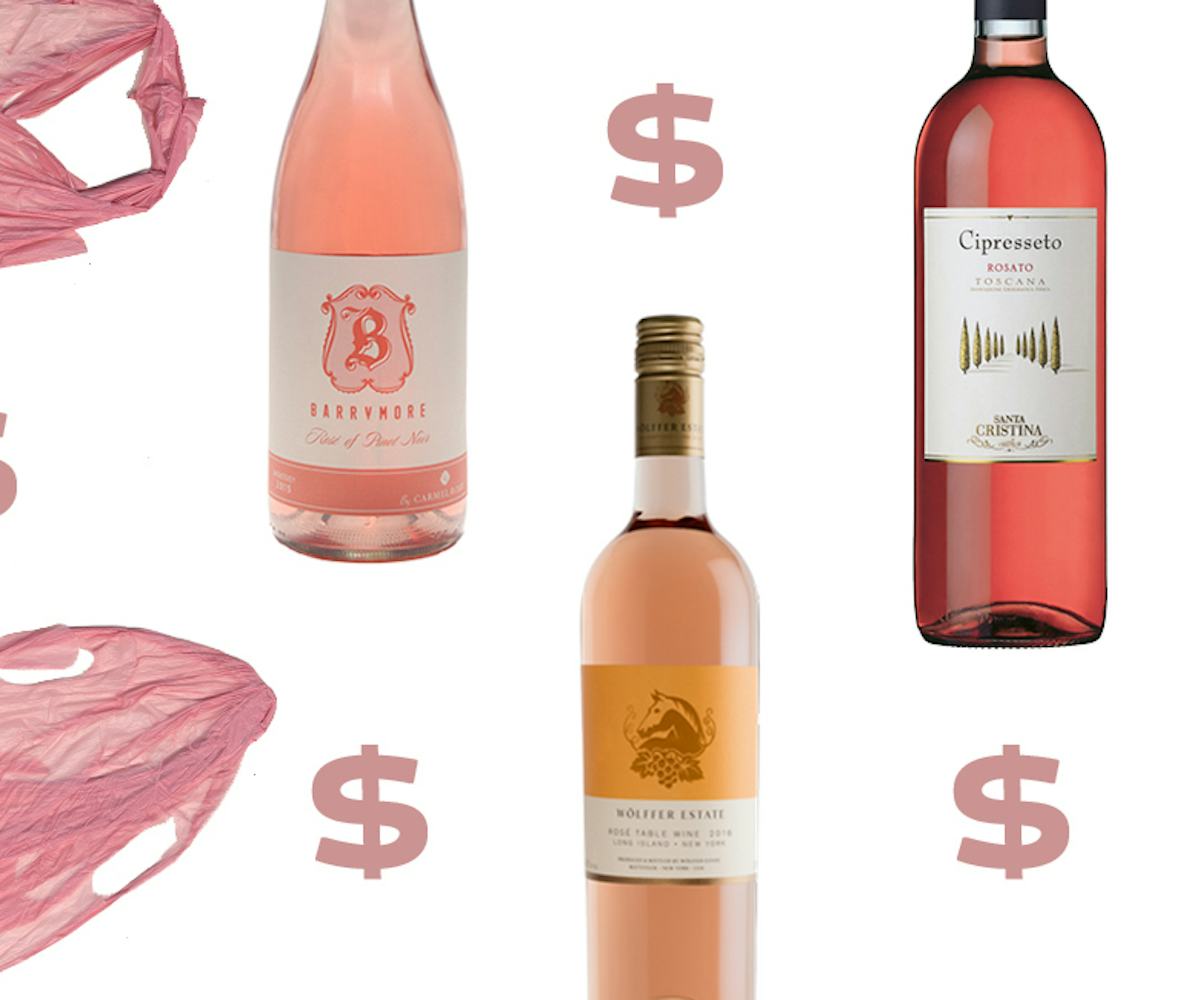 14 Great Rosés Under $20 To Drink This Summer
Apparently, it's National Rosé Day, so drink up!
Fact: Rosés have become ubiquitous year-round. While initially the pink-hued wine was reserved for summertime sipping, particularly by the likes of vacationers in the south of France and the Hamptons, it has now become a full-blown lifestyle, with sayings like "Yes Way Rosé," "Rosé All Day," and "But First, Rosé" making their way onto everything from T-shirts to rosé-infused gummy bears. Need more proof? Even Bon Jovi is now trying his hand at making rosé.
Still, its popularity becomes especially ubiquitous come warm weather, with hot days and rooftop nights practically calling for a crisp glass of the pink beverage to be in hand at all times. So much so that today, June 9, marks National Rosé Day. With that in mind, we've selected 14 bottles of pink-tinted goodness at a price tag that will have you living la vie en rosé all summer (and year) long. Check out our list, below.
Barrymore by Carmel Road Rosé of Pinot Noir 2017, $18 (SRP), more info available at Carmel Road.
Drew Barrymore is good at a lot of things: acting, sharing ingenious beauty tips, and making wine! Don't believe us? Try this pinot noir rosé with flavors of red fruits, fragrant notes of peach and apricot, and a crisp citrus finish.
Horse & Plow Rosé 2017, $20 (SRP), more info available at Horse & Plow.
I discovered this organic northern Californian rosé last year, and since then, can't get enough of its delicious strawberry-citrus taste.
Marques de Riscal Rosado 2017, $9.99 (SRP), more info available at Marques de Riscal.
I personally have a soft spot for Spanish wines, especially ones from the Rioja region. If you like floral undertones or drinking rosé while enjoying a meal, this refreshing, Grenache-heavy wine is for you.
Wölffer Estate Rosé 2017, $18 (SRP), more info available at Wölffer Estate.
Long Island's Wölffer Estate is responsible for many of our favorite locally available wines. Its classic rosé remains a winner for its peach-apricot notes, dry finish, and beautiful copper tone. (While this technically doesn't count, we highly recommend trying the winery's dry rosé ciders.)
The Palm by Whispering Angel 2017, $15 (SRP), more info available at Château d'Esclans.
Brought by the Château d'Esclans winemakers, Whispering Angel's sister wine, The Palm, will be a hit with anyone who likes a good Provençal rosé with earthy notes and a crisp finish. Or anyone with an eye for design; how pretty is this palm-adorned label?! We'll get a bottle just for Instagram Stories alone.
Mezzacorona Rosé, $9.99 (SRP), more info available at Mezzacorona.
Buy this Italian rosé for its pretty hue, but also for its fragrant strawberry aroma, intercut with notes of rose and geranium and hints of something salty-spicy and earthy, the result of the grapes' river-mountain soil.
Mouton Cadet Rosé 2016, from $14 (SRP), more info available at Mouton Cadet.
Made from a blend of Bordeaux varieties—Merlot, Cabernet Franc, and Cabernet Sauvignon—this full-bodied rosé has a very forward red berries aroma and depth without being heavy.
Tormaresca Calafuria Rosato 2017, $15 (SRP), more info available at Tormaresca.
You won't be able to pass on the bright color (or taste) of this Italian rosato that's more crisp and acidic on the tongue than it is fruity and floral.
Summer Water Rosé 2017, $18, available at Winc.
The result of the success of Erica Blumenthal and Nikki Huganir's @yeswayrose Instagram account, Summer Water sold out in less than a month when it first launched. And for good reason—it's deliciously refreshing with notes of strawberry, pink grapefruit, and peach.
Cape Mentelle Rosé 2016, $16.99 (SRP), more info available at Cape Mentelle.
Boasting one of the most vibrant hues on the list, this dry rosé leans more traditional with its blend of Shiraz, Grenache, Tempranillo, and Sangiovese, making it an all-around favorite.
Stemmari Rosé, $9.99 (SRP), more info available at Stemmari.
Don't let the price fool you, this rosé is made from a Sicilian varietal, Nero d'Avola, and, as such, mineral-ly and fresh and nowhere as sweet as most rosés of this price point.
Bridge Lane Rosé 2017, $20, available at Bridge Lane.
A recent go-to of ours, Bridge Lane's uncomplicated Cabernet Franc-based rosé is delicious on the tongue with notes of strawberry, watermelon, and peach, making it the perfect choice for an outdoor rooftop party or a picnic.
Santa Cristina Cipresseto 2017, $14 (SRP), more info available at Santa Cristina.
Lovers of Tuscan rosés will gravitate toward this balanced wine that exudes strong peachy and floral aromas while still maintaining a savory and earthy taste.
VieVité Rosé Côtes de Provence Rosé 2017, $19.99, more info available at VieVité.
This wine has all the marking of a classic Provençal rosé: pale pink hue, tropical fruit and floral notes, balanced taste, and delicate finish. All to say, expect to have this particular blend of Cinsault, Grenache, Syrah, and Carignan a lot.