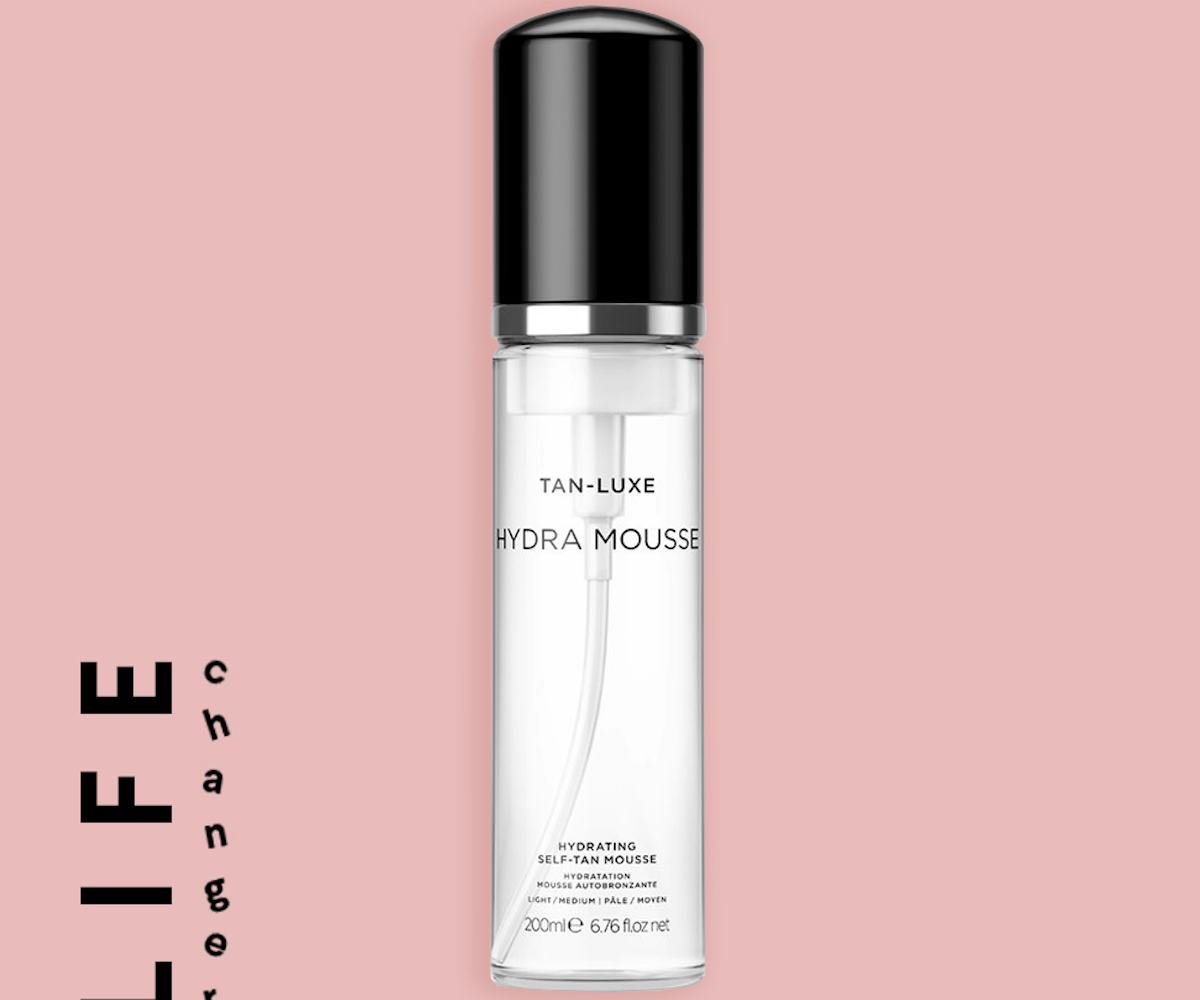 Photo courtesy of Tan-Luxe
This Self-Tanner Makes Everyone Ask Me If I Just Got Back From Vacation
Life-changer: Tan-Luxe Hydra Mousse
Whether it's a television show, movie, book, underground cultural phenomenon, or beauty product, there are certain seemingly small things that have actually changed the course of our lives. In our Life Changer series, we're sharing the things that helped us become who we are today, and hopefully, inspire you to try them out for yourselves.
I grew up spending my summers on the beach and, as such, fell in love with the sun before I even knew what love actually was. At 10, I started tanning, and even spent one family vacation in Puerto Rico with such a bad sunburn that year (I fell asleep floating in the ocean without any SPF) that I was physically ill for half the trip. By the time I was 13, I'd earned a coveted (and laminated, thank you very much) membership card to the Sun Worshippers' Club at someone's Bar Mitzvah. So yeah, you could say I've always been a fan of a good tan.
But as I got older, sunscreen became an understood rule of life—and only the highest SPF would do. So while I'd never even owned a bottle of sunscreen with an SPF higher than 15 in my life, I knew that would have to change. But I didn't want to sacrifice my golden skin.
That's when I started playing with self-tanners. Not being able to garner a natural glow without my colleagues and bosses frowning upon my ill-advised sun worshipping, I had to turn to products that promised to give me that same gleam, just without the sun. That was about a decade ago, a time when self-tanners were... not very good. They either smelled terrible, had a seriously uneven or orange-ish color payoff, or didn't work at all.
Since then, of course, self-tanning has evolved. Not only have the formulas changed to fit the needs of avid sun-worshippers and occasional glow-getters alike, but they've also become more natural in color, no longer have that notorious smell from which my husband still recoils just thinking about, and also have their own set of special tools to ensure the perfect application. So, sure, it's taken 10 years to find the perfect self-tanner formula, but I've finally found it. Friends, introduce yourselves to the illustrious Tan-Luxe Hydra Mousse. 
The most recent launch from the small U.K.-based line (and a NYLON favorite), which was founded in 2015 and just made its way Stateside last fall, Tan-Luxe Hydra Mousse is a weightless, colorless formula that purportedly hydrates skin, thanks to infusions of aloe vera juice and raspberry seed oil, and is available in two shades. Having become a fan of all things mousse and/or foam in 2017, this formula, which became available in May, was a must-try for me after I heard rave reviews from a few friends. Not only was it free of the self-tanner smell my husband hates, but it's also a head-to-toe formula, which means I'm out the door far faster than if I need to apply separate products to my face and my body following my already-too-long shower routine. 
The lack of the self-tan smell, explains Tan-Luxe founder Marc Erick, can be attributed to the formula's pH level of 4.5, which is lower than typical DHAs (the active ingredient found in all self-tanners that color the skin). But more than the lack of smell—and the ease of application, which merely required a tanning mitt (sold separately, I used one from St. Tropez) and about 10 minutes of bathroom time plus 10 minutes of drying time—the clear formula doesn't streak, clog pores, or dry out skin, making it a dream.
The first time I applied it, I had already spent an early-summer spring day on the roof of my building in a bikini, as well, so I felt like I couldn't entirely judge the situation neutrally, but I did have two pals ask me if I'd spent the weekend at the beach when we had a meeting on Monday morning. I raved about the whipped foam formulation, which not only has superb blendability, but also a slightly iridescent sheen to it, helping guide you without the dreaded extra brown dye.
The second time I spent some time with the Hydra Mousse was after a three-day writing spree in which I lived off cold brew coffee, healing crystals, and tuberose-scented candles and churned out about five too many stories. I'd been inside for a few days straight, so I was in need of some color. After another flawless application and quick drying session in the morning, I went about my business: writing, pitching, errands, and hot vinyasa. I ran into a few friends at yoga that evening. When I told them about my writing binge and consequential faux glow, they couldn't believe it.
Turns out that's what separates Hydra Mousse and the rest of the Tan-Luxe line from other self-tanners precisely: The DHA used has "eco-certified organic status, is of the highest quality, and is naturally derived from pure vegetable oil," says Erick. "Many tanning products will use one type of DHA, which gives a flat, one-size-fits-all type of color, whereas our products have a blend of DHAs, which give the skin softer, more natural-looking color." 
More natural-looking color is an understatement. Every time I apply this stuff, I am positively glowing. I not only look like I spent a long weekend at a glamorous, faraway beach, but since the Hydra Mousse is also entirely smell-free, it's even harder for people to tell that I haven't been jetting off to St. Tropez or Mallorca every other weekend this summer. 
Tan-Luxe, Hydra Mousse, $57, available at HSN.