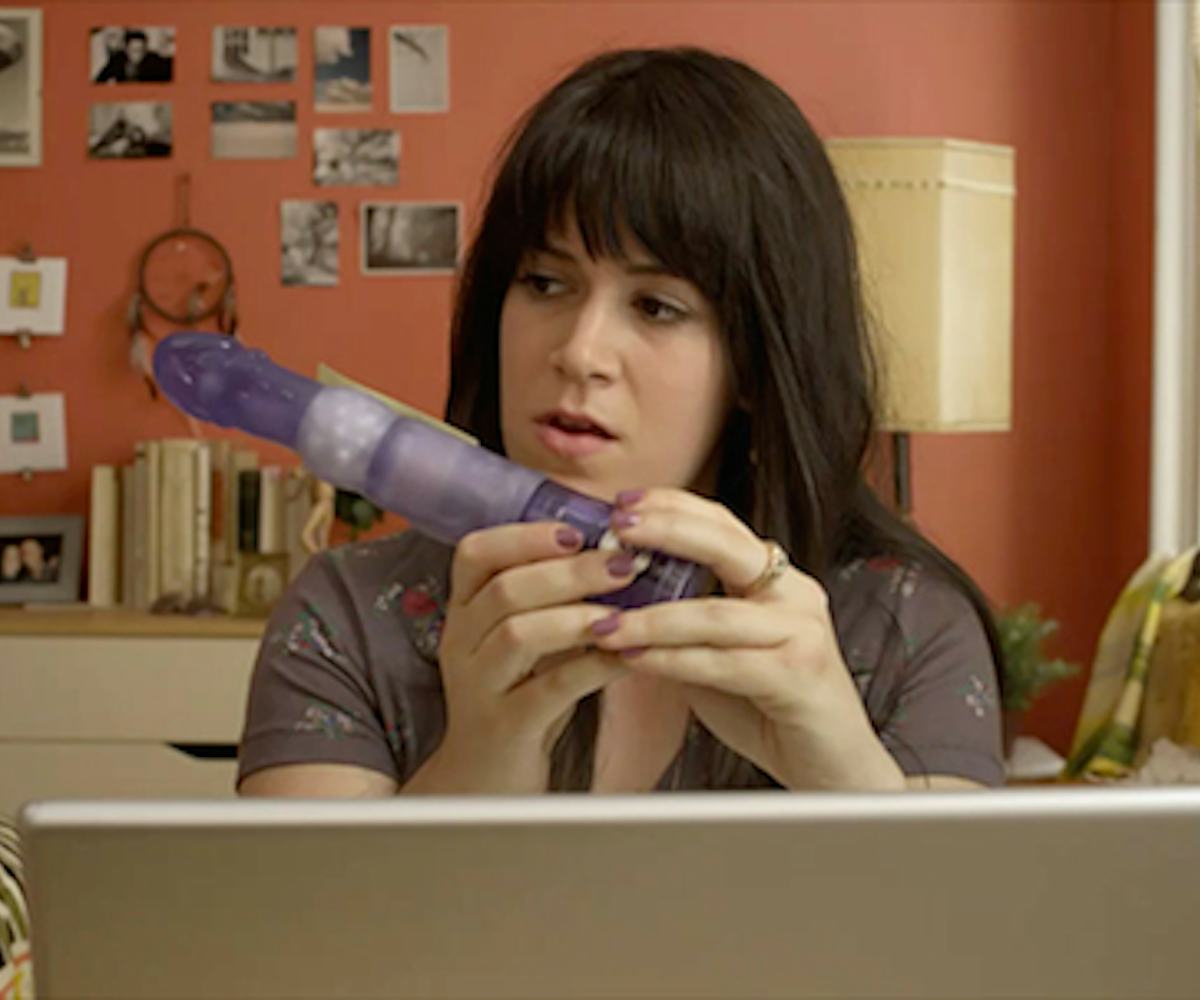 Photo via Comedy Central
Everything You Want To Know About Sex Toys But Were Afraid To Ask
It's hard to remember a time when sex wasn't talked about as openly as it is today, and yet it really wasn't all that long ago when any indication of sexual behavior which deviated from societal norms was met with disapproval, censure, and far worse. And even though we undoubtedly have a long way to go in terms of guaranteeing the rights for and acceptance of people who fall outside of our still dominantly heteronormative and patriarchal culture, it's pretty great that people aren't shamed these days for talking about things like sex toys. Hell, Broad City even had a whole episode devoted to pegging! What a time to be alive.
And yet, even if vibrators have long since left the realm of forbidden secrets, and everyone and their mother (and even their mother's mother) is all too familiar with the language of BDSM thanks to the popularity of Fifty Shades of Grey, the fact is that many people still don't necessarily know where to begin when it comes to shopping for sex toys for themselves, for their partners, or both. Plus, because so much sex toy shopping now takes place solely on the internet (along with other shopping, and, like, all of our lived experiences, basically), it can feel overwhelming for the average sex toy virgin who can't just go into the old mom-and-pop sex toy shop that every Main Street used to have. Well, okay, maybe not on every Main Street, but there did used to be more brick-and-mortar sex stores, which were problematic in their own ways, but did offer the potential for a more, shall we say, hands-on consumer experience.
So what's a sex toy newbie to do? How can they find out what's new in the world of bondage? What all the cult favorite toys are? What the most common mistake made with sex toys is? Well, in New York City, we're lucky enough to still have a handful of real-life sex stores, with the iconic (and iconically named) Toys in Babeland being a longtime favorite. And so in order to find out more about what's going on in the world of sex toys, we talked to Claire Cavanah, Babeland's co-founder and the co-author of Moregasm: Babeland's Guide to Mind-Blowing Sex to get her take on new trends, popular items right now, and foolproof advice for sex toy novices. 
What would be your advice for someone who is looking to buy something for the first time, but doesn't really know where to begin?
It all starts with figuring out how you want to use a sex toy and what kind of stimulation you might like. Clitoral? Penetration? Rumbly vibration? Buzzy vibration? Strong or soft? It's a fun experience to visit a store. At Babeland, we have everything on display, and you can pick it up, turn it on, learn about how it works and some of the best ways to use it. We also try to present a lot of information on our website so customers can make good choices, too. Don't forget the lube.
Have you noticed any trends in what people gravitate toward over the years?
There are a few constants. Dual-action vibrators that deliver clitoral and internal vibration simultaneously never go out of the style. The Rabbit Habit is a classic and was made famous on Sex and the City. There are many innovations now. The Ina Wave strokes instead of gyrating. The Form 2 takes the bunny ears and makes it a stand-alone powerhouse. The Nova is flexible and designed to be more useful to anybody. The Butterfly Kiss is reliable and more affordable than most.
The Magic Wand never goes out of style. It's been out there bringing millions of women the big O for more than five decades. Nothing beats it for power and reliable orgasms each time. 
Wearable couple's vibrators have gotten a lot of attention, too, both from sex toy designers and our customers who love them. The We-Vibe set a new standard and just keeps getting better with every innovation. The Eva is a newcomer designed by two women who launched their company with it. The Form 1 and OhMiBod blueMotion line use remote control and apps to keep couples playing together and having fun. 
What are some of the most popular items sold at Babeland right now?
The Womanizer, the Magic Wand, the We-Vibe 4 Plus, the Natural BabeLube. 
Does pop culture influence what people buy or what they're looking to experience?
Yes, we've seen sales and customer interest increase when sex toys have been mentioned and become cultural references. The Rabbit Habit, as I mentioned above, we still have customers asking for it as the vibrator that was on Sex and the City and saw a big sales jump when the episode first aired. Fifty Shades of Grey had a huge impact on curiosity and interest in kinky sex toys and our classes on BDSM.
What are the cultishly beloved perennial favorite things that you sell?
The Magic Wand, the Rabbit Habit, the Jaguar Harness with Leo dildo, our BabeLube, the Babeland Silver Bullet (there are so many of these out in the world!), and the Babeland Massage Candle.
What are some of the new products that you're most excited about?
I love the Ooh by Je Joue mix and match vibes. This was a concept that needed to happen, and this summer, they introduced a new line with a mini motor. Affordable, well-made, and it's a lot of fun to snap the shapes on and off the motor. 
This is a cool new toy for anyone with a penis. If you haven't discovered vibration yet, this is the one for you.
I love the shapes, power and texture of the Iroha vibes, too. They make great gifts.
What is the number one sex-related question you get asked about?
Only one? "How do I turn this off?"