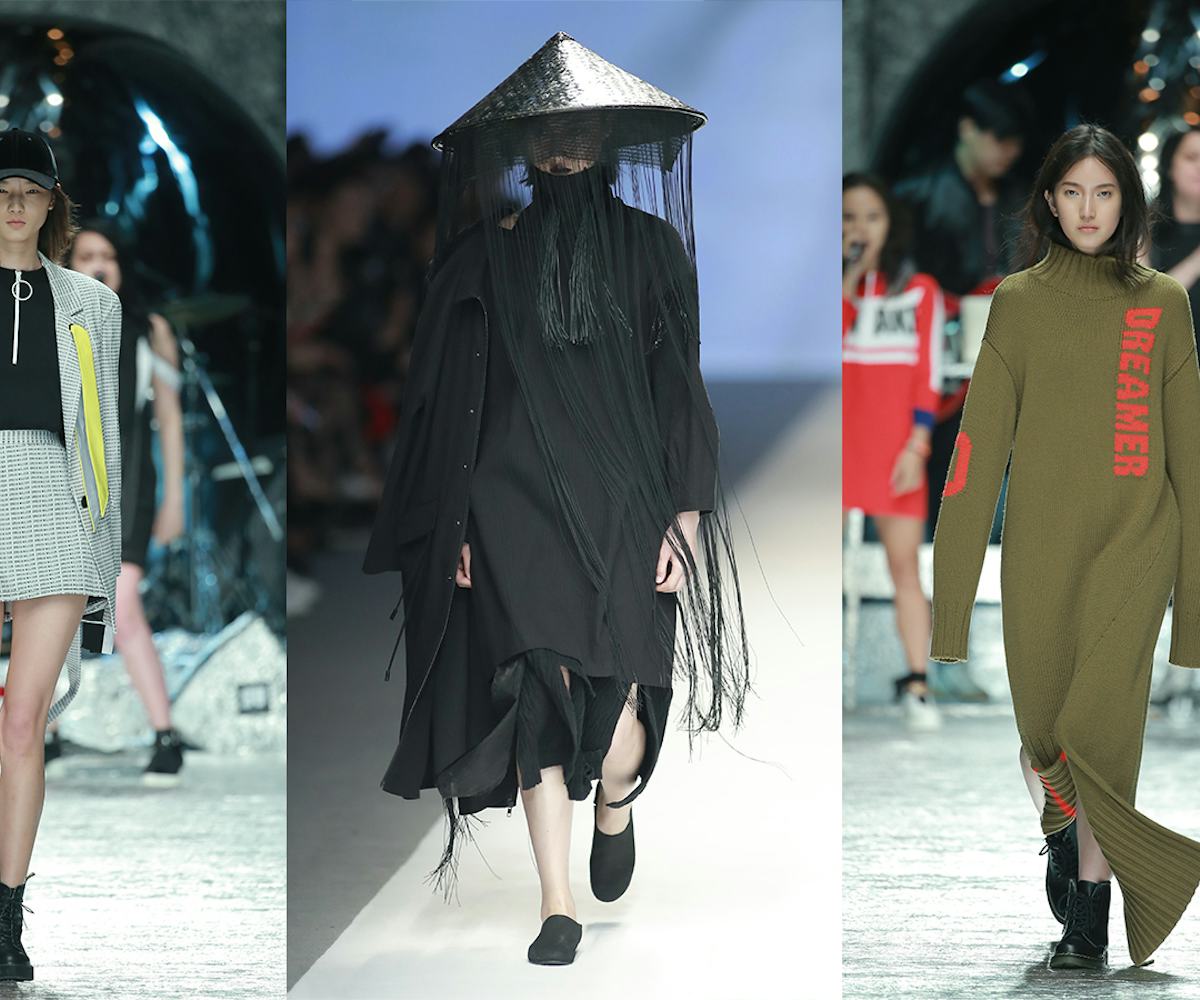 Photos courtesy of Shenzhen Fashion Week
The Best Of Shenzhen Fashion Week
Where have all the cowboys gone? China!
Doesn't it feel like Fashion Week never really ends? That's because it doesn't. Truly! Stereotyping spoiler alert: While most of the Champagne-spilling, designer-clad front row regulars (I've retired "fashion darlings" because I hate it)—who, btw, only acknowledge me when I'm interviewing them re: what's in their designer bags (iPhone chargers! Glossier!)—are probably meditating in, like, Mykonos (because Tulum is so four seasons ago), I'm dying/writing this from a dirt cheap Tokyo hostel. (The aforementioned fashion folks would NEVER!) Newsflash: There's SO much more than NYFW/PFW/MFW. In fact, there's a whole world out there slaying the fashion game.
In other words, Shenzhen (that's in China) Fashion Week, which just wrapped, should be on your radar. It was my third season attending these shows for a number of reasons: 1) I never want to miss the Marisfrolg show, which Soo Joo Park opened two seasons ago, because they're Shenzhen fashion royalty. They've consistently kept it very chic and cute, giving me many Katie Holmes-grabbing-a-latte-on-Madison moments since the beginning. But they murdered that vibe this week with a youthful streetwear-heavy collection. Gorgeous models stormed the runway rocking many a zany and destructed (albeit wearable) head-turner. On display was an onslaught of exaggerated sleeve lengths, humungous sweaters and parkas, punky skirts, killer thigh highs, and the maniacal more. The recent-ish trend of printing words on garments was there, too: "Dreamer" on an awesomely oversized matcha green sweater dress, "Real" on what looked like a gift ribbon choker. Think Hood By Air x Nicopanda x Off White, sometimes with a side of Paco Rabanne. Very V-Files-rack friendly. Also, the styling and accessorizing was on point. Lots of beanies and baseball hats and Balenciaga-esque styled knit scarves and single earrings. Rihanna x Charli XCX x Janet Jackson circa Rhythm Nation-era, if you will. Oh! A Dragonette-ish, electronic girl band duo barked into their mics over frenetic space-y beats. The massive silver orbs lining the tinfoil runway superglued the whole intergalactic thing together. And, as a result, it all made me wanna post a photo of Sarah Jessica Parker in the cult classic film Mars Attacks.
Then also, I was losing my damn mind in anticipation for one of my fav Shenzhen menswear lines, JTK Zheng. Where have all the cowboys gone, you ask? I got up close and personal with many of them (when I weaseled, then drooled) backstage pre-show, which apparently was also influenced by outer space. I'll call it goth galactic: the prison-y pops of black and white and the big floppy hats paired with futuristic Marilyn Manson-esque suits replete with cool cuts, killer zippers, an array of cowboy gun prints. I'm not sure what the random smudges of white paint on their beautiful faces were all about, but I was down with it. As for the show itself, it basically rocketed me to the moon and back, which made sense since the venue resembled a spaceship, throwing it back to the video sets of TLC's "No Scrubs"-meets-Michael and Janet's "Scream." 
More awesomeness came from odbo, a line which is a really big deal in Shenzhen. Odbo men's reminded me of Y-3, Diesel, and maybe G-Star Raw, but skewing younger and sexier and even more sinister. Hello there, bondage harness and mouth masks and so much leather and vinyl. As for natural fabrics, odbo has clearly never heard of them. Okay, and odbo women's line was all kinds of, like, wedding goth insanity. Think an all-black floor-length puffy vest-dress-turtleneck piece? Very Lydia Deetz. Or, is that you, Sia, going goth on us? Or maybe the cast of The Craft cast went to the prom? The teenage gloom vibes were there. IDK. It's all blowing my mind. 'Twas all so witchy and fierce and visceral, and no fucks were given, that's for sure. 
Then, a sweet, non-terrifying surprise: colors of the rainbow! Some might have scratched their heads when the New York-based Cynthia Rowley didn't have a runway show in New York last season. Well, that's because she opted for Shenzhen, where she let the sunshine in with a psychedelic AF '70s-tinged glam showing. Think the cute and colorful wardrobe of Twiggy mixed with some disco era sequins-heavy Diana Ross, with styling and makeup provided by Edie Sedgwick. A cocktail party at The Factory? Yes, please. Shout-out to those bold and beautiful hair bows. Funky prints, metallic mania, floral embellishments, oh my! Maybe just let my backstage photos do the talking. I'm fading. 
But keep your eyes open on Shenzhen Fashion Week, people. I'll take care of the jet lag-inducing shut eye. 
Marisfrolg
Marisfrolg
Marisfrolg
Marisfrolg
Marisfrolg
Odbo
Odbo
Odbo
Odbo
Odbo
Odbo
Odbo
Cynthia Rowley
Cynthia Rowley
JTK Zheng