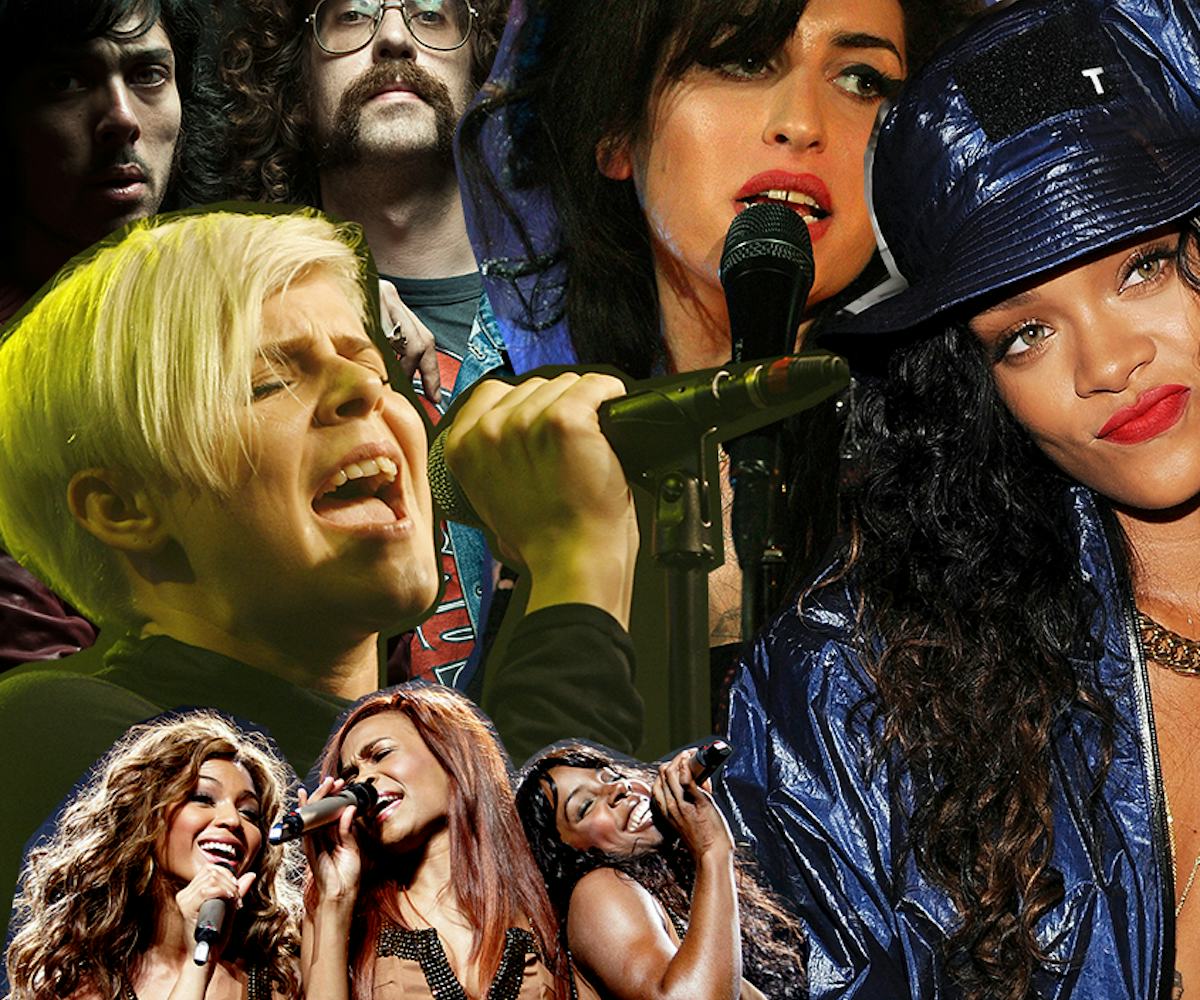 Collage photos via Atlantic Records and by Craig Barrett, Frank Micelotta, Peter Macdiarmid, Jo Hale/Getty Images
The 100 Best Songs Of The Past 15 Years
It's almost hard to believe that 15 years have gone by—it practically happened in the blink of an eye! For some of you reading this, that's probably only a mere 2/3 of your current lifetime. (Me, included.) Every year, NYLON rounds up the best songs that came out and blew our minds. We managed to cap it at 20 picks for 2015, but that was nothing compared to what went down for this list. This time, we decided to select the 100 best songs released in the past 15 years. We submitted, we voted, and we ranked. Click through and play them all out, below.
Robyn, "Dancing On My Own"
Destiny's Child, "Say My Name"
Rihanna, "We Found Love" feat. Calvin Harris
Amy Winehouse, "Rehab"
Justice, "D.A.N.C.E."
Justin Timberlake, "Cry Me A River"
M.I.A., "Paper Planes"
Azealia Banks, "212" feat. Lazy Jay
Disclosure, "Latch" feat. Sam Smith
Kelly Clarkson, "Since U Been Gone"
Yeah Yeah Yeahs, "Maps"
Adele, "Someone Like You"
Beyoncé, "Drunk In Love" feat. Jay Z
Daft Punk, "Harder Better Faster Stronger"
Drake, "Started From The Bottom"
Gorillaz, "Feel Good Inc."
MGMT, "Electric Feel"
Sia, "Chandelier"
The Shins, "New Slang"
Drake, "Worst Behavior"
The White Stripes, "Seven Nation Army"
Britney Spears, "Toxic"
Gwen Stefani, "Hollaback Girl"
The Knife, "Heartbeats"
The Temper Trap, "Sweet Disposition"
Grizzly Bear, "Two Weeks"
Beyoncé, "Single Ladies"
Christina Aguilera, "Beautiful"
FKA twigs, "Two Weeks"
Jay Z, "Big Pimpin'" feat. UGK
Kanye West, "Monster" feat. Justin Vernon, Rick Ross, Jay Z, and Nicki Minaj
Jay Z & Kanye West, "Ni**as In Paris"
Lady Gaga, "Bad Romance"
Lana Del Rey, "National Anthem"
Britney Spears, "I'm A Slave 4 U"
M83, "Midnight City"
How To Dress Well, "& It Was U"
The 1975, "Sex"
OutKast, "Hey Ya!"
Snoop Dogg, "Beautiful" feat. Pharrell Williams
Tegan and Sara, "The Con"
Rihanna, "Umbrella" feat. Jay Z
Big Sean, "I Don't Fuck With You" feat. E-40
Cat Power, "Free"
Cults, "Go Outside"
Grimes, "Genesis"
Imogen Heap, "Hide And Seek"
Lady Gaga, "Poker Face"
LCD Soundsystem, "Dance Yrself Clean"
Nelly Furtado, "I'm Like A Bird"
Rihanna, "Only Girl (In The World)"
The Postal Service, "Such Great Heights"
Arcade Fire, "Neighborhood #1 (Tunnels)"
Beyoncé, "7/11"
Bon Iver, "Skinny Love"
Crystal Castles, "Crime Wave"
Kendrick Lamar, "m.A.A.d. City"
Frank Ocean, "Thinkin Bout You"
Lykke Li, "I Follow Rivers"
Kid Cudi, "Pursuit of Happiness" feat. MGMT
N.E.R.D, "Rock Star"
Miley Cyrus, "Wrecking Ball"
Snoop Dogg, "Drop It Like It's Hot" feat. Pharrell Williams
Nelly, "Hot In Herre"
Nine Inch Nails, "Every Day Is Exactly The Same"
Animal Collective, "My Girls"
Arcade Fire, "The Suburbs"
Bat For Lashes, "Daniel"
Carly Rae Jepsen, "Call Me Maybe"
Chvrches, "The Mother We Share"
Hilary Duff, "Come Clean"
Passion Pit, "Sleepyhead"
Gotye, "Somebody That I Used To Know" feat. Kimbra
Kelis, "Milkshake"
Lana Del Rey, "Video Games"
Madonna, "Hung Up"
Nelly Furtado, "Promiscuous" feat. Timbaland
Eve, "Let Me Blow Your Mind" feat. Gwen Stefani
Phoenix, "1901"
TV On The Radio, "Wolf Like Me"
Death Cab For Cutie, "Transatlanticism"
Ashlee Simpson, "Pieces Of Me"
Avril Lavigne, "Complicated"
Michelle Branch, "Everywhere"
The Killers, "All These Things That I've Done"
Solange, "Losing You"
Katy Perry, "Teenage Dream"
JoJo, "Leave (Get Out)"
Natasha Bedingfield, "Unwritten"
The Weeknd, "Wicked Games"
Evanescence, "Call Me When You're Sober"
Ke$ha, "TiK ToK"
The xx, "Crystalised"
James Blake, "Retrograde"
Usher, "Yeah!" feat. Lil Jon, Ludacris
Ciara, "Body Party"
Blood Orange, "Chamakay"
Benny Benassi, "Satisfaction"
Kavinsky, "Nightcall"
Fiona Apple, "Criminal"