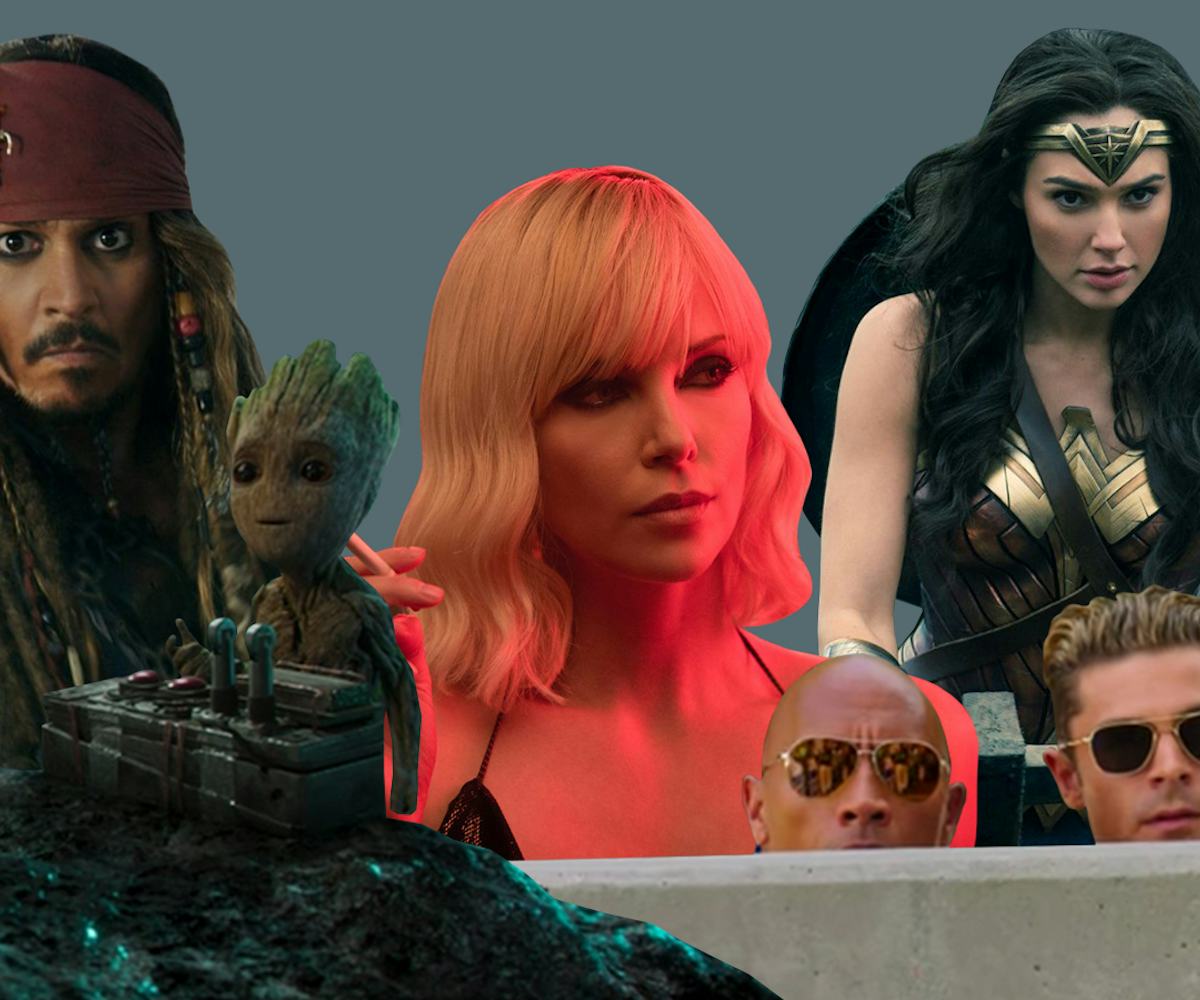 The 14 Blockbusters You Have To See This Summer
Ranked in the order of how excited you should be for them
In Hollywood, summer marks the time of year when the major studios put all their chips on the table and release movies with budgets that can rival the GDP of some small countries. But despite the cash being funneled into their productions, the quality of these movies is often suspect. That's because these movies are increasingly becoming corporate products made by people who are more concerned with profit than telling great stories. Having said that, it's not actually all that bleak. Hollywood is still capable of producing movies that entertain and, on occasion, even transcend their commercial existence. And even if the latter doesn't happen, turning your brain off for two hours and watching a woman kick ass with a lasso made of gold isn't such a bad thing. Below are the movies you should get excited about this summer, in order of how excited you should be.
The Beguiled
To a certain type of person (i.e. us), a Sofia Coppola movie stands as a blockbuster event, so releasing her latest in the dead of summer makes perfect and total sense. And if you've seen the trailer for this Civil War-era chamber piece, it plays more like a sharp Hollywood thriller than the loose mood pieces she is generally known for. A wounded Civil War soldier (Colin Farrell) finds himself at an all-girls boarding school, where the headmistress (a terrifying Nicole Kidman) and her pupils help to nurse him back to health. Sexual tension leads to rivalries leads to all-out mayhem. "Bring me the anatomy book" is already the best line of the summer.
Baby Driver
It's a crime that Edgar Wright, master of pop moviemaking, doesn't have a bona fide hit on his resume. His movies, Hot Fuzz and Scott Pilgrim vs. the World among them, burst off the screen and are the definition of crowd-pleasers. That should change with Baby Driver, which absolutely killed when it premiered at SXSW and is cruising on a freeway of buzz all the way to its prime summer release date. Ansel Elgort stars as the title character, a getaway driver who choreographs his chases to whatever music happens to be on his iPod. If La La Land paid homage to the movie musical, Baby Driver is set to reinvent it. 
Rough Night
Hollywood still hasn't gotten the success of Bridesmaids out of its system, hence this latest entry into the girls-gone-wild subgenre. This time, five old college pals get together for a bachelorette weekend in Miami and, as these things go, they end up killing a male stripper. The cast, which also includes Scarlett Johansson and Zoe Kravitz, features a trio of comedic heavyweights in Kate McKinnon, Ilana Glazer, and Jillian Bell. That's just unfair to every other comedy this year. 
Valerian and the City of a Thousand Planets
Twenty years after he gave us the everlasting weirdness that is The Fifth Element, director Luc Besson returns to space with this adaptation of the popular French comic, Valerian and Laureline. In it, Dane Dehaan and Cara Delevingne star as space agents from a future Earth who travel to Alpha, the titular metropolis, where they encounter a number of out-there creatures, a burlesque dancer that looks strangely like Rihanna, and a menace that they must (and presumably will) stop. It's unclear why Delevingne's character was left out of the movie's title since she appears to get equal billing as Dehaan, and is definitely a bigger a draw than that city with all the planets. 
Dunkirk
You might wonder what a war movie is doing alongside superhero sequels and franchise reboots, but this is not your average WWII saga. Dunkirk is directed by Christopher Nolan, master of the brainy, big-budget spectacle. So expect this story of the evacuation of thousands of Allied soldiers from a beach that was surrounded by Germans to redefine the genre. Nolan has already previewed footage, including an intense dogfight (war lingo for airplanes shooting each other) featuring an equally intense Tom Hardy, and it left me breathless. Expect the rest of the movie to do the same for you. Also, Harry Styles makes his acting debut. Do with that information what you will. 
Wonder Woman
It's 2017, and we're finally getting a proper movie starring a female superhero. Fitting, then, that it happens to be the most iconic one out there (We see you, Captain Marvel). The movie also marks the return of filmmaker Patty Jenkins, who had not directed a feature-length film since her breakout, Monster, back in 2003. Gal Gadot reprises her role as Diana Prince, which many people agree was the best part of last year's ill-fated Batman v Superman. That movie, along with Suicide Squad, has gotten the DC Extended Universe off to a shaky start, so who better than Wonder Woman herself to save the day?
Alien: Covenant
When 2012's Prometheus disappointed fans who were expecting an Alien movie, despite warnings that it was a prequel to the groundbreaking franchise, director Ridley Scott, who made the original Alien back in 1979, took note. Five years later, and he's delivered. Alien: Covenant looks like the first great Alien movie since the James Cameron-directed sequel, which was nominated for seven Oscars in 1986. This entry again follows a doomed crew aboard a ship, called the Covenant, on their way to—what else—a remote planet on the far end of the galaxy, where you-know-what is waiting to inflict some serious pain. In the movie's prologue, James Franco is introduced as the ship's captain, so you can expect him to die a glorious death.
War for the Planet of the Apes
For those keeping score, the best blockbuster franchise over the last few years has been the Planet of the Apes revival. The biggest reason for that is that this origin story, of how Earth became ruled by apes, eschewed the cheesy makeup that Tim Burton used for his 2001 remake, and instead opted for cutting-edge motion capture technology. That allowed gifted actors like Andy Serkis and Judy Greer to infuse the film's apes with real humanity, in some cases rendering them more sympathetic than their human counterparts. In the final installment of this trilogy, and as the title suggests, the escalation of the last two movies breaks into all-out war.
Spider-Man: Homecoming
It's hard to believe that the Spider-Man franchise has hit the reset button once again, but this time it feels like they truly got it right. Not only does rising star Tom Holland seem born to play Peter Parker, but this version of the web slinger exists in the Marvel Cinematic Universe, which means that Robert Downey Jr. and his crackling charm is all over this thing. Some added intrigue: Zendaya is playing a character that the internet is convinced is his legendary Spidey love interest, Mary Jane, even though the actress herself has denied it.
Atomic Blonde
Greatest. Action Star. Alive. That is what you'll be telling yourself after you watch Charlize Theron break faces as a Cold War-era superspy in this entertaining movie that is sure to launch a new franchise for the actress. The plot is a bit of a mess, but with one of the most breathtaking fight sequences in recent memory, who's doing what and why is far beyond the point.
The Dark Tower
The first of two Stephen King adaptations coming this year (It hits theaters on September 8), this long-in-development fantasy epic finally went into production after Idris Elba signed on play the heroic gunslinger, while Matthew McConaughey joined as the evil man in black. Considered by many to be King's masterpiece, the story—which spreads out over seven novels—partly unfolds in a place called Mid-World, which houses the titular tower that is the center of the universe and that must be protected at all costs, lest we want all hell to be unleashed on modern-day New York. Sony hopes that The Dark Tower will be the first in a lucrative franchise that will span future movies and television shows. For them, much more than the fate of the world hangs in the balance (we're talking about money). 
Guardians of the Galaxy Vol. 2
We understand that it might seem ludicrous to put the sequel to one of the most beloved blockbusters of the decade this far down the list—especially with baby Groot in the picture—but somehow, the movies ahead of it feel like they offer at least something new, while this feels like more of the same, which somehow isn't as exciting, even if same is still pretty damn good.
13. Pirates of the Caribbean: Dead Men Tell No Tales
And speaking more of the same, a fifth Pirates of the Caribbean movie is sailing into theaters this summer. And while the idea of watching Johnny Depp makes us squirm, early screenings indicate that this latest edition recaptures the magic and fun of the first movie. Plus Javier Bardem, who made for terrifying villains in Skyfall and No Country for Old Men, once again plays the heavy here. That is worth the price of admission alone. 
Baywatch
It doesn't get better than a movie about lifeguards on a beach coming out at the end of May. Whoever handles distribution and marketing at Universal, give yourself a raise. Dwayne Johnson, who has officially taken the crown from Will Smith as Hollywood's most dependable star, swipes the Mitch Buchanan role from an unsuspecting David Hasselhoff and is joined by a brash Zac Efron, who continues his performance art piece of appearing shirtless in every movie he's in. Say what you will about the need to turn Baywatch into a film, but this actually looks like a pretty good time at the movies.